Kremlin Announces War Aims Against Ukraine
Publication: Eurasia Daily Monitor Volume: 19 Issue: 24
By: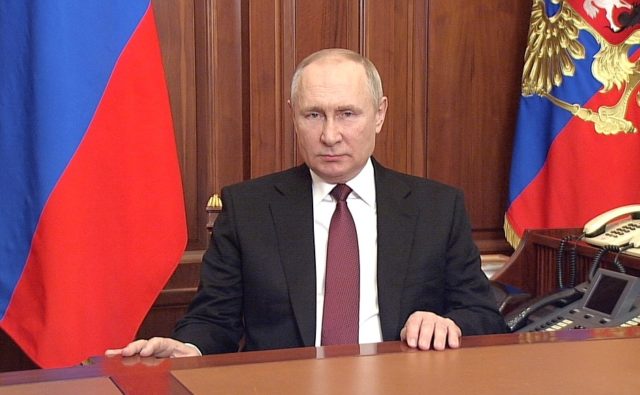 At 6 AM Moscow time, on February 24, Russia's President Vladimir Putin announced in a televised address the start of a "special military operation" by Russian forces against Ukraine. At that hour, Russian ground, naval, and air forces were already moving to attack Ukrainian territory from multiple directions. Putin invoked Moscow's recently signed treaties of friendship and mutual assistance with the Donetsk and Luhansk "people's republics" (DPR, LPR), portraying his country's military intervention as defending the DPR and LPR against "military aggression" by Ukraine.
Russia officially recognized the DPR-LPR as "independent states" on February 21, and Putin signed the alliance treaties with their leaders on the same day (see EDM, February 22).
On February 22, Putin, in his capacity as commander in chief, requested Russia's Federation Council (upper chamber of parliament) to authorize the use of Russia's Armed Forces outside Russia's territory, in line with the two treaties just signed (TASS, February 22).
On February 23, DPR and LPR leaders Denis Pushilin and Leonid Pasechnik appealed in writing to Putin for assistance to repel an alleged Ukrainian military aggression. They claimed that the Ukrainian army, using artillery, is destroying industry and housing in the DPR-LPR, killing inhabitants, forcing them to flee into Russia, causing a humanitarian catastrophe, and threatening the population with "genocide" (Kremlin.ru, February 23). These accusations were totally mendacious.
On the same day, Russian envoy Vasily Nebeznya told a specially convened session of the United Nations General Assembly that Russian troops were moving into the DPR-LPR, at these "republics' " request, in order to supervise the ceasefire between them and Ukrainian forces, "calm Kyiv down and restrain it from new military adventures" (TASS, February 23).
Those remarks seemed to imply that Russian troops would not advance beyond the demarcation line that has existed from 2015 to date, but that implication was misleading. Putin had, on the preceding day (February 22), announced war aims of a political nature, the attainment of which presaged a military intervention deep inside Ukraine. The Russian president added further war aims on February 24, when announcing the launch of the military operation.
Addressing a small group of favored Russian journalists on February 22 (Kremlin.ru, February 22), Putin opened his list of war aims by removing the implementation of the Minsk "agreements" from the list. He correctly explained that Russia's February 21 recognition of the DPR-LPR as independent states has ultimately nullified the Minsk "agreements" (this fact is being registered in Russia, Ukraine and internationally). Putin, however, blamed the Ukrainian leadership for sabotaging those documents' implementation; and he deprecated Western powers for lacking the will to persuade Kyiv to comply.
Putin went on to enumerate (in a somewhat garbled numerical sequence) four political objectives of the impending war, two days before the war's official launch:
Determining the borders between Ukraine on one hand and the DPR-LPR on the other. Russia, as Putin explained, has recognized the two "republics" based on their "constitutions," which stipulate that their borders are the borders of the former Donetsk and Luhansk provinces of Ukraine. The two "republics," however, currently hold only parts of those provinces. Putin wants all disputed issues, including this one, to be resolved by negotiation between the current leadership in Kyiv and the Donetsk-Luhansk leaders, after the end of military hostilities between them. What Putin asserts here is more than a technical border demarcation: it is the political goal of compelling Ukraine to recognize the DPR-LPR's "independence."
Ukraine to recognize (in Putin's phrasing) "the decision of Crimea's population to unite with Russia."
In Putin's words, "The current authorities in Kyiv themselves to renounce the goal of joining NATO [the North Atlantic Treaty Organization] and, instead, to implement the idea of neutrality… Some of our colleagues in Western capitals are saying that this would be the best solution, so that they avoid losing face."
"Demilitarization of today's Ukraine." According to Putin, the aforementioned three goals might be accepted by the current Ukrainian leadership but could be disavowed by another Ukrainian leadership in the future, which would leave Russia again to face, as now, "an anti-Russia armed to the teeth. This is totally unacceptable."
These are Putin's requirements "in order to determine that the situation will have been resolved in the long term, in a historical perspective."
Unveiling these objectives, Putin confirmed that Russia intended to send its troops to support the DPR-LPR "if necessary." Queried as to whether Russian troops would move to the demarcation line, to the former provincial boundaries (see above), or farther afield into Ukraine, Putin demurred: "I have not said that the troops would be sent right now. It will depend on the circumstances on the ground" (Kremlin.ru, February 22).
Two days later, on February 24 (see above), Putin went on air to announce the start of Russia's military intervention in Ukraine without geographical limitations. Indeed, Russia's political objectives have suddenly and exponentially outgrown the initial agenda limited to eastern Donbas. Launching the full-scale war, Putin added two political objectives:
Political Purges: "We shall undertake to de-militarize and de-Nazify [sic] Ukraine, as well as prosecute those who committed numerous sanguinary crimes against peaceful people and citizens of the Russian Federation."
Territorial dismemberment: "The territorial results of Second World War are sacred but do not cancel the right of nations to self-determination… Nobody asked the people living in certain territories, currently parts of Ukraine, for their opinion" when they became part of Soviet Ukraine in 1922 and 1945, Putin explained. "We consider it important that all the peoples living in Ukraine today should exercise the right of choice, if they so wish."