Moscow Using Central Asian Migrants to Fight in Ukraine
Publication: Eurasia Daily Monitor Volume: 19 Issue: 49
By: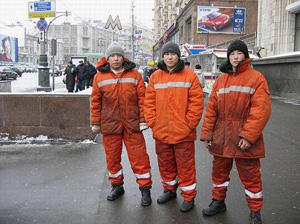 Moscow has opened a new front in its effort to find enough soldiers to fight in Ukraine (see EDM, March 16): it is ordering Central Asian immigrants in Russia who have taken Russian citizenship to appear for induction, and it is offering citizenship and high pay to other Central Asians now living in the Russian Federation.  Up to now, this effort does not appear to have involved large numbers of Central Asians—and experts in Central Asia have serious doubts that it ever will. But the fact that Moscow has adopted this tactic highlights the difficulties Russia clearly has finding and deploying enough troops in Ukraine to continue the war in the directions it hopes for. Indeed, as the brutal conflict grinds on, it seems probable that the Russian government will expand its effort to use Central Asians and perhaps others to fill the gaps left by losses in the field, overcome problems associated with using its own draftees, as well as resolve other, perhaps even more serious complications arising from shifting Russian forces from other places to fight in Ukraine (see EDM, March 1, 28, 31; Windowoneurasia2.blogspot.com, April 7).
Since the beginning of President Vladimir Putin's unprovoked re-invasion of Ukraine, the Central Asian Bureau for Analytical Reporting (CABAR) says, "people born in the countries of Central Asia who have [already] received Russian citizenship" and those who would like to obtain such citizenship on an accelerated basis after military service have been called to the military committees in localities that oversee drafting and recruitment of military personnel. As of February 24 (the opening day of the current war), CABAR continues, Moscow has invoked a 2013 Russian law and began mobilizing all Russian citizens of Central Asian background who had served in the Russian army earlier and also all Central Asian migrants of draft-age who are interested in acquiring Russian citizenship (Cabar.asia, April 6).
Some of the approximately six million Central Asians currently living and working in Russia have shown up at the recruitment centers. A number of them have turned to civil rights activists and their own government's embassies for advice or even fled Russia, returning to their homeland or traveling to some third country to avoid having to serve. Still others have been victimized by a new kind of fraud: Russian criminal groups have contacted Central Asians and offered them special deals on fast-tracked citizenship if they serve, offers that are totally unconnected from the Russian defense ministry and are designed only to extract money from the unwary targets. Immigrant rights activists like Valentina Chupik have turned to social media to warn against having anything to do with such proposals (Facebook.com, March 2).
She says that "the situation in Russia is very poor, and you may become its first victims" as a result of the swindlers who promise Russian citizenship in three months for joining the Russian military—for a price. That is not what existing law says, although she admits there are draft bills in the State Duma (lower chamber of the Russian parliament) that could have that effect. Those who fall victim to such appeals may be out money or even lose their lives, all without ever obtaining the Russian citizenship that they say they want.
Yet Vladimir Yevseyev, an expert at the Russian Institute for Strategic Research, told CABAR that ever more Central Asian immigrants in Russia do want to serve in the Russian army, whether to obtain citizenship or to preclude being sent home. In recent days, Muhammad Amin Madzhumder, the leader of the Union of Immigrants of Russia, said as much. Yevseyev clarified that since January 1, the numbers of these Central Asians joining the Russian military have increased 10–15 percent, but they still amount to only a few hundred individuals in total. That figure may soon grow, he continues, but it is unlikely to rise by enough to influence the military balance in Ukraine. That some in the Russian government think otherwise is a measure of their own desperation (Cabar.asia, April 6).
According to CABAR, Moscow is not prepared to take into the military just any immigrant from Central Asia. To qualify, the Central Asians must know Russian, be a legal resident of the Russian Federation, be over 18, and have 9–11 years of schooling. Moreover, they must submit to fingerprinting, presumably to be able to determine whether these individuals were ever charged and convicted of crimes either in Russia or in their homelands. And at least for the present, the military committees have made clear that Central Asians entering Russian service as contractors cannot aspire to officer rank (Cabar.asia, April 6).
Officials in Central Asia have either ignored this Russian effort altogether or, in a few cases, warned the immigrants that engaging in military service for a foreign state, in this case, Russia, could open them to criminal charges at home or even prevent them from returning, whether or not they acquired Russian citizenship (T.me/huquqiyaxborot, February 28). But that is not stopping all Central Asians in Russia from serving, as has been confirmed by funerals of Central Asians whose bodies apparently returned to their home countries, for burial, from Ukrainian battlefields. Also being buried in their homelands are some of the Central Asians who were living in Ukraine or who went there to fight against the Russian forces (Cabar.asia, April 6).
Tashkent-based political analyst Farkhad Tolipov, who heads the non-governmental organization Bilim Karvoni (Caravan of Knowledge), pointed out that he does not expect many Central Asians to join the Russian military anytime soon. On the one hand, such people have no desire to die like some of their co-ethnics did in Syria. And on the other hand, in the case of Ukraine, they lack even the ideological motivation they had in Syria (Cabar.asia, April 6). That Moscow is trying so hard to attract them to service in Ukraine only underscores the depths of the problems the Kremlin now faces there and how far it feels compelled to go to try to address them.