Russia Redeploys Troops From Its Bases in Georgia to Ukraine
Publication: Eurasia Daily Monitor Volume: 19 Issue: 42
By: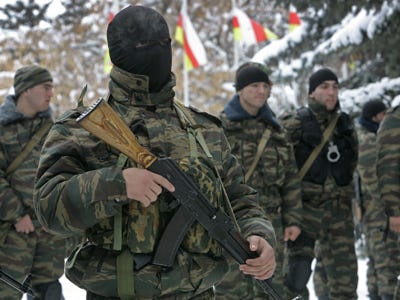 The Kremlin's large-scale war against Ukraine has vividly demonstrated various weaknesses of the Russian military. And as Russian losses have mounted, speculation grew quickly about whether Moscow would seek to redeploy additional troops to the front lines from different regions, including Georgia. That possibility appears to have come to pass.
Russia maintains two military bases in the secessionist Georgian regions of Abkhazia and South Ossetia, which Moscow recognized as "independent states" and occupied since the August 2008 Russian-Georgian war. In 2021, Russia and South Ossetia signed an agreement on dual citizenship, making Ossetian holders of Russian passports subject to conscription (see EDM, October 21, 2021). The Russian 4th Military Base, in South Ossetia, is operated by 4,500 conscripts and contractors, and was notably reinforced in 2012 by a new infantry battalion manned only by local Ossetians (Army-Today, accessed March 24). According to Georgian military experts, the armament massed at the base is slightly outdated but it includes tanks, armored vehicles and radio-electronic surveillance systems (Radio Tavisupleba, March 18).
Nonetheless, reports indicate that at least some of these vehicles and weaponry have now been sent to Ukraine, with the redeployed tanks apparently equipped with primitive shields to protect them from the Javelin missiles that the United States has been providing to the Ukrainian defense forces (Radio Tavisupleba, March 18). The only route by which to transport troops out of the secessionist region (without crossing into Georgian-controlled territory) is through the Roki tunnel, which connects directly to Russia (Army-Today, Voinskajachast.ru, accessed March 24).
Some of the first evidence of the redeployment of forces from the 4th Military Base in South Ossetia to Ukraine came on March 16, with video footage of armored vehicles and South Ossetian contract soldiers heading north through the Roki tunnel (Ekho Kavkaza, Netgazeti, March 16). The following week, the Committee of State Security (KGB) of South Ossetia officially stated that the families of those Russian service members who were sent to Ukraine to participate in Moscow's "special operation" had also left the region. The KGB called on the South Ossetian population to stay calm and not succumb to the provocations of "destructive forces" (Ekho Kavkaza March 23). The news of the troop movements caused local unease, and the "president" of South Ossetia, Anatoly Bibilov, came under criticism from residents for allegedly allowing the region to be left defenseless. He ultimately announced on his Telegram channel that although service members of the self-declared republic had left for Donbas to participate in the Russian "special operation," South Ossetia remained secure (RIA Novosti, RT, March 26).
Meanwhile, several eyewitnesses in Abkhazia also recorded the movement of Russian military hardware, including armored personnel carriers (APC), out of the region, via the railway in the city of Gagra (Tia.ge, March 21). The Russian 7th Military Base, in Abkhazia, features motorized rifle and tank battalions, S-300 and S-400 surface-to-air missile systems, as well as an aviation command that provides ground support for periodic flights of Russian warplanes in and out of the area. The facility was reinforced with new armaments in 2021, including modernized drones. According to Russian military experts, apart from protecting Abkhazia, the base covers the south of Russia and serves as a maneuverable reserve in the Caucasus and Black Sea region. The base's forces can be quickly moved in and out through a renovated railway, amphibious ships docked at seaports on the Abkhazian coast, as well as by plane, at Abkhazia's large airfield (Izvestia, September 1, 2021).
On March 18, the Conflict Intelligence Team reported that Russian units with APCs and trucks from Abkhazia and South Ossetia probably arrived in Ukraine via Krasnodar and the North Caucasus (Obozrevatel March 20). An unnamed senior US defense official substantiated this information for Western media on March 25, noting the "movement of some number of troops from Georgia" to Ukraine as reinforcements, though without identifying destination points (Kyiv Independent, March 25). A day earlier, the pro-Kremlin and well-informed online newspaper Vzglyad featured a piece by military analyst Yevgeni Krutikov, who writes that "new units are arriving in the concentration areas to straighten the front line" before launching the second phase of the offensive (Vzglyad, March 24). Andrei Kasyanov, the chargé d'affaires of Ukraine to Georgia, also confirmed that Russia was sending additional troops to the battlefield from Georgia's occupied regions. He asserted that the Russian Armed Forces were having problems with replenishment (Interpressnews, March 18).
This does not mean that Moscow is abandoning its seized territory in Georgia, however. Georgian military expert Vakhtang Maisaia argued that despite sending some units to Ukraine from Abkhazia and South Ossetia, the Russian military command will not allow for a significant weakening of the capabilities of these bases. Rather, some specific Georgia-based Russian units, especially the Ossetian ones, which had previous experience with street-fighting, may have been chosen by Moscow in anticipation of battles to capture Ukrainian cities (Author's interview, March 23).
Nonetheless, some have argued that these redeployments could present a chance to retake some secessionist regions long occupied by Russia and force the latter to fight on two fronts. The secretary of the National Security and Defense Council of Ukraine, Oleksiy Danilov, for instance, unequivocally stated that opening "additional fronts" against Russia in the occupied territories of Georgia and Moldova "would significantly help Ukraine fight the Russian attack." He explicitly called on Georgia and Moldova to embark on the reintegration of their breakaway regions. (Ukrainskaya Pravda, March 26)
Some Georgian analysts predict that a Russian defeat in Ukraine could result in quick, subsequent domino scenarios in Abkhazia and South Ossetia. Thus, the Georgian government needs to be well-prepared for this scenario and more assertively demand the complete withdrawal of Russian troops from Georgia. A few expert voices recommended trying to capitalize on the situation by resuming contact with the political establishment in the secessionist regions and being prepared to use military force, if necessary, to press the diminished capacity of Russian troops left there (Rezonansi March 21; Interpressnews, PIA, March 23).
That said, the temptation to exploit this momentum carries significant risks for militarily under-resourced Georgia that will need to be carefully considered to avoid the tragic mistakes made in the past (see EDM, April 20, 2021 and February 9, 2022). To prevent a snowballing of sentiments in favor of the forcible reintegration of the secessionist regions, a group of Georgia's civil society representatives has already appealed to the authorities to reaffirm their commitment to a peaceful solution to the conflicts. To this effect, Georgian parliamentary speaker Shalva Papuashvili stated that, amidst the war in Ukraine, Tbilisi should not raise the issue of the de-occupation of Georgia. He added, any talk of a sudden window of opportunity for Georgia is "unrealistic" (JAM News, March 21, 24).