Ukraine Turns Into Hub for Foreign Fighters
Publication: Eurasia Daily Monitor Volume: 19 Issue: 36
By: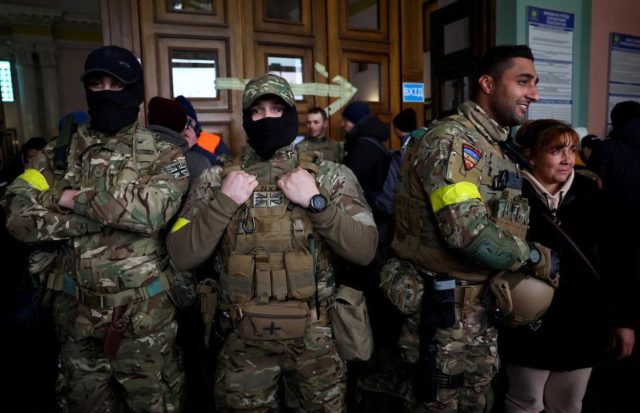 Since launching its massive re-invasion of Ukraine on February 24, Russia has already lost (as of March 11) 353 tanks, 1,165 armored vehicles, 57 airplanes, 83 helicopters, 125 canons, 31 air-defense systems, and over 12,000 troops (Radio Svoboda, March 11). This is the highest sustained casualty rate the Russian Armed Forces have experienced in decades.
Moscow clearly did not expect such tough resistance in Ukraine, as indicated by released interviews with captured Russian soldiers. Many of them turned out to be officers of the Ministry of the Interior, the Russian National Guard ("Rosgvardia") or paramilitary special forces, while others were conscripts who heretofore lacked battlefield experience (UNIAN, March 2). In three weeks of fighting, the demoralized Russian units suffered high losses, which will have to be immediately replaced to continue the military operation in Ukraine.
Prior to the start of the war, Ukraine had about 261,000 active-duty soldiers and 100,000 volunteers in the Territorial Defense Forces. Since 2014, about 250, 000 veterans acquired military experience while fighting in Donbas (Ukrinform.ru, March 7). Furthermore, more than 160,000 Ukrainians returned to the country over the last several weeks to join the army and other combat units (Ukrinform.ru, March 8).  In turn, Russia had concentrated 120,000–125,000 troops along the Ukrainian border, along with 45,000 Belarusian soldiers deployed in southern Belarus (Lb.ua, January 31).
On February 27, the Ukrainian authorities called on foreign fighters to join the country's military forces within a newly established "Foreign Legion" (Interfax, February 27) In just four days, nearly 20,000 volunteers from 52 countries applied through local Ukrainian embassies, Ukraine's government has claimed, though without providing any further details or evidence (Al Jazeera, March 14). While their status in the Ukrainian army remains to be seen, Kyiv promised to provide foreign volunteers with Ukrainian citizenship and other social assistance (Uacrisis.org, March 2).
In the first two weeks of the war, international news outlets reported on more than 100 Scottish, 600 Czech, 3,000 American, 1,000 Canadian, as well as Georgian, Polish, German, Israeli and other international volunteers having applied to join the war on Ukraine's side. Most come with military experience in Iraq and Afghanistan (BBC News, March 8; Ukrainskaya Pravda, March 12; VOA, March 5; National Post, March 9; Civil.ge, Rzeczpospolita, February 28; Thelocal.de, March 11; Haaretz, March 10). Famously, the United Kingdom's Foreign Secretary Elizabeth Truss openly supported British nationals' decision to join the Ukrainian military against Russian aggression, though she was later contradicted in this by the UK defense establishment (The Guardian, March 6); while lawmakers in Latvia unanimously voted to legalize the right of its citizens to join the war in their independent capacity (Lsm.lv, February 28). The government of Canada declared that a decision to travel to and fight for Ukraine should be up to Canadians themselves, particularly since by that time hundreds of Canadian volunteers had reportedly already crossed the border with that intention (National Post, March 9).
What has been missing in the public record are any details offered by the authorities of what happens with the would-be foreign legionnaires once they arrive in Ukraine. This is surely deliberate: to protect their identities from possible risks of prosecution back home, as well as to safeguard Ukrainian military operations. Reportedly, however, a group of foreigners was training at the western Ukrainian base in Yavoriv, when it came under a deadly Russian missile barrage on March 13. Kyiv denies any non-Ukrainians died in the strike (UNIAN, March 14).
Yet news of foreign fighters coming to Ukraine has not been limited to Kyiv's entreaty for international support. On March 11, as the Russian Armed Forces continued to suffer fast-mounting casualties, President Vladimir Putin asked Defense Minister Sergei Shoigu to help facilitate the transit of volunteers from the Middle East to fight in Ukraine. According to Shoigu, his Ministry already received about 16,000 applications from individuals willing to aid the Russian war effort (Vedomosti, March 11). Reportedly, these volunteers are members of the paramilitary Syrian National Defense Forces and units of the 5th Corps of Syria's regular Armed Forces. Some are also purportedly being recruited in Libya. The average salary of the combatants is estimated at $300–500 per month and will be paid from the Russian budget (Censor.net, March 13).
The head of Rosgvardia, Viktor Zolotov, has admitted that the military operation in Ukraine is not proceeding fast enough (Kommersant, March 13. In the past week, the Russian army has largely been stuck and is not conducting massive land offensives (Euromaidan Press, Twitter.com/DefenceHQ, March 17). The invading forces are attempting to take several key holdout cities, including Kyiv and Mariupol; but for now the Ukrainian defenders continue to hold off the Russians. Putin's announced invitation for foreign fighters is, therefore, motivated by the necessity to bring in immediate reinforcements to meet Moscow's military objective. Simultaneously, the presence of such foreign fighters in Ukraine may be designed to intimidate Ukrainians into capitulating. However, drawing on foreign volunteers will not dramatically change Russia's situation on the ground for at least two reasons.
First, many fighters from the Middle East have never participated in joint military drills with the Russian Armed Forces, preferring instead to operate in small, mobile, intrinsically separate formations. If this is how they are employed in Ukraine, their units will face serious logistical and cultural challenges since Middle Eastern fighters do not know the terrain or the local languages. Making matters worse in this regard, Russian commanders are using outdated maps, which leads to the further disorientation of the attacking military forces (Nv.ua, March 3). At the same time, the mercenaries' will to fight for Moscow will be undercut by Russia's own economic problems: even regular Russian troops are already experiencing payment delays (Slovoidilo.ua, March 13).
Second, the challenges of urban warfare will likely exceed any benefits Russia might obtain from this modest infusion of Middle Eastern fighters, or the psychological effect on the population their symbolic battlefield presence might have. For now, Russian troops are not yet engaged in large-scale urban warfare; instead, they are concentrating on shelling strategic cities such as Chernihiv, Sumy, Mykolaiv, Mariupol and Kharkiv. This is no doubt to terrorize the local population into submission while avoiding deadly firefights with Ukrainian army units, territorial defense forces, and even armed local residents with intimate knowledge of their own neighborhoods. Even if Russian-backed foreign fighters manage to approach Ukrainian cities, they will face serious resistance, much as Russia's Chechen battalion found in the first couple days of the war, when the unit was decimated on the outskirts of Kyiv (see EDM, March 3). The Russian gambit of establishing its own "foreign legion" in Ukraine—if it is more than just propaganda—is unlikely to bring Moscow much closer to victory.