Kadyrov's Ukrainian Maskirovka
Publication: Eurasia Daily Monitor Volume: 19 Issue: 29
By: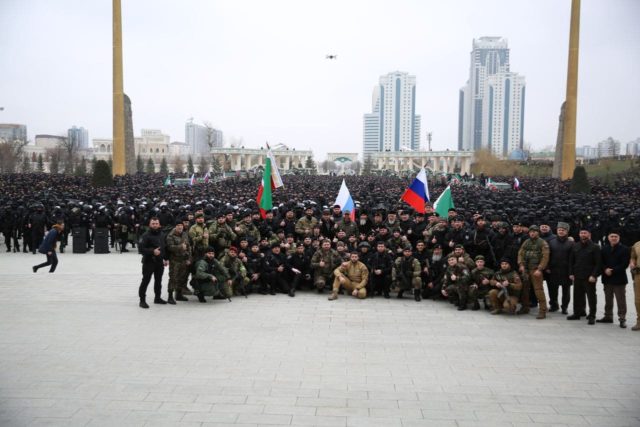 Based on the triumphalist posts to his Telegram channel, the first weekend of Russia's re-invasion of Ukraine was victorious for the head of Chechnya, Ramzan Kadyrov. On February 25, the day after the breakout of mass hostilities, he presided over a rally in Grozny meant to demonstrate the strength of the kadyrovtsy, a highly trained security force de facto loyal to the Chechen leader; purportedly, over 10,000 men from the republic had "volunteered" to deploy to Ukraine (Grozny.tv, T.me/skfo_telegraph, Twitter.com/chambersharold8, February 25). Kadyrov even threatened to deploy an additional 70,000, if Ukrainian President Volodymyr Zelenskyy did not bow to Russian President Vladimir Putin's wishes (T.me/rian_ru, February 25). The chief mufti of Chechnya, Salakh Mezhiev, declared the operation a "jihad" (Kavkaz.Realii, February 28).
The following day (February 26), Kadyrov's channel was full of posts showcasing trophy weapons and featured a video of "Yug" Battalion commander Khusein Mezhidov hoisting Chechen and Russian flags on the outskirts of Kyiv. This may have been the result of an alleged successful routing of Ukraine's "Aidar" Battalion, which occurred prior to 2:00 PM (T.me/RKadyrov_95, T.me/rian_ru [1] [2], T.me/SIL0VIKI, February 26).
However, a rumor arose soon after that battle that Magomed Tushaev, of the notorious Akhmat Kadyrov Regiment (see EDM, February 14), had been killed. Kadyrov quickly denied the death by posting a video featuring Tushaev alongside other kadyrovtsy leadership: Sharip Delimkhanov, Saidi Lorsankaev, and Anzor Bisaev, who was also rumored to have fallen (T.me/IADAT, February 26; Chechnya Today, February 27). These are some of the top leaders among Ramzan's personal army today, signifying the importance of their mission. As has been broadly reported, this mission was apparently to target Ukrainian officials, including assassinating President Zelenskyy. In the days since shutting down the rumor, Kadyrov has only admitted to two deaths and six wounded among the kadyrovtsy ranks (T.me/RKadyrov_95, March 1).
Despite this public face of resolve, Kadyrov's private actions betray a rather different story.
At roughly 2:00 PM, on February 26, Ramzan Kadyrov's private jet departed the Grozny Airport, flew to al-Maktoum International Airport, in Dubai, arriving at 5:00 PM, then a couple hours later returned to Grozny at 9:00 PM. Open-source data verifies this flight path with that of an Airbus A319-133CJ, registration VP-BPE. This registration matches records of Ramzan Kadyrov's jet (Airfleets.net, accessed March 2). According to the Chechen opposition movement "1ADAT," on board this flight were the families of not just Ramzan Kadyrov, but of Adam Delimkhanov, Magomed Daudov, Abuzaid Vismuradov and other Chechen elites (T.me/IADAT, March 2). 1ADAT's sourcing is historically reliable.
The Chechen elite, reacting faster than normal to this news, displayed their eldest children, particularly sons, on an Instagram Live session (Chechnya Today, Instagram.com/ahmed_95kra, March 2). However, this was a problematic move. First, it did nothing to dispel questions about the whereabouts of the many other children of the Chechen leadership—Kadyrov alone has 16 children in total, with only his eldest daughter, Aishat, and 3 oldest sons appearing in the video (Komsomolskaya Pravda, May 21, 2021). Second, it neglects both the fact that those children who are old enough are mostly government officials and that the eldest sons would be expected to stay regardless of any danger. Finally, it is noteworthy that three sons of Kadyrov have featured heavily in recent propaganda, taking center stage at the Grozny rally and with Ramzan's eldest declaring his "readiness to stand in defense of Russia's interests" (Chechnya Today, March 2).
The story supported by this rapid, en masse evacuation of kin is one of the Chechen leader's fears. This fear indicates that the truth is not in his narrative, but that of the Ukrainian government, the Chechen opposition, and the Chechen public. According to them, the events alleged by Kadyrov played out much differently.
From the first day of the invasion, the kadyrovtsy sustained losses, with at least 15 casualties that day, the aforementioned Chechen opposition group 1ADAT asserted (1adat.com, Twitter.com/chambersharold8, February 24). The casualties have continued to rapidly pile up, with morgues in Mozyr, Belarus, supposedly filled with Chechens (T.me/ichkeriainfo, February 27). These reports, and messages from parents in Chechnya announcing the death of their children, increased on and after February 26, the date of the kadyrovtsy's supposedly grand victory on the outskirts of Kyiv. The truth of this skirmish is key: one hour after the kadyrovtsy claimed success, audio leaked that they were under attack (T.me/SIL0VIKI, T.me/IADAT, February 26). In another hour, relatives of the kadyrovtsy began telling of a significant number of deaths, and the rumor of Tushaev's and Bisaev's deaths emerged (T.me/turkey_sb, February 26). The large losses among the Chechen regiment were most likely the result of a Bayraktar TB2 drone strike on their position, which killed approximately 70, although Ukrainian ground troops were also engaged, according to Oleksiy Danilov, the head of the National Security and Defense Council of Ukraine (Twitter.com/christogrozev, February 27; T.me/KyivIndependent_official, March 1).
The names of the kadyrovtsy leaders killed or captured on February 26 have not been released by the Ukrainian government. And notably, the aforementioned videos of the leaders posted by Kadyrov to "prove" they were still alive have had their metadata altered to hide the date and time of recording. Indeed, the idea of a Chechen leadership deficit in the theater is further supported by the sudden deployment to Ukraine of Zamid Chalaev, the top commander of the Akhmat Kadyrov Regiment, and other personnel from the unit (T.me/akhmeddudaev, February 27). These reinforcements are, so far, not made up of anybody who participated in Kadyrov's February 25 rally in Grozny; local media reported that the kadyrovtsy present in the square had all simply returned home after the demonstration (T.me/fortangaorg, February 26).
In this light, Ramzan Kadyrov's narrative quickly changes from usual bluster to reactionary, synchronized perfectly with the apparent failure of his personal army. While new videos and audio clips are released daily of the many deaths and low morale among Russian service members, Kadyrov and his propaganda machine are doubling down on claims of limited casualties and a cheery situation on the ground (T.me/SIL0VIKI, March 1; Grozny.tv, March 2). Kadyrov and his press minster even attempted to launch a virtual flashmob under the hashtag "We Are Reserves" ("#MyRezerv") (T.me/akhmeddudaev, February 28; Grozny.tv, March 2).
The attempts at "business as usual" are continuing: the Chechen head held meetings in Moscow on Monday (Twitter.com/haroldchambers8, February 28). However, in reality, the ground seems to be crumbing beneath their feet.