Chechen Rosgvardia Troops Head for Ukraine
Publication: Eurasia Daily Monitor Volume: 19 Issue: 18
By: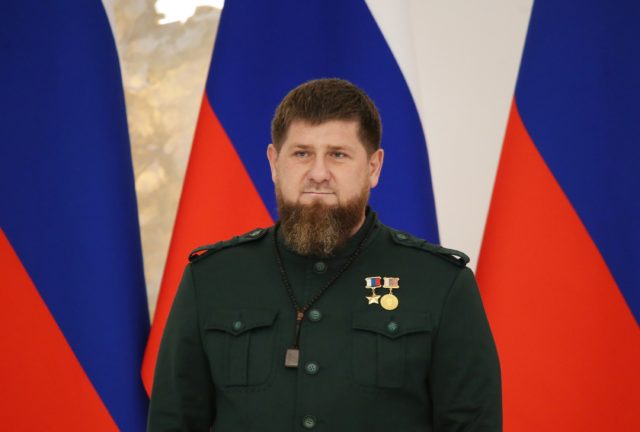 In a further indication that Russia continues to build up its forces on the border with Ukraine, a convoy with Chechen internal troops has recently been spotted moving northwest, through the North Caucasus, toward the potential war zone. At the end of last month, JaziraNews's Twitter account reported, citing unidentified sources in Chechnya, that "[President Vladimir] Putin's most combat-ready troops, the Kadyrovtsy, are advancing […] in the direction of the Ukrainian border. The Kremlin is pulling everything it has. The likelihood of a further Russian invasion of Ukraine this week is at its highest" (Twitter.com/@JaziraNews3, January 31).
JaziraNews, which seems to be linked to the Chechen opposition based in Turkey, may have exaggerated how soon one could expect Russia to attack its southwestern neighbor, but the report about the redeployment of the Chechen special forces (spetsnaz) troops proved accurate. On February 2, the former commander of Russia-backed forces in eastern Ukraine, Colonel Igor Strelkov (a.k.a. Girkin), posted a privately recorded video that appears to show a convoy of Chechen military vehicles moving in the general direction of the Ukrainian border (Twitter.com/GirkinGirkin, February 2). The next day, the Conflict Intelligence Team (CIT), an open-source information analysis group that monitors Russian military movements, identified those vehicles as belonging to the 141st Akhmad Kadyrov Special Motorized Regiment of Russia's National Guard (Rosgvardia) (Citeam-ru.medium.com, February 3). The convoy comprised dozens of all-terrain vehicles, including BTR-80 armored personnel carriers, GAZ-2975 Tigr multi-purpose vehicles and Ural-432009VV armored trucks, frequently used by the National Guard to transport detainees.
The regiment—formerly the 248th Special Motorized Battalion Sever ("North")—is part of Rosgvardia's 46th separate brigade for operative tasks, which is headquartered in Chechnya and numbers an estimated 15,000–16,000 service members (see EDM, July 5, 2012). The main task of the brigade, as declared on a self-described spetsnaz veterans' online forum, is "maintaining peace and tranquility in the Chechen Republic" (Spec-naz.org, accessed February 14, 2022). Indeed, neither the 46th Brigade nor the former Sever battalion has ever been deployed in conflicts outside Chechnya, unlike the notorious Vostok ("East") battalion, which took part in fighting in Georgia in 2008 and then in eastern Ukraine and Syria. It is, therefore, somewhat strange that a paramilitary unit normally assigned to law enforcement activities should be dispatched to a potential war zone. That does not mean, however, that the unit is not up to the job.
The Sever battalion was formed in 2006 and initially, at least formally, answered to the command of the Internal Troops in the North Caucasus until the establishment of the National Guard in April 2016. In reality, however, the 700-strong force has always operated de facto as Chechen strongman Ramzan Kadyrov's "Praetorian Guard." Comprised mostly of Chechen rebels-turned Putin loyalists, the unit was officially tasked with eradicating the last Chechen insurgents for the Kremlin. But it has also had the unofficial task of rooting out any opposition to Kadyrov. The Sever battalion was instrumental, for instance, in helping Kadyrov win his power struggle against the powerful Yamadayev clan (see North Caucasus Weekly, July 21, 2008; see EDM, April 23, 2010). The commander of the now-regiment, Major General Alibek Delimkhanov, is a younger brother of Adam Delimkhanov, a lawmaker in Russia's lower house of parliament and a staunch Kadyrov loyalist. The Delimkhanov brothers and Ramzan Kadyrov are related through their mothers.
The Sever battalion gained national notoriety in 2015, when Zaur Dadaev, its former (and decorated) deputy commander, gunned down Russian opposition politician Boris Nemtsov on a bridge over the Moscow River close to the Kremlin. Two other Sever service members were also implicated in the murder. Alibek Delimkhanov was questioned as a witness in the case (see EDM, March 11, 19, 2015).
The 141st Akhmad Kadyrov Special Motorized Regiment is not the only Rosgvardia unit that is evidently being dispatched to Ukraine (Citeam-ru.medium.com, February 2). According to CIT, the movement of National Guard personnel and equipment has been observed in Arkhangelsk, Tula, Karelia, Tomsk, Lipetsk and other Russian regions. "Russia […] appears to be activating Rosgvardia internal troops," the Jane's Defence Consultancy notes (Jane's Defence Consultancy, February 3). Few will be able to match the Chechen unit's combat experience, however.
The Akhmad Kadyrov regiment is an elite, large-scale special operations force that possesses considerable firepower and has been involved in almost every military operation in Chechnya's recent turbulent history. It is well trained, battle-tested, confident in its ability to fight, and accustomed to responding to crises. Fifteen years on, it remains a force to be reckoned with. The problem, however, is that the regiment—and the National Guard in general—is essentially a police force (albeit exceptionally well armed) that has limited experience in conventional warfare, although some Rosgvardia units have previously been deployed to Syria (TASS, March 24, 2021). Rosgvardia's responsibilities frequently go beyond its official mandate, but it is best equipped to deal with domestic threats, conduct counter-insurgency and counter-terrorism operations, and protect strategic facilities.
For that reason, in the Ukrainian context involving a major re-invasion by Russia, the most likely scenario is that the Rosgvardia units will engage in anti-sabotage and anti-infiltration missions or perform military police functions such as site security, policing, crowd control and detention operations. At the moment, the units are apparently being put in position, to potentially cross the border when the Kremlin gives its command.