Chechens Take on Image of Putin's Henchmen in Russia
Publication: Eurasia Daily Monitor Volume: 12 Issue: 45
By: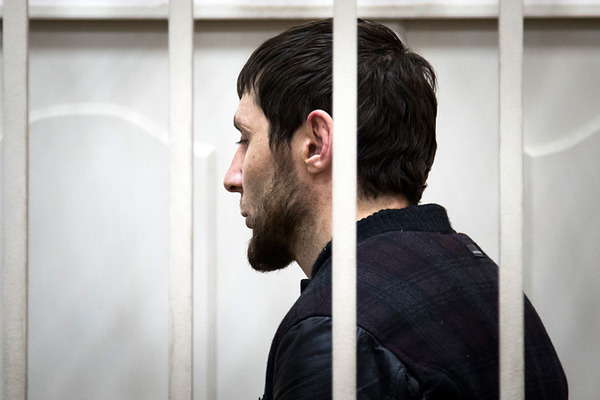 On February 27, one of the leading Russian opposition figures, Boris Nemtsov, was brazenly assassinated in Moscow, near the Kremlin (see EDM, March 2). Nemtsov was known for criticizing President Vladimir Putin and his regime. Unexpectedly, however, the government quickly followed up with an investigation of the killing and soon detained five suspects. The suspects included individuals affiliated with the Chechen police, often referred to as "kadyrovtsy," after Chechnya's ruler, Ramzan Kadyrov. Anzor Gubashev and Zaur Dadaev are the primary suspects in the killing of Nemtsov. Another suspect, Beslan Shavanov, reportedly blew himself up with a grenade when police tried to arrest him in Chechnya. Dadaev was deputy commander of the Sever (North) battalion, which is a constituent part of Kadyrov's military forces. He reportedly confessed to the Nemtsov killing, saying it was because the opposition politician had denigrated Islam and Muslims. Nemtsov's colleagues, however, stated that even though they were confident that the killers were detained, the organizers of the killing were still free (Gazeta.ru, March 10). Dadaev reportedly later retracted his confession (Gazeta.ru, March 10).
The official investigation appears to be arguing that Nemtsov's killing was motivated by the personal views of the assailants and not a contract murder, but there are many facts that contradict this view. Journalists went back to read what Nemtsov had written about Islam and Muslims. Commenting on the Charlie Hebdo terrorist attack in France in January, Nemtsov wrote that contemporary Islam was a young religion that needed "growing up." He said Christianity had also been quite violent in the past and that Islam could likewise do better in the future (Tvrain.ru, March 9). A number of Russian politicians and opposition figures were much more vocally critical of Islam and Muslims, especially after the attack in France (V-milov.livejournal.com, March 9).
Moreover, Nemtsov's wife is part ethnic Tatar, and his daughter, Zhanna Nemtsova, has stated in the past that she adheres to Islamic principles in managing her personal finances (Islamnews.ru, December 11, 2009). Also, it appears that the suspects started to follow Nemtsov back in September 2014, before the Charlie Hebdo attack in Paris ever even occurred (Moskovsky Komsomolets, March 10). According to rights activists who visited the suspects in detention, they appeared to have very little knowledge about Boris Nemtsov (Gazeta.ru, March 10).
On March 4, speaking at a meeting of the Russian Ministry of Interior, President Putin condemned the killing of Boris Nemtsov and called on the police to "rid Russia of such shame and tragedies" as political killings (Kremlin.ru, March 4). On March 8, the Russian police took the suspects into custody. On March 9, the Kremlin announced that Putin had decorated Ramzan Kadyrov with an Order of Honor (Orden Pochyota) (RIA Novosti, March 9). Using his favorite means of communication, Instagram, Kadyrov declared his support for the main suspect, Zaur Dadaev, calling him a "true patriot of Russia" and praising him for previous acts of courage. Kadyrov conceded only in one sentence that if a court finds Dadaev guilty then he should bear responsibility for the murder. The ruler of Chechnya explained at some length that Dadaev was a deeply religious person who was shocked by the Charlie Hebdo cartoons. Kadyrov also wondered why Dadaev left his position as deputy commander of the Sever battalion (Instagram, March 8).
However, it was subsequently reported that Dadaev stepped down from his position only on February 28, the day after Nemtsov's killing (TASS, March 10). According to other reports, he remains the Sever battalion deputy commander (Rbc.ru, March 7).
Alexander Cherkasov, the long-time expert on Chechnya with the Memorial Human Rights Center, asserts that people from Kadyrov's forces are highly loyal to Kadyrov and even the slightest sign of disloyalty, such as acting in somebody else's interests, is severely punished (Open Russia, March 9). This suggests that if the suspects were behind the killing of Nemtsov, Kadyrov likely approved of their plans or even ordered them to carry out the attack.
Meanwhile, the independent Russian newspaper Novaya Gazeta reported that the Russian security services had uncovered a plot to assassinate several other public figures in Moscow apart from Nemtsov—Ekho Moskvy radio editor-in-chief Aleksei Venediktov, Mikhail Khodorkovsky and, possibly, Ksenia Sobchak. All of them are in opposition to the current political regime. According to the newspaper's sources, Vladimir Putin must now choose between supporting Kadyrov, on the one hand, or, on the other, supporting the Russian government agencies, which have long greatly resented Kadyrov's unmediated political power (Novaya Gazeta, March 10).
Kadyrov expressed his gratitude for receiving the Order of Honor (it is not the first award the Russian president has conferred on the Chechen leader) by saying he was prepared to give his life for Putin (Instagram, March 10). Putin does not appear to be willing to offer up Kadyrov as a sacrifice, unless the state award is designed as some sort of bait before the coming downfall of Chechnya's leader. If Putin insists on keeping Kadyrov, he will, in essence, be offering his explicit approval for the murder of political opponents in the streets of Moscow. While ordinary Russians may not notice this, the Russian elites are likely to disapprove strongly. The Russian opposition has condemned the Kremlin for its support of Kadyrov, accusing it of using the Chechen leader to suppress opposition to President Putin with the same methods used in Chechnya. The murder of Nemtsov and the circumstances surrounding it complete the picture of pro-Moscow Chechens being used as the Putin regime's vanguard forces from killing Putin's foes to intervening as his private mercenaries in eastern Ukraine. However, the ethnic-Russian majority is unlikely to tolerate such a situation, even if it is only more an image than a reality, so Putin must find a way to curb Kadyrov's power one way or another. Still, he is unlikely to touch the Chechen ruler himself.