Chancellor Scholz Brings a Russia-First Approach to Ukraine
Publication: Eurasia Daily Monitor Volume: 19 Issue: 19
By: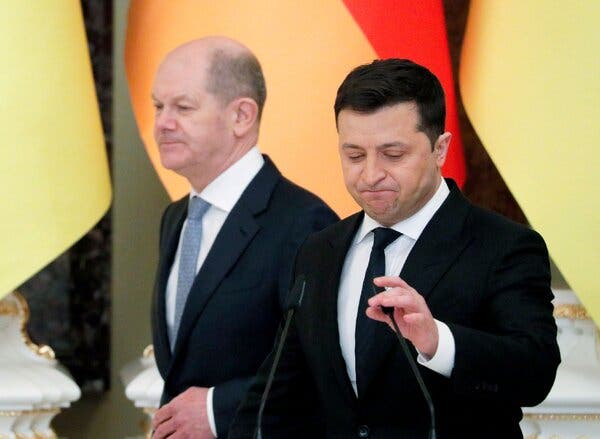 German Chancellor Olaf Scholz held talks with Ukrainian President Volodymyr Zelenskyy in Kyiv on February 14 and went on to meet with Russian President Vladimir Putin in Moscow the following day. Preceding Scholz was French President Emmanuel Macron, who met with Putin and Zelenskyy (in that order) on February 7 and 8 (see EDM, February 10). These four leaders comprise the "Normandy" format dealing with the conflict between Russia and Ukraine. They have resorted to these bilateral meetings because Putin refuses to meet with Zelenskyy in the quadripartite format; and a meeting à trois between Scholz, Macron and Zelenskyy would have been an affront to Putin.
The visits mark Scholz's debut in Kyiv and in Moscow since taking office as chancellor in December 2021. A finance specialist, with no foreign policy experience, Scholz arrives weighted down heavily by the former government's baggage in German-Ukrainian relations and the Normandy process. The former government, under the Christian-Democrat chancellor Angela Merkel in coalition with Scholz's Social-Democrats, has bequeathed a policy that favors Russia at the expense of Ukraine.
The building blocks of that policy include: Berlin's primordial role in barring Ukraine from the North Atlantic Treaty Organization's (NATO) otherwise open door; the Russo-German Nord Stream Two natural gas pipeline depriving Ukraine of its erstwhile $3 billion in annual transit revenue while adding to Ukraine's security vulnerabilities; and support for the Russian-designed Minsk "agreements," supplemented by the Steinmeier Formula (named after Scholz's party colleague, foreign minister in Merkel's government, now head of state Frank-Walter Steinmeier) that would resolve the conflict in Ukraine's east on Russian terms.
Massive Russian ground and naval forces, seemingly postured to invade Ukraine, cast a pall on Scholz's talks with Zelenskyy (Frankfurter Allgemeine Zeitung, Ukraiynska Pravda, February 14). The looming peril detracted somewhat from the public attention and media coverage that Scholz's visit would have received in more tranquil circumstances. The German side budgeted only two hours for the talks behind closed doors, which could hardly have done justice to the complicated bilateral agenda—still new to Scholz—and the Russia-generated security crisis, which required close attention as well. The concluding joint press conference revealed a Scholz beholden, while new in office, to the former government's policies (Bundeskanzler.de, President-gov.ua, accessed February 15).
Avoiding a further escalation of Russia's military threats to Ukraine and their de-escalation was Scholz's top priority on this visit; he would raise it with Putin the following day. Reflecting a united Western position, he warned that "a further military aggression against Ukraine would result in severe political, economic, and geo-strategic consequences for Russia." But he remained firmly silent about specifics: the sanctions package is being worked on by Western allies in consensus.
Scholz made a stunning, unilateral announcement during the joint news conference: "The President has once again assured me that he would submit the [Ukrainian] draft laws on the special status [of the Russian-controlled Donbas], the electoral law [on local 'elections' in that same territory], and the amendment to the [Ukrainian] constitution, for discussion in the Minsk Contact Group." This conformed to the letter of the Minsk "agreements," meaning: a) discussion with Russia's Donetsk-Luhansk proxies, who are "participants" in the Contact Group; b) submitting Ukrainian legislation to anti-constitutional entities for their approval, comment, or back-and-forth debate; c) accepting the notion that valid elections are possible in this Russian-controlled territory with a mass-Russian-passportized population. The "electoral law" is supposed to be negotiated between Kyiv and Donetsk-Luhansk.
President Zelenskyy seems to have left Scholz's announcement unanswered. Scholz, apparently, used the same procedure as Macron had used on Zelenskyy the previous week (see EDM, February 10): pinning him down and imputing words to him that he may or may not have said in their private conversation. Both visitors attempted to commit Zelenskyy at least in appearance to carrying out the Minsk "agreements."
Whether the Nord Stream Two pipeline would be blocked in the event of a Russian attack on Ukraine remained an unanswered question in Kyiv following Scholz's visit. Zelenskyy and local journalists cited the project's role as a geopolitical instrument but did not elicit answers. Zelenskyy seems prepared to settle for a consolation prize in the form of German "guarantees" that Ukraine would remain a transit country for Russian gas, albeit at far lower volumes than had earlier been the case.
Zelenskyy spoke with his usual enthusiasm about Ukraine's aspiration to join NATO; but he also suggested that Kyiv is receiving "signals from other countries' leaders" to no longer talk about this aspiration publicly because it irritates Russia. "Those signals are not from us," he insisted, but Ukraine needs to know how long the road to NATO is and who would guide Ukraine along this road. "Or is the Open Door just a story? A dream?" Scholz responded dialectically: "a country's freedom of alliance choice is a fundamental Helsinki principle, non-negotiable," but "the matter of actual membership is not on the agenda in practice." Scholz was "bewildered that the Russian government is turning this matter into a big political problem when this matter is practically not on the agenda" (Bundeskanzler.de, President-gov.ua, accessed February 15). Putin would undoubtedly explain that it is not a political problem to him but one of "legally binding guarantees."
Under Russia's threat, Ukraine persists with requests to procure German military equipment—both lethal and non-lethal—in spite of Berlin's recent refusal (see EDM, February 3, 7). Kyiv has submitted yet another shopping list in Berlin, and the question was put to Scholz during his visit. Citing Germany's legislation on arms exports, he answered negatively about lethal equipment for Ukraine and evasively about non-lethal gear. According to Ukrainian Foreign Minister Dmytro Kuleba, however, the existing German export restrictions on lethal equipment are not a legal document but a political one (Ukrinform, February 14).
German government data show a total of slightly under €2 billion ($2.3 billion) in financial support to Ukraine from 2014 through 2021. Almost all of it is comprised of humanitarian assistance. The amount seems to work out at some €250 million ($284 million) per year to a country of more than 40 million people (Bundeskanzler.de, February 14). Scholz came to Kyiv with a €150 million ($170 million) tranche from an earlier-approved credit line and another €150 million in fresh funding. Given Ukraine's inestimable strategic value, the focus of German humanitarian assistance looks non-strategic.