Dirty Bombs and Fake UAVs: Russian Disinformation Exercise or Deliberate Casus Belli?
Publication: Eurasia Daily Monitor Volume: 19 Issue: 19
By: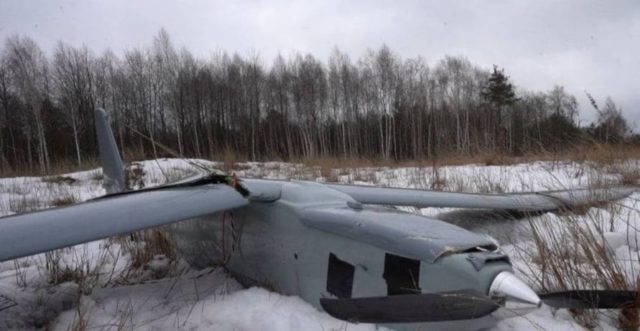 On February 3, reports appeared in the international media alleging that Russia was planning to fabricate a pretext for a renewed invasion of Ukraine. According to United States officials cited by various news outlets, Russia might try to use a fake video showing an attack by the Armed Forces of Ukraine (AFU) on Russians or Russian-speaking citizens of the temporarily Russian-occupied Donbas region (Babel, February 3; BBC News—Ukrainian service, February 4). Moscow would then declare the incident aggression against Russia's national interests and send in its military forces, potentially to undertake a so-called "coercion to peace" mission—similar to Russia's war against Georgia in 2008 or its deployment in Kazakhstan last month. US authorities evidently made this information public in a bid to undercut and prevent the possible Russian disinformation campaign.
Interestingly, the news about an alleged Russian information warfare plot came on the same day that the Belarusian media, military and diplomats claimed Minsk had apprehended a Ukrainian unmanned aerial vehicle. According to these allegations, a Spectator reconnaissance UAV launched from Ukraine had breached Belarusian airspace to gather intelligence about the then-upcoming joint Russian-Belarusian Allied Resolve 2022 military exercise (officially running from February 10 to 20) at the training range in Brestsky. The reports first appeared on the Belarusian state media channel ATN (YouTube, February 3) and were quickly echoed by the Ministry of Foreign Affairs. The official foreign ministry statement included further details, such as the purported day of the Ukrainian drone's launch—January, 24. According to the ministry, after detecting the foreign UAV, the Armed Forces of Belarus forced the craft to crash land, presumably with the use of electronic warfare equipment. Belarusian diplomats asserted that the analysis of the drone's onboard computer proved the flight's objective was to illegally collect reconnaissance data. The foreign ministry statement further noted that the Ukrainian side was informed that these unfriendly steps could provoke an escalation of the situation in the region (Mfa.gov.by, February 3).
Yet the Belarusian version of events quickly came under doubt. Photographs of the alleged captured Ukrainian UAV, posted by ATN, include a number of discrepancies. First of all, compared to an actual Spectator M1, the downed drone in the images has the wrong shape for its wings and nose, and is missing winglets. Also, the pictured drone bears no AFU identification marks. The Ukrainian volunteer open source intelligence network InformNapalm cited Yevhen Hriniov, a UAV specialist, who argued that the machine displayed by the Belarusian foreign ministry "is structurally different from any known production model of Ukrainian drones. Particular attention should be paid to the 'air intake,' fixed with large bolts, which is not how it is done in factory production settings. This Looks like a 'do-it-yourself model' made of parts purchased from online stores. It could have been assembled and used by some smugglers" (Informnapalm.org, February, 5).

Oleh Nikolenko, the spokesperson for the Ukrainian Ministry of Foreign Affairs, posited that the story of the captured drone and its released photos represented a provocation operation. He denied that his country had sent any UAVs across the border into Belarus and called on Minsk to resist playing along with Russia's destabilization efforts against Ukraine (Twitter.com/OlegNikolenko_, February 3). It is also worth underscoring that the news coincided with Russian Defense Minister Sergei Shoigu's visit to Belarus, where he arrived to inspect the preparations for the Allied Resolve military drills as well as to meet with President Alyaksandr Lukashenka (Rossiyskaya Gazeta, February, 3).
But wayward drones were not the only topic to saturate Russian propaganda. In some pro-Moscow Telegram channels, a video appeared showing alleged Ukrainian nationalists, members of the National Corps Party (Natsionalnyi Korpus), demonstrating how to construct improvised explosive devices (IED) and use them in a guerilla war against invading Russian forces. The National Corps Party, together with the Azov Battalion, is a popular scarecrow in Russian propaganda. The narrator in the video even advises using radioactive material to create a so-called dirty bomb. But the footage contains several mistakes, such as a wrong logo for the National Corps and grammatical errors in the Ukrainian subtitles—a well-known marker of sloppy Russian disinformation (Focus, February 4). National Corps published an official refutation of the story (T.me/nationalcorps/10711, February 4).
Similar language mistakes were identified in a message left by hackers who attacked several websites of Ukrainian government bodies on January, 14. According to the Ukrainian Center for Strategic Communications, the hacker's use of references to Volyn, the OUN-UPA, Halychyna, Polissia and "other historical lands" was supposed to obscure the "Russian trace" by shifting suspicion to an attack from Poland. Although the Polish-language text in the hack was written without errors, it is also clear that it was not written by a native speaker (Spravdi.gov.ua, January 14). Comparable false-flag provocations happened in Ukraine and Poland many times in recent years (Informnapalm.org, March 7, 2017). One of the latest, disseminated around Polish Independence Day (November 11) last year, asserted that interwar leader Józef Piłsudski's memorial in Kraków had been vandalized by "Ukrainian nationalists" (Twitter, November 6, 2021; Tyzhden, November 11, 2021).
The recent increase in disinformation and propaganda activities is likely tied to the ongoing Allied Resolve 2022. During military exercises, Russian special forces often practice psychological operations (psy-ops), which are meant to support regular combat missions of the main units. More operations of this kind, against the Euro-Atlantic alliance and Ukraine, are probable as Allied Resolve continues.
But even if all such incidents are "fake news" and associated with tangible military drills, they could still be part of a larger objective—to generate a casus belli for the Russian Federation to attack Ukraine. Indeed, the notion that the (ostensibly) intercepted Ukrainian reconnaissance UAV could serve as a pretext for war was discussed during Lukashenka's recent interview with infamous Russian propagandist Vladimir Solovyov (YouTube, February 7).
Ukraine's former defense minister Andriy Zagorodnyuk, who now runs the think tank Center for Defense Strategies, said the US administration was right to preemptively release intelligence about Russian plans and capabilities. In his view, the reported-on alleged Russian plot to justify an invasion sounds "a bit exotic," but he agreed that this type of false-flag operation is typical for Russia—and it has tried them before (The Guardian, February 6). Such psy-ops must be taken seriously.