Moscow and Kabul Beef up Forces on Tajikistan's Border as Badakhshan Deteriorates Again
Publication: Eurasia Daily Monitor Volume: 19 Issue: 19
By: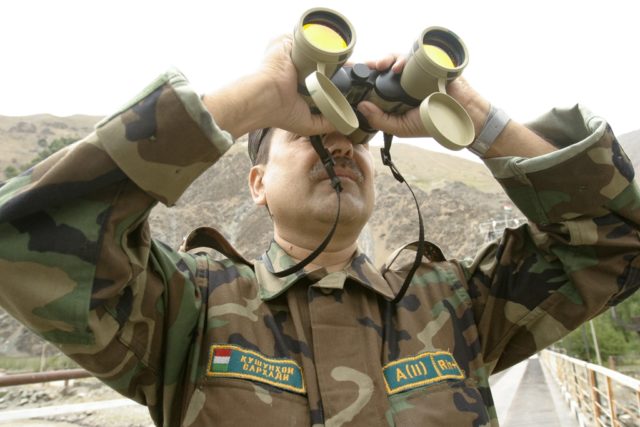 In mid-February, as Russians and Afghans mark the 33rd anniversary of the final withdrawal of Soviet troops from Afghanistan, both countries are beefing up their forces along the Afghan-Tajikistani border. The trigger has been a renewed deterioration of the security situation in the Gorno-Badakhshan Autonomous Province, which forms a third of the territory of Tajikistan geographically and is defined by the rugged Pamir Mountains. But this time, the growing chaos in this periodically restive area comes with a dangerous twist: outside powers are increasing their presence there as well. The surge in Russian and Afghan forces in the region as well as intensifying Chinese activity at military "bases" in eastern Tajikistan raise both the stakes and the risks that a local ethnic conflict will grow into something much larger. Indeed, what has been a conflict within the trans-border Pamir region and between it and Dushanbe now appears on the brink of becoming a dangerous international incident if any of the sides tries to exploit the situation or miscalculates how others may respond.
The state of affairs in Gorno-Badakhshan has never been completely stable since the end of Soviet times; and conditions have again been deteriorating there since the November protests over an extrajudicial murder of a local activist by state security police (CABR, February 11, 2022; see EDM, November 30, 2021 and December 7, 2021). But developments in the past two weeks, both inside the nominally autonomous region and those involving outside powers, have raised tensions, with some Moscow-based analysts now predicting Tajikistan will be the site of the next serious violent clash in the post-Soviet space (News.ru, February 11).
Gorno-Badakhshan has been on edge since last fall, when Tajikistani security services killed a Pamir activist while he was in detention and then refused to launch an investigation into what protesters call his murder. Dushanbe made some concessions but did not meet this demand. Now, the situation has worsened: Tajikistan's authorities seek to arrest Makhmadbokir Makhmadbokirov, a local leader whom they accuse of involvement in the drug trade and of attacking local officials. Makhmadbokirov denies the charges, claims the drugs were planted on him, and has called on the Pamir people to back him. In a video appeal, he says he supports Dushanbe but contends that the people of Gorno-Badakhshan view him as their defender against the arbitrary actions of the central government and are ready to resume their protests. At the very least, they are not going to hand him and his six alleged accomplices over to the police (Ozodi.org, February 7; Fergana, February 9).
The risks that an unstable Pamir region present to Moscow are obvious. If the central government of Tajikistan loses control there, northward drug trafficking and refugee flows from Afghanistan could increase. A danger also exists that Islamist radicals among ethnic Tajiks and Pamiris in Afghanistan will exploit the situation to undermine Dushanbe and seize power in the eastern portion of the country. Finally, Moscow analysts warn of a serious risk that Dushanbe might cut its losses there and (de facto or de jure) hand over this part of Tajikistan to the Chinese, as it has actually done with other parts of its territory in the past. Such an outcome would compromise Russia's position not only in Tajikistan but in Central Asia more generally. At the same time, fears this may in fact come to pass are also agitating many Tajikistani Pamirs, who are concerned they may soon come under Chinese rule (IA-Centr.ru, February 21, 2021; News.ru, February 11, 2022).
To try to prevent these kinds of developments, Russian President Vladimir Putin promised his Tajikistani counterpart, Emomali Rakhmon, last December that Moscow would boost its economic assistance to Tajikistan as well as beef up its military presence there. Specifically, the Kremlin leader said that "we are actively working in the direction of strengthening the defense capacity of Tajikistan. In recent times, necessary supplies of weapons and technology for that purpose have been delivered so that Tajikistan can effectively counter any threats that come from the outside. The [Russian] military base is developing and it is one of the significant elements of security in the region" (URA, December 27, 2021).
A little over a month later, that buildup is now happening, with Russian officials simultaneously expressing concern about the inability of Tajikistan's authorities to control the situation on their own. Just how worried Moscow is was reflected in a statement by Russian Defense Minister Sergei Shoigu during a recent telephone call with United States Defense Secretary Lloyd Austin focusing on Ukraine: as Russian television played up, the two apparently also pointedly discussed the problems on Tajikistan's border with Afghanistan (TV Zvezda, February 12, 2022).
Meanwhile, and partially in response to this Russian move, Kabul announced this week that it is dispatching 10,000 of its troops to northern Afghanistan, adjoining Tajikistan (Interfax, February 14). The Afghan authorities have additional reasons to do so, of course. On the one hand, the ruling Taliban is largely a Pushtun movement and faces a restive Tajik minority in the north. And on the other hand, there are numerous Islamist radicals in the northern portion of that country, which the capital does not effectively control. But the timing of this deployment is clearly intended to send a message to Russia. Namely, Kabul wants help from Moscow to end the US's blocking of Taliban bank accounts; and if such assistance does not come, Afghan forces may downgrade their efforts to control the border with Tajikistan, which would create worsening security conditions there that Russia hardly wants.
Russian international affairs specialists interviewed by URA news agency journalist Yekaterina Lazareva are unanimous that the situation in the Pamir region could profoundly degenerate and that Moscow must act to prevent that from happening (URA, December 27, 2021). She adds that an anonymous Pamir activist with whom she spoke was even more alarmist about the circumstances. People in Moscow and other world capitals, he allegedly said, must pay attention to what is happening in the Gorno-Badakhshan now before they are compelled "to search for it on a map and are surprised by what has unexpectedly happened for them there."