Russia, China Dividing Responsibilities in Tajikistan: Is Conflict Possible?
Publication: Eurasia Daily Monitor Volume: 18 Issue: 182
By: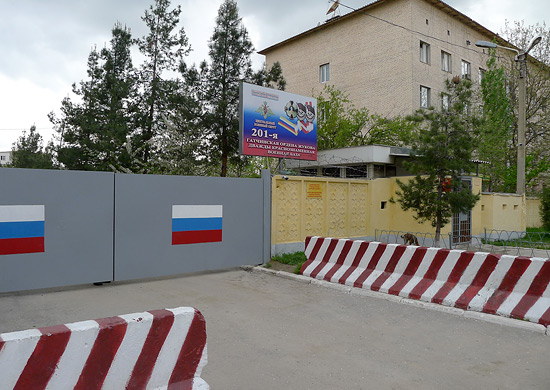 Street clashes in Tajikistan's Gorno-Badakhshan region have quieted down at least for the present, but in their wake, geopolitical competition there has, if anything, increased. Russia and China are assuming an ever more active role for at least three reasons: 1) the region's location on the Tajikistani-Afghan border, 2) the weakness of Dushanbe in that impoverished portion of the country, and 3) fears in both capitals about flows of drugs and militants out of Afghanistan to the north and east (see EDM, November 30; Ozodi.org, November 30). Indeed, the roles of Russian and Chinese forces have grown so much in the last several months that one Moscow-based analyst recently suggested the two outside powers are now "dividing" Tajikistan amongst themselves or at least splitting responsibility for ensuring that that Tajikistan does not follow Afghanistan and the Pamirs into chaos. Their presence, the expert contends, represents a new "great game," with new players but many of the same "old" risks (Vzglyad, December 1).
Russia has had a military base in Tajikistan since Soviet times, and its 201st Motorized Rifle Division there has regularly conducted exercises with the Tajikistani security forces (see EDM, July 24, 2018). But China's expanded role, although an extension of what it has been doing for the last several years (see China Brief, August 12, 2020), is new. And many view it as a violation of the implicitly accepted rules governing the division of responsibilities in Central Asia between the two Eurasian powers—with Russia handling security, and China focusing on economic development.
China has been gradually moving in this direction for some time now, and Russian analysts have expressed concern about the extent to which its presence could undermine Moscow's regional influence (Ia-centr.ru, May 10, 2021; see EDM, November 17, 2016 and April 4, 2019; see China Brief, February 4, 2021). Last year, for example, China opened the first of what it says will be 30 airports on Chinese territory just east of Tajikistan's border; and although Beijing assures they are intended to promote tourism, no one believes that is their only or even primary purpose (Windowoneurasia2.blogspot.com, May 13, 2020).
Moreover, this year, China has been constructing a military base in Tajikistan. Ostensibly, Beijing is building it for Tajikistan's government; but again, few believe that China does not plan to make use of it for its own purposes if need be, especially given concerns about the spread of instability out of Afghanistan, mounting tensions between Dushanbe and the Taliban, and longstanding Chinese claims on Tajikistani territory (Trtrussian.com, October 28, 2021; Regnum, October 29, 2021; Caa-network.org, November 18, 2021; Yandex Zen, December 1, 2021; see EDM, July 30, 2020 and September 10, 2021).
Not surprisingly, security analysts in Moscow are worried about what the Chinese presence in the Pamir region will mean for Russia. Vladimir Prokhvatilov, for example, dismisses the idea that the base the Chinese say they are constructing for the Tajikistanis will be used only by Tajikistan and not by China itself. Indeed, he says, there is evidence that China already has another such military facility in the Pamir region that it has been using to electronically monitor developments in Afghanistan. Until August, Beijing directed most of its attention to Western forces in Afghanistan, but with their departure, it has continued to use the facility to monitor the Taliban and the drug trade northward and eastward. He cites Tajikistani analyst Abdumanik Kodirov, who believes that China is putting itself in a position to seize the strategically important Wakhan Corridor and, thus, reduce the ability of Islamist radicals to move into Xinjiang (Vzglyad, December 1).
Russia and China have common interests in keeping the Gorno-Badakhshan region pacified. They both want to stem the drug trade into their own countries, they both want to prevent Tajikistan as a whole from following Afghanistan and the restive Badakhshan into chaos, and they both want to restrict the involvement of Ismaili leaders like the Aga Khan (with his links to the United Kingdom) from playing an expanded role. But those common interests may not be sufficient to keep the two powers from coming into conflict over a region in Tajikistan few in either capital have focused on up to the present; and such differences could put serious strains on the relations between them—in which Moscow has invested so much and Beijing has sought to benefit from (Fondsk.ru, November 30).
The Kremlin views Tajikistan as a former Soviet republic, in which Russia should have an exclusive droit de regard and does not want to see any outsiders including the Chinese assume a security presence there (Ia-centr.ru, May 10, 2021; see EDM, November 17, 2016). The Russian government, however, is not in a position to block the Chinese moves into Tajikistan and may even assume it can benefit from having Beijing share responsibility for security there. That might be possible if China simply establishes bases and avoids intensifying its current activities. But it is likely Beijing will build on its success and demand a larger voice in Dushanbe on a wide range of issues, something Moscow will not like and will certainly try to limit, especially if this involves Tajikistani territorial concessions.
Neither Moscow nor Beijing wants instability in Tajikistan, but both are ready to exploit it. The streets in the Gorno-Badakhshan capital of Khorog may have quieted for now. Yet if protests break out again in a region that Dushanbe does not effectively control, Russia and China may make a move since both have real forces of their own to perform that task, a situation that could easily lead to conflicts between them even if both parties would prefer to avoid that.