Tajikistan Breaks From Neighbors in Policy Toward Afghanistan
Publication: Eurasia Daily Monitor Volume: 18 Issue: 137
By: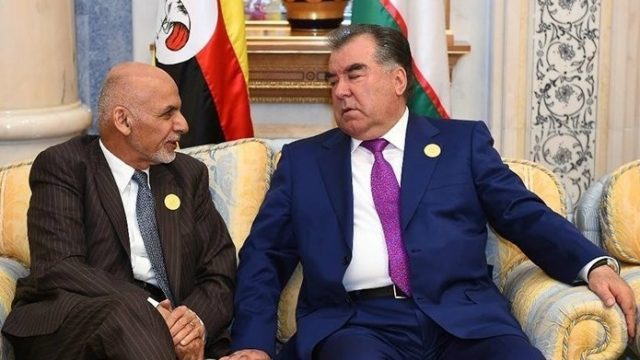 Confronted with the new Taliban government in Afghanistan, adjacent Tajikistan has broken from its Central Asian neighbors, which have largely adopted a conciliatory posture, and opted for a more confrontational approach. Speaking on the eve of Tajikistan's 30th anniversary of independence and one day after the Taliban announced its loyalist cabinet, President Emomali Rahmon declared he supported an "inclusive [Afghan] government taking into account the interests of all its peoples," adding that the international community "has no moral right to leave the people of Afghanistan alone with the problems that have arisen" (President.tj, September 8). Rahmon has increasingly positioned himself as the protector of Afghanistan's Tajik community, which makes up approximately one third of Afghanistan's population.
Tajikistan's government still classifies the Taliban as an extremist organization, with the state media referring to it, even after the fall of Kabul, as "radical" (Khovar, August 23). In another signal that it aims to support ethnic Tajiks in Afghanistan, on September 2 the government of Tajikistan posthumously awarded Northern Alliance commander Ahmad Shah Massoud and former Afghan president Burhanuddin Rabbani, both of whom were ethnic Tajiks, with the country's third-highest honor, the Order of Ismoili Somoni (President.tj, September 2).
More ethnic Tajiks live outside of Tajikistan than in the country itself, with the largest group inhabiting Afghanistan. In the 1990s, Tajikistan's government supported the Afghan Northern Alliance against the Taliban, acting as a supply base for the group. When Massoud was shot on the eve of 9/11, he was flown to Tajikistan, where he died. Historically, connections between Tajiks in Tajikistan and outside the country had been relatively weak. But recently, Rahmon's government has been stoking nationalist sentiments, especially since the bloody violence on the border with Kyrgyzstan in April 2021 (see EDM, June 21). By stirring up nationalist passions, the government is trying to distract people from the economic crisis caused by the COVID-19 pandemic.
Tajikistan's behavior is also driven by its black market economy. Licit trade between Tajikistan and Afghanistan is negligible, with most of the $70 million in bilateral turnover being electricity exports from Tajikistan. Afghanistan needs electricity, and undoubtedly this will be a bargaining chip Tajikistan will use. But the most important commodity transiting their shared border is drugs. Most of the opium and heroin—as much as 100 metric tons per year—transits through Tajikistan bound for Russia and Europe (Unodc.org, 2018). An estimated one third of the Tajikistani economy comes from the drug trade, much of it controlled by corrupt officials. Seizures pale in comparison to the drugs that transit the country, with 1.6 tons seized in 2019 (Interfax, March 6, 2020). Tajikistan will want to ensure that this lucrative commodity continues to flow north. But Taliban spokesperson Zabihullah Mujahid has repeatedly told international media the group would not allow the production of opium or other narcotics within its state (Wall Street Journal, August 28). This public signaling is likely part of a broader strategy to appear like a "responsible" government and to attract international aid. Regardless of whether the Taliban cracks down on narcotics production or not, opium is already becoming less important to Afghanistan's economy, with production falling from $1.7 billion to $400 million between 2017 and 2020, driven in part by competition from synthetics.
Tajikistan, an ardently secular state that tightly controls religion, may also fear that the potential success of the Taliban government may provide a boost to those calling for Islam to play a more important role in public life. Dushanbe is also worried about the prospect of Afghanistan becoming a safe haven for terrorist groups. Tajikistan's main border crossing with Afghanistan was captured by the Taliban on June 22, as the group advanced in the north of the country. Later, Radio Free Europe reported that the Tajik terrorist group Jamaat Ansarullah had been put in partial charge of the border (RFE/RL, July 27). The Taliban has long had a policy of not expanding north of the border, and the movement's spokesperson, Mujahid, reaffirmed the inviolability of Tajikistan in July (Sputnik-tj.com, July 6). But Central Asian groups fighting alongside the Taliban have no such policy. Founded in 2010 by former warlord Amriddin Tabarov, Jamaat Ansarullah, although marginal, has expressed a desire to attack targets in Tajikistan.
Like in the past, Dushanbe is using the crisis to attempt to secure more external assistance. The European Union has pledged 600 million euros ($710 million) for states bordering Afghanistan to host refugees (Trend, September 1). Concerned about the possible influx of refugees to their own countries, EU leaders have ramped up outreach. Emomali Rahmon has already hosted the German foreign minister and spoken on the phone with European Council President Charles Michel in recent days (Asia Plus, August 27, 31). French President Emmanuel Macron, a leader who has previously hosted Massoud, invited Rahmon to visit Paris in October (Sputnik News, August 26).
The Tajikistani government's Afghanistan policy is driven more by its own interests than by genuine concern for the plight of ethnic kin over the border, which it has notably closed to refugees. But signaling support helps President Rahmon, who has been in power for 28 years, distract the population from the country's pandemic-induced economic crisis. Positioning the country as a key actor vis-à-vis Afghanistan helps Tajikistan receive much-needed financial support. But with the likely possibility of the Taliban government quickly consolidating power and key allies opting to develop direct ties with the group, the government in Dushanbe may face pressure to switch course. Tajikistan's security services have deep connections with all kinds of elements inside Afghanistan, including the Taliban. Thus, such a policy change would be possible, especially if the Taliban extinguishes all resistance in Panjshir, allowing Rahmon to reverse course without losing face.