Border Conflict Compels Kyrgyzstan and Tajikistan to Look for Foreign Weapons
Publication: Eurasia Daily Monitor Volume: 18 Issue: 98
By: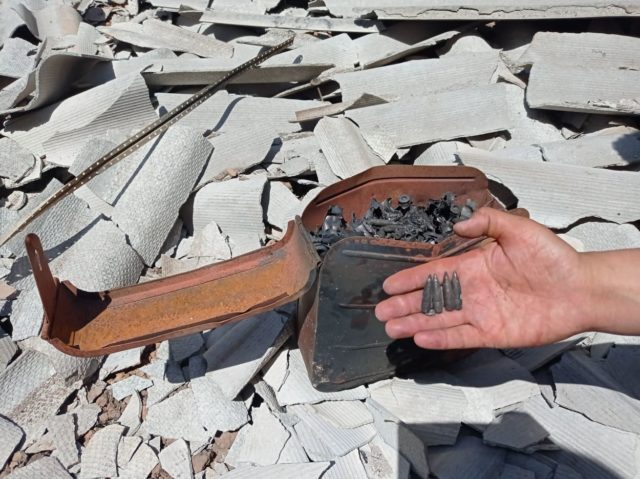 Neighboring Kyrgyzstan and Tajikistan came close to seeing the outbreak of renewed border clashes on June 4. This danger of fresh violence emerged little more than a month after the so-called "three-day war" between the two countries, from April 28 to April 30—the most significant armed conflict between these two Central Asian states since the region gained its independence from the former Soviet Union in 1991. The late-April fighting resulted in wide-scale destruction of rural residential areas on both sides of the border and the killing of 36 Kyrgyzstani and 19 Tajikistani citizens, mostly civilians (see EDM, May 19, 26).
The latest crisis was triggered by the Tajikistani military installing container houses in the disputed border area, a deliberate provocation, as some officials from Kyrgyzstan asserted. Yet although the situation did not escalate into a larger conflict this time, both sides quickly mobilized large numbers of military personnel in response. Moreover, Kyrgyzstan's government evacuated thousands of villagers living close to the disputed border areas. The involvement of senior-most security officials from both countries in deescalating the situation demonstrated how close the two neighbors came to another showdown along their non-delimited shared frontier. Moreover, the latest incident highlighted how these two countries' attitudes toward each other have hardened after the April 28–30 fighting (Kabar.kg, June 4).
Following two days of negotiations, Bishkek's and Dushanbe's security officials agreed to sign a bilateral protocol restoring the pre-crisis status quo and requiring the withdrawal of both sides' troops at least three kilometers into their respective territories. Kyrgyzstani evacuees were allowed to return to their homes (Kabar.kg, June 5).
Nonetheless, the two countries have continued to exchange mutual recriminations and create inconveniences to one another where possible. For instance, Kyrgyzstan unilaterally closed all border crossing points with Tajikistan until their border disputes are completely resolved and banned the travel of Tajikistani nationals through its territory. Additionally, the Kyrgyz Republic's parliament has been considering legislation that would permit the distribution of weapons to local residents in the border areas in the event of repeat clashes with Tajikistan (Asiaplutj.info, May 28; Azathabar.com, May 26).
From the military perspective, last April's border conflagration showed that Tajikistan had superior tactically prepared and better-equipped armed forces compared to their Kyrgyzstani opponents. The surprising variety of military munitions at the Tajikistani soldiers' disposal and their use of attack helicopters gave Tajikistan a significant advantage over the other side (Lenta.ru, April 29).
Later, after the violence at the border was pacified, Kyrgyzstan's former foreign minister Chingiz Aydarbekov complained that "for years Tajikistan has been receiving international military-technical assistance by touting various security threats emanating from its war-torn southern neighbor, Afghanistan; however, all that military aid had actually been used to launch aggressions against Kyrgyzstan and to kill innocent people in the border clashes." Undoubtedly, the three-day conflict left Kyrgyzstan with a bitter feeling of being overpowered by Tajikistan (Kabarlar.org, May 3).
Much like Kyrgyzstan itself, Tajikistan has traditionally avoided making large military purchases, instead depending on foreign military-technical assistance and arms donations, mainly from Russia and China. Both Kyrgyzstan and Tajikistan are considered the poorest countries in Central Asia, and each relies on Russia to a large extent for its security. Illustratively, both countries host Russian military bases.
However, this situation could be changing fast, at least for Tajikistan. According to Kyrgyzstani researchers, in the last five years (2016–2021), Tajikistan spent $121 million on various arms purchases, while Kyrgyzstan spent less than $4.6 million. Even in the pandemic year of 2020, Tajikistan expended $2.5 million on military procurements; whereas, Kyrgyzstan, rocked by a revolution in October 2020 and overall political instability, bought no additional weaponry (Kloop.kg, June 6).
With the risk of a full-blown war between the two neighbors unlikely but hardly impossible, the government of Tajikistan has been looking far and wide for additional arms purchases recently. Pakistani media revealed that during Tajikistani President Emomali Rahmon's official visit to Islamabad on June 2–3, the two sides struck a deal to purchase unspecified Pakistani-manufactured military equipment (Dawn.com, June 2).
Moreover, based on earlier signed agreements, Central Asia's most prosperous country, Kazakhstan, confirmed its plans to donate, in June 2021, more than three million pieces of munitions, mostly small- and medium-caliber bullets and mortar grenades, to aid Tajikistan in dealing with possible threats emanating from Afghanistan after the complete withdrawal of United States and Western troops. Nur-Sultan has also pledged comparable military assistance to Kyrgyzstan (Kloop.kg, June 5). It seems that this spring's border hostilities have not dissuaded Kazakhstan from moving forward on providing military support to both sides.
While the Tajikistani president was in Pakistan to secure weapons purchases, his Kyrgyzstani counterpart, President Sadyr Japarov, visited Turkey, a fellow Turkic-speaking country. In meetings with his Turkish hosts, Japarov emphasized the importance of enhancing bilateral political dialogue and military-security cooperation between Kyrgyzstan and Turkey. In particular, he requested that Ankara provide military-technical assistance on a regular basis to help modernize the Armed Forces of the Kyrgyz Republic and enhance the country's defense capabilities (Kabar.kg, June 9). Presumably, the successful cooperation between Turkey and Azerbaijan in liberating Azerbaijani territories from Armenian occupation in October 2020 made a serious impression on Kyrgyzstani officials (see EDM, February 18, April 1).
In the broader context, Japarov's request for military-technical assistance from Turkey and the desire to strengthen bilateral political and security ties implies that the current leadership in Bishkek may not be fully satisfied with the decades-long exclusive military-security alliance with Russia. Namely, despite deepening its dependence on Russia, the relationship has done little to improve Kyrgyzstan's own defense capabilities (Gezitter.org, May 4).
Tajikistan and Kyrgyzstan are apparently actively looking for ways to bolster their military capabilities by approaching sympathetic foreign partners willing to sell or donate much-needed weaponry. Existing regional cooperation and security frameworks, such as the Central Asian Leaders' Consultative Summit or the Russia-led Collective Security Treaty Organization, offer no effective mechanisms to help reconcile the two Central Asian neighbors and ensure that their border conflict does not escalate again (Elgezit.kg, May 10).
The situation on the Kyrgyzstani-Tajikistani border remains incredibly tense. The memories of the latest violent clashes are still fresh, thus magnifying the significance of each new incident that, in the past, might have gone unnoticed. However, protracted military conflict would surely drain each side's already meager economic resources and inflict wounds that will be difficult to heal. In such circumstances, international and regional partners would do well to treat Bishkek's and Dushanbe's requests for arms purchases or military-technical assistance with great caution.