Governor of Chechnya Hunts Down His Critics Across Russian Federation
Publication: Eurasia Daily Monitor Volume: 18 Issue: 98
By: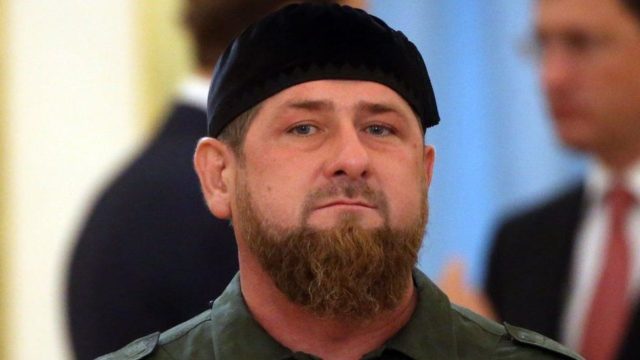 The ruler of Chechnya, Ramzan Kadyrov, aspires to have not only administrative but also moral control over the population of his republic—as well as beyond. The Chechen government's peculiar actions have recently again riveted the Russian public, while drawing unexpectedly sharp criticism. On June 10, Chechen police officers, accompanied by their Dagestani colleagues, stormed a shelter for women victims of domestic violence in Makhachkala, snatched a Chechen female, and took her back to Chechnya. They also briefly detained several other women. According to Russian human rights activists, Khalimat Taramova ran away from home due to persecution for her sexual orientation. She is said to be the daughter of an official from Kadyrov's entourage. Russia's LGBT community representatives expressed fear for Taramova's life, noting she might face a so-called "honor killing" by her relatives (Kavkazsky Uzel, June 12).
The actions of the Chechen and Dagestani police caused much uproar among the public in Russia. Women's rights activist Alena Popova called on the acting governor of Dagestan, Sergei Melikov, to step down since he cannot ensure the safety of women in his republic (Instagram, June 11). And Russian State Duma deputy Oksana Pushkina stated she would request information from the Prosecutor General's Office and the Ministry of Interior on the abducted Chechen female (Telegram, June 12). The European Court of Human Rights gave Russia ten days to respond to questions regarding Taramova's situation (Kavkazsky Uzel, June 14).
Chechen authorities claimed that Taramova is mentally ill and has to undergo treatment. Chechnya's Minister for Nationalities, External Relations and Information Akhmed Dudaev denied that Chechen police stormed the women's shelter in Makhachkala. Instead, he suggested that the law enforcement officers were following up on a lead provided by her relatives, who reported Taramova as a missing person. The minister reiterated that there were no sexual minorities in Chechnya and accused unnamed malevolent forces of trying to undermine the progress made by the Chechen Republic (Chechnya Today, June 12). When asked about the Kremlin's reaction, Russian presidential spokesperson Dmitry Peskov predictably deflected and referred journalists to the police, who, he said, should deal with domestic violence cases (Interfax, June 15).
The Chechen state television company Grozny broadcast what appeared to be a staged report on the situation of Khalimat Taramova soon after her abduction. The program included footage of local human rights activists visiting her home. The woman said on camera that she was glad to be home, assuring the audience that she "is not harmed at all" and that "the food is tasty." In response to reports that she was in mortal danger in Chechnya, Taramova stated, "I am shocked by what I read every day. I do not know why they are doing it. My daddy is really good—he does not harass me, does not beat me." The story was published on the night of June 14, on the Chechen state TV's account on Instagram (Kavkazsky Uzel, June 14).
Ramzan Kadyrov long ago transformed Chechnya into his private fiefdom within the Russian Federation, with the full backing of the Kremlin. The initial rationale for the Kremlin's support for Kadyrov was that he helped Moscow quell the insurgency in the republic. However, after the war was practically over, Chechnya's ruler went on to establish an ever more personalist and stringent regime. Kadyrov's "customary" laws often supersede those prescribed by Russian legislation. For example, Chechnya's residents practically have no right to complain publicly about their lives and, in particular, about the government. In addition, women bear the brunt of extra oppression—they have to adhere to a dress code and are seeing their personal freedoms progressively dwindle as polygamy spreads.
At the same time, the quasi-customary law that Kadyrov has established in the Chechen Republic is now becoming extraterritorial. Increasingly, it is common practice for people living outside Chechnya—and not only ethnic Chechens—to have to pay homage to the glory of the Chechen governor. Recently, a 14-year-old Balkar boy from Kabardino-Balkaria called Kadyrov a "shaitan" ("devil") and stated that he was not afraid of him. The video was posted on social media. Days later, the boy and his relatives were recorded apologizing for saying "unacceptable words about Ramzan Kadyrov" (Komsomolskaya Pravda, June 11). Earlier in May, a 15-year-old Dagestani boy who lives near Moscow also called Kadyrov a "shaitan" on Instagram. Kadyrov promised to find the youth and show him "who is a shaitan." Chechen officials apparently located the offender, and his entire family were force to publicly apologize (Komsomolskaya Pravda, May 19).
The Kremlin has tacitly approved of Kadyrov's practices. People from all over Russia have now had to apologize to Kadyrov for their "unthoughtful" words, meaning that they clearly do not feel protected from the Chechen head's reach by either regional or federal Russian authorities. To date, Kadyrov has managed to navigate the thin line between brazenly intimidating his critics across the Russian Federation and portraying himself as a staunchly loyal supporter of Russian President Vladimir Putin. So in effect, by permitting Kadyrov to act unconstrained in this way, Putin is subjecting ordinary Russian citizens to the abuse of his subordinate not only in Chechnya but in parts of the country where the latter has no legal power. One day, however, Kadyrov's abuses may backfire. In general, Russians are much more tolerant toward being governed by a strongman of their own ethnic kin. Once they more broadly realize they are being compelled to tolerate ill treatment from the ethnic "other," there may well be political repercussions both for Kadyrov and Putin.