Kazakhstan to Let Russia Do the Heavy Lifting on Afghanistan
Publication: Eurasia Daily Monitor Volume: 18 Issue: 137
By: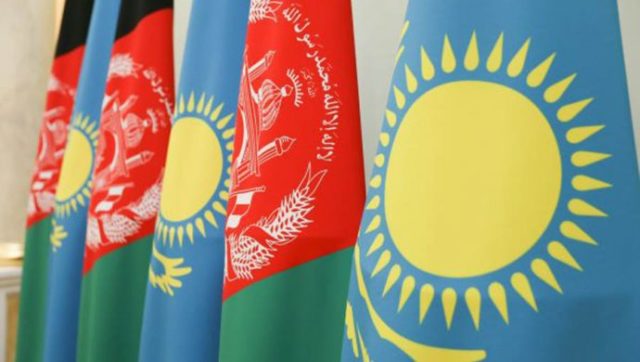 The recent fall of Afghanistan to the Taliban took many a government by surprise. Kazakhstan—Central Asia's biggest economy, which has no shared border with Afghanistan but is nonetheless actively involved in the regional security dialogue—was no exception. On August 15, the day the Taliban conquered Kabul but before the takeover was formally announced, Kazakhstani President Kassym-Zhomart Tokayev wrote on Twitter, "Kazakhstan is preoccupied with the escalation of violence in Afghanistan and is watching the events there closely" (Twitter.com/TokayevKZ, August 15). The president quickly ordered unspecified measures aimed at protecting Kazakhstani citizens within the troubled country; he also promised that the embassy of Kazakhstan in Kabul would continue to operate as normal (Twitter.com/TokayevKZ, Akorda.kz, Tengrinews.kz, Kazinform, August 15).
On both August 15 and 16, Tokayev held meetings with key members of his administration to discuss the constantly evolving security threat emanating from the Afghan direction. The Ministry of Foreign Affairs reported at the second such meeting that all Kazakhstani citizens had by then left Afghanistan, with the exception of core diplomatic staff. The Tokayev administration also had to deny rumors of a coordinated plan to admit some 2,000 Afghan refugees into Kazakhstani territory, which had earlier started circulating on social media. The original rumor emerged after a phone conversation between United States Secretary of State Antony Blinken and his Kazakhstani counterpart, Foreign Minister Mukhtar Tleuberdi, on August 13. Several days later, Kazakhstan did admit 135 staff members of the United Nations Assistance Mission to Afghanistan (UNAMA), established pursuant to a UN Security Council resolution dated March 2002 (Tengrinews.kz, August 20; Akorda.kz, August 15, 16; Kursiv.kz, Kapital.kz, Radio Azattyq, August 16).
In and of itself, Afghanistan holds little strategic value for Kazakhstan. In June 2011, the Kazakhstani Senate refused to ratify an agreement with the North Atlantic Treaty Organization–led International Security Assistance Force (ISAF) to send four military officers on secondment to the Afghan army. Bilateral political relations have since remained low-key amid token military cooperation; and so have economic ties. In the first half of 2021, the Afghan-Kazakhstani trade turnover amounted to a modest $229.7 million, 99 percent of which was in the form of exports to Afghanistan, mainly flour ($123 million) and wheat ($72.8 million). In general, over 60 percent of Afghanistan's flour imports come from Kazakhstan, and the deliveries have been primarily paid with foreign loans awarded to the Western-backed Ashraf Ghani administration. Only $1.7 million accounted for Afghan-origin imports, most of which were raisins worth $545,700 (Total.kz, August 23; Informburo.kz, August 21; Lsm.kz, August 16, 19).
Despite its limited direct engagement with Afghanistan, Kazakhstan faces a host of regional level risk factors affecting the whole of Central Asia, among them: the proliferation of Islamic fundamentalism, narco- and arms trafficking, and direct threats to political instability in the adjoining countries, in particular within Tajikistan, which shares a common language, Dari, with its southern neighbor. So far, Kazakhstan has clearly chosen to follow the Russian lead in dealing with the Afghan predicament. On August 18, the two countries' foreign ministers discussed the regional situation in a phone call, which was followed days later by Kazakhstan's reaffirmation of its non-recognition of the Taliban. Yet with Russia ostensibly playing first fiddle as the unchallenged leader of the Collective Security Treaty Organization (CSTO), Moscow took upon itself to host and toast a Taliban delegation in early July. In contrast, Nur-Sultan (as the Kazakhstani capital has been known since March 2019) has refrained to date from engaging in any formal or informal contacts with the new rulers of Afghanistan (TASS, August 20; Rossiyskaya Gazeta, August 18; Lenta, RBC, July 9).
Speaking virtually on September 3 at the Eastern Economic Forum in Vladivostok, Kassym-Zhomart Tokayev was outspoken about Russia's leading role in tackling the Afghan situation: "It is gratifying to know that we hold a common line together with Russia and other CSTO members with regard to all these sensitive issues. We have already had a CSTO summit at the initiative of the Russian president [Vladimir Putin]. We had an opportunity to discuss all the issues relating to Afghanistan and to elaborate a consolidated stand on the risks originating in that country." The CSTO treaty implies that in case of aggression against any of its members, of which the economically vulnerable Tajikistan is one, the other members shall automatically come to its rescue through military means. Russia is still unclear about its possible recognition of the Taliban, potentially in exchange for a formal pledge of non-interference in Central Asia, which would otherwise trigger—to Russia's chagrin—the mutual defense clause of the CSTO treaty. And Kazakhstan is similarly wavering (EADaily, Vlast.kz, Tengrinews.kz, Akorda.kz, September 3).
Nur-Sultan will likely continue to stay in the shadows, letting Moscow manage the Afghan crisis as it unfolds against the backdrop of the Taliban movement's early attempts to govern a country it had once already ruled with an iron fist. Military- and security-related contacts with other Central Asian states should logically expand to counter heightened regional risks, but there is nothing to suggest that they will outgrow existing, and rather patchy, cooperation frameworks. One area in which Kazakhstan could distinguish itself, though, is humanitarian aid. Unlike its poorer neighbors, Kazakhstan has in the past supplied humanitarian assistance to Afghan civilians. For instance, in September 2018, the Kazakhstani government announced a $50 million aid package to fund Afghan women's university scholarships. Similar generosity will be more than welcome today in the context of the return of the Taliban's repressive policies against the female population (Informburo.kz, September 10, 2018).