Russian-Style Multilateralism: Decorative and Ineffectual
Publication: Eurasia Daily Monitor Volume: 18 Issue: 138
By: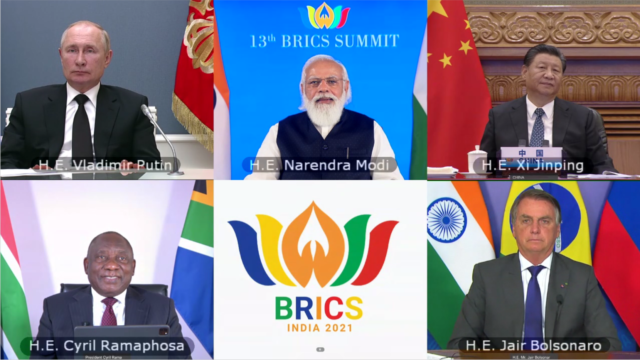 Amidst the ongoing turmoil in Afghanistan, Russia has been convening or partaking in unusually numerous multilateral forums. President Vladimir Putin, aware of the strong emphasis by the Joseph Biden administration on reinvigorating the United States' ties with allies and building a coalition of democracies, resorted to the old discourse of upholding a "multipolar system" of independent centers of influence (RIA Novosti, September 9). He addressed the virtual summit of BRICS, the 15 years old proto-organization that is supposed to bring together five such centers—Brazil, Russia, India, China and South Africa—but can barely bridge their disagreements. India, which presided over the proceedings, focused on the threat of terrorism emanating from Afghanistan; while China, due to convey next year's summit, is inclined to do business with the government formed by the victorious Taliban (Nezavisimaya Gazeta, September 9).
Russia tries to play it both ways, showing a readiness to cultivate connections with the Taliban but also demonstrating resolve to provide security guarantees to its allies in Central Asia. The series of power projections in the region continued in early September with joint exercises in Kyrgyzstan (Nezavisimaya Gazeta, September 9; Izvestia, September 3). Members of the Russia-led Collective Security Treaty Organization (CSTO) will be comparing their newly altered threat perceptions at the CSTO summit on September 16, in Dushanbe, Tajikistan, following an emergency video-conference on August 23 (Rossiyskaya Gazeta, August 28). A common regional course is hard to chart, however, as prospective member Uzbekistan attempts to establish new cross-border ties with Afghanistan, while Tajikistan is resolutely opposed to the latter's new government (Novaya Gazeta, September 9). Both Kyrgyzstan and Tajikistan (while not on good terms with one another) demand more Russian forces for protection against probable incursions, whereas Uzbekistan prefers to rely on its own capabilities, assuming that Moscow is far from eager to take on a new burden (see EDM, September 10).
Right after the CSTO meeting, the Shanghai Cooperation Organization (SCO), in which China's influence over four Central Asian states (Turkmenistan stays out of all multilateral frameworks) has grown stronger than Russia's, will also gather in Dushanbe. Discussions on Afghanistan are certain to be fruitless since China prefers to act unilaterally, while India and Pakistan, which became full members in 2017, cannot possibly agree on this problem (Izvestia, September 9). The key decision is expected to be the admission of Iran, which applied to join the SCO back in 2008, as the ninth member state (Kommersant, September 9). US sanctions are no longer seen as an obstacle to this accession, and China, which last March signed an agreement on comprehensive strategic partnership with Iran, stands to benefit the most from this symbolic step. Russia has declared full support for granting Iran the desired status, but it also seeks to continue the conversation with the United States on the nuclear issue, advanced by US special envoy for Iran Robert Malley's visit to Moscow last week (Nezavisimaya Gazeta, September 8).
The relationship that stands out in these overlapping but largely decorative political interplays is the construction of the so-called "Union State" between Russia and Belarus, which had been stalled for many years but received a new impetus since the eruption of protests against Alyaksandr Lukashenka's regime last August (Carnegie.ru, September 3). The meeting between Presidents Putin and Lukashenka last Thursday (September 9) was supposed to signify a breakthrough in asserting Russia's dominance over the troubled neighbor, but it turned out to be much longer on declarations than on substance—yet again (Rosbalt, September 10). Putin's apparent lack of interest in the proceedings and disdain for his outspoken partner came through the insincere bonhomie rather clearly (Kommersant, September 10). Lukashenka received some economic assistance that can soften the impact of Western sanctions; but Russia's longer-term gains from Belarus's deepening dependency are uncertain (Russiancouncil.ru, September 10). Neither autocrat mentioned US policy, but both expressed indignation and ire about the European Union's own attempts to ostracize Belarus, seeking to counter the increasingly positive attitude toward Europe that can be found in Russian public opinion (Levada.ru, September 8).
The EU is compelled to take firm measures to counter Lukashenka's exploitation of migrants from the Middle East as a "hybrid weapon" against Lithuania, Latvia and Poland (Nezavisimaya Gazeta, September 7). These European states are additionally worried about the massive Zapad 2021 exercises, which are scheduled to last until the end of the week (Izvestia, September 11). The real scale of these war gamed is difficult to establish, as they involve dozens of mock battles spread from the Barents Sea to the Caucasus. Still, the general concept involves a joint strategic operation by Russian and Belarusian armies, as well as the Baltic and Northern fleets, in the Western theater (see EDM, September 9).
The declared "defensive character" of these exercises does not fit with the clearly offensive design of most deployments; and Ukraine's President Volodymyr Zelenskyy was not exaggerating when he warned about the risk of a big war (Svoboda.org, September 10). Ukraine was subjected to heavy military pressure this April, when a large grouping of Russian forces massed on its borders for a snap mobility drill, not much smaller in size than Zapad 2021. During his visit to Washington, DC, in late August, Zelenskyy thanked President Biden for discharging that crisis but confirmed that Russia's pressure was relentless (RBC, September 2). A new escalation will probably involve a termination of Russian natural gas transit through Ukraine—an option that Moscow has physically (if not yet legally) gained with the completion of the Nord Stream Two pipeline to Germany, which Gazprom announced in recent days (Novaya Gazeta, September 11).
Ukraine remains the main target in Russian plans for projecting military power, but the efforts at upgrading ties with international partners are useless in this regard, as even Lukashenka refuses to recognize the annexation of Crimea. The confrontation with Kyiv frustrates Moscow's attempts at gaining prestige and status and renders Russian-style multilateralism ineffectual. But for the Kremlin, there is no way out from this deadlock. Every step Ukraine makes in advancing reforms and anchoring itself to Europe constitutes a setback for Putin's regime, which continues to grow more oppressive and autocratic. Pseudo-democratic and plainly despotic regimes are numerous in the global arena, but their leaders are wary of partnering with a Russia engaged so deeply in this confrontation against the larger West. Even China, which is fast regressing into a Maoist-style dictatorship, finds it opportune to keep the strategic partnership with Russia commitment-free, monitoring the simultaneous tensions in the Black Sea, Baltic and Arctic theaters. Rogue states have no allies, and Putin's Russia is stuck on this track.