Kyrgyzstani Parliamentary Elections Strengthen President Japarov's Rule
Publication: Eurasia Daily Monitor Volume: 18 Issue: 182
By: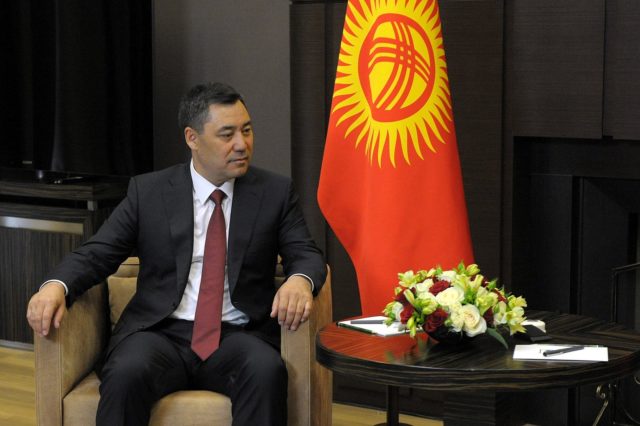 On November 28, Kyrgyzstan held early parliamentary elections, which capped a year of hectic electoral activity—inaugurated with the January presidential vote won by then–prime minister Sadyr Japarov and continued with a nationwide constitutional referendum in April. The latest elections took place within the framework of a newly amended Constitution. The single-chamber Kyrgyzstani parliament, formally known as the Supreme Council (Jogorku Kenesh), had previously consisted of 120 deputies, all of whom had been elected in accordance with the proportional voting system based on party lists (TASS, Kabar.kg, Akipress.org, November 28; Shailoo.gov.kz, Kloop.kg, April 12; 24.kg, January 11; Radio Azattyk, January 10).
Following the April 2021 constitutional reform, in which over 85 percent of eligible voters cast their ballots in favor of President Japarov's reform package, the parliament was returned to its pre-2010 seating capacity of 90. More importantly, 54 seats are now filled through party lists, and the remaining 36 members of parliament (MP) are elected by means of majoritarian voting, which means that individual candidates seek to win a majority in their respective electoral districts on the strength of their personal programs. What the referendum otherwise did to Kyrgyzstan's chronically unstable political system is to make it again a presidential rather than a parliamentary republic (RIA Novosti, April 14; Knews.kg, April 12; 24.kg, Kloop.kg, April 11).
Under the new constitution, the president of Kyrgyzstan can be elected for two five-year consecutive terms in lieu of a single six-year term. As head of the executive branch, the president has been made solely responsible for the direction and quality of governmental policies, hence his newly acquired right to chair meetings of the Cabinet of Ministers, as the government is currently known. With the office of prime minister having been formally abolished, the cabinet's day-to-day business is managed by the president's chief of staff. Since mid-October 2021, the job has been held by Akylbek Japarov. Despite a family name in common with the president, this former MP (2005–2007) and minister (2007–2009) under then-president Kurmanbek Bakiyev is not a relative of President Japarov; that said, he forms part of the head of state's close entourage (Sputnik News Agency, Kp.kg, October 13; Vb.kg, Vesti.kg, May 5).
The outcome of the recent elections is outright favorable to the Japarov administration, providing a further boost to the strongman who came to power as a result of another revolution which followed the rigged parliamentary vote of last October (see EDM, October 20, 27, 2020). The three top spots reserved for political parties went to formations that openly support Japarov's political and economic agendas. Ata Jurt Kyrgyzstan (Homeland Kyrgyzstan), Ishenim (Faith) and Yntymak (Harmony), thus, won 15, 12 and 9 seats, respectively. Together with a solid group of Japarov loyalists among those who were elected in single-member constituencies, these 36 MPs have effective control of the national legislature (Vb.kg, December 7; Ktrk.kg, December 4).
The Ata Jurt Kyrgyzstan phenomenon is a particularly good illustration of how skillfully Japarov made tabula rasa of the undisciplined and inefficient party system he had inherited from former president Sooronbay Jeenbekov's era. Registered in 1999, the party came to national prominence only recently in connection with the elections; its 41-year-old leader is a little-known medical doctor by training whose political experience is limited to a five-year stint (2016–2012) as member of a rural legislative council. Ata Jurt Kyrgyzstan should not be confused with Respublika Ata Jurt, an opposition party founded in 2015 that reached second place in the last legitimate parliamentary elections of 2015 (the results of the 2020 vote, which led to the revolution and Japarov's ascent, were canceled) (Sputnik News, November 3).
Interestingly, Japarov himself used to be a member of one of the two Respublika Ata Jurt predecessors, the nationalist Ata Jurt party. In 2010–2013, he sat in the Kyrgyzstani parliament as an Ata Jurt MP. The elimination of Respublika Ata Jurt from the domestic scene, for the clear benefit of the formally unaffiliated Ata Jurt Kyrgyzstan party, is a win for Japarov. In fact, this political operation has enabled him to ditch Ata Jurt's toxic baggage and, at the same time, pitch a new dynamic structure headed by a relatively young, uncompromised leader to the national electorate. In the early 2010s, Ata Jurt was embroiled in a series of controversies, namely with respect to the Kumtor Gold Mine, whose nationalization the party had made a key plank of its radical reform agenda. Its high-profile members, including Japarov, were even imprisoned for an attempted coup d'état (Radio Azattyk, August 3, 2017; October 5, 2012).
Kyrgyzstan is a notoriously unstable country although, since at least 2010, it also has had the distinction of being the only democratic regime in the whole of Central Asia. Sadyr Japarov's endeavors to make it less democratic but more stable have so far been succeeding. To date, the president has sought to maintain friendly relations with all of Kyrgyzstan's major foreign partners—from Russia to China to the collective West. Despite these successes, it has yet to be ascertained whether the relative stability that his administration is now enjoying will be seen by Japarov as a golden opportunity to seize in order to push for the reforms that Kyrgyzstan really needs, regardless of how beneficial or detrimental they will ultimately be for his rowdy base of supporters.