Ukraine Looms Large in Biden-Putin Dialogue
Publication: Eurasia Daily Monitor Volume: 18 Issue: 183
By: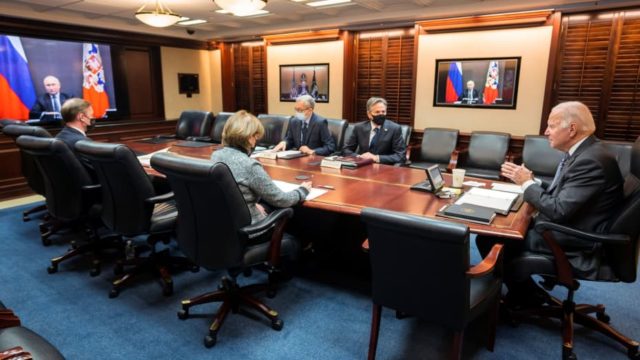 Presidents Joseph Biden of the United States and Vladimir Putin of Russia held a one-on-one video-conference, on December 7—their fifth direct dialogue (three by telephone, one in person, one by video) in the ten months since Biden took office. The US President initiated both the in-person meeting in Geneva on June 16 and their December 8 video-conversation. This proactive effort to conciliate the Kremlin reflects the Biden administration's view that it needs Russia's cooperation in order to address the growing list of regional and global tasks and challenges confronting the United States (see EDM, October 20).
The notion of needing Russia's cooperation—or, at least, a respite from the Kremlin's mischief, as Team Biden's constant pleas for "stable and predictable relations" suggest—is conducive to preemptive concessions at one's own cost or that of a dependent third party. This helps explain the Biden administration's major concessions to Russia at Ukraine's expense. First, it greenlighted the Russia-Germany Nord Stream Two natural gas pipeline in circumvention of Ukraine. And second, it took up the task of bringing Ukraine into compliance with the Minsk "agreements," after seven years of Kremlin failure to break Kyiv's resistance. The Biden administration announced its cave-in on Nord Stream while preparing the June 16 Geneva summit with Putin; it announced its embrace of the Minsk "agreements" while preparing the Biden-Putin video-dialogue just held; and it informed Ukraine post factum about both of these decisions.
Russia concentrated massive military power along Ukraine's borders in the run-up to both Biden-Putin meetings, seemingly poised to attack or invade Ukraine. The Kremlin withdrew parts of those forces—thus lifting the imminent threat—before the June summit in Geneva; but it deployed even larger forces from late October until the December 7 Biden-Putin dialogue and beyond it. Russian troop movements, uncertainty about their intentions, and some high-impact media stories of dubious provenance orchestrated fears that Ukraine might be attacked or invaded by certain dates or timetables. An influence operation seemed to be in full swing, with messages tailored to Washington and Kyiv, respectively. Solutions were also suggested, notably:
"Putin wants Biden to finally face up to an unpleasant dilemma. Washington needs to brace itself for its partner Ukraine to be soundly defeated militarily, in an especially humiliating re-run of recent events in Afghanistan. Or it can back down and reach a compromise with Moscow over Ukraine." Furthermore, "Washington does not need Ukraine as an ally in its standoff with China, nor to work against climate change. Why sleepwalk into a confrontation with Russia over it?" (Maksim Samorukov, "Ignoring Putin on Ukraine Is Easy—and Self-Defeating," Carnegiemoscow.org, December 6, 2021).
The Biden administration responded on several levels: it coordinated with European allies on economic sanctions to be imposed on Russia if it attacks Ukraine, precipitated the Biden-Putin talks, and is asking Ukraine to begin fulfilling the Minsk "agreements." Secretary of State Antony Blinken took this demand to the Organization for Security and Cooperation in Europe's (OSCE) annual ministerial meeting on December 2. Characterizing the Minsk "agreements" as Ukrainian "obligations," Blinken urged Ukraine to go ahead with the "special status" for the Donetsk-Luhansk territory, to enact a blanket amnesty for crimes committed there, and to renew a ceasefire agreement directly between the Ukrainian army and Donetsk-Luhansk forces, implying de facto recognition of the latter (Ukrinform, December 2, 3). This is not the policy of the Ukrainian government.
Biden and Putin held a two-hour-long video-conference, in which Ukraine was the central topic. Blinken and National Security Advisor Jake Sullivan accompanied Biden. The Kremlin's readouts (Kremlin.ru, TASS, Interfax, December 8) are far more extensive than those from the White House (Whitehouse.gov, December 8). According to the Russian official accounts, Putin disclaimed any attempt to exert military pressure on Ukraine. As summarized by Putin's top advisor, Yurii Ushakov, after the session, Putin basically replied "Who, us?" to President Biden's remonstrance about the Russian troop movements.
Putin offered a long list of accusations against Ukraine: it "dismantles the Minsk agreements" (to which "there is no alternative"), it "sabotages" decisions of the "Normandy" forum (Russia, Germany, France, Ukraine), and it "blocks" the discussions in the Contact Group by refusing to hold talks with Donetsk and Luhansk. Furthermore, Ukraine is "stepping up its attacks on the Russian language," displays "aggressive nationalist moods," stages "provocations against the Donbas," and "militarizes the country with US and Western support."
The agenda also included the US-Russia dialogue on strategic stability, Iran's nuclear energy program, and joint US-Russia efforts to curb cybercrime (ransomware). This agenda was far narrower, compared with that of Putin and Biden's Geneva meeting. Topics omitted altogether this time were the Nord Stream Two natural gas pipeline, energy in general and climate. Apparently, the Russian side was unwilling to engage in discussions about its political manipulations of energy supplies; while the Biden administration declines to call out those practices (that Russia "comes close" to such practices has become the administration's boldest position in recent months).
According to the Kremlin's readouts, Biden laid out the possible sanctions that the United States and European allies are prepared to impose if Russia "escalates" the military situation along Ukraine's borders. Biden warned that these sanctions would be more painful to Russia, compared with those imposed in 2014 and subsequently.
The presidents agreed that they share a special responsibility for the maintenance of international security and stability, according to the Kremlin's account. This elevates Putin to equivalence with Biden—a favor that Biden himself had bestowed on Putin in Geneva.