President Zelenskyy Confronts Top Ukrainian Oligarch
Publication: Eurasia Daily Monitor Volume: 18 Issue: 183
By: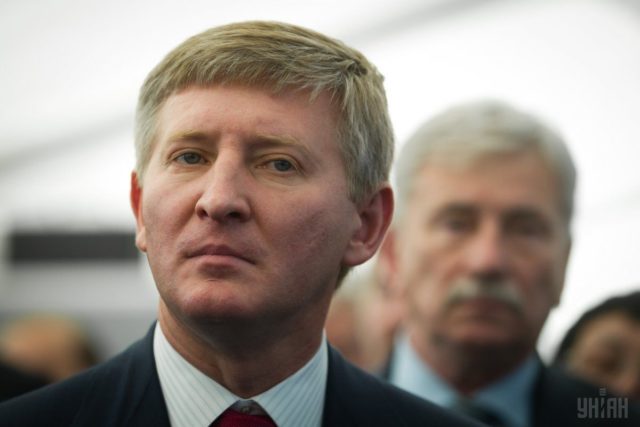 For the past several weeks, much of the world's attention has been focused on an apparent Russian buildup of forces near the Ukrainian and Belarusian borders, raising fears that Moscow may be preparing for a new aggression against Ukraine this coming winter (see EDM, December 2). Questions remain whether this threat is real or a Kremlin bluff. But in a recent op-ed, Ukrainian Defense Minister Oleksii Reznikov warns the European Union about potential catastrophic repercussions for the West if Russia invades militarily. As he notes, a major war in Ukraine would plunge the whole of Europe into crisis, leading to the sudden appearance of between three million and five million Ukrainian refugees. Minister Reznikov nonetheless assures that the Ukrainian army is one of the strongest ground forces on the European continent, with more than 400,000 combat veterans ready to resist a full-scale invasion (112ua.tv, December 5). In the midst of this potential brewing external threat, however, Ukrainian political elites are presently bogged down in internal confrontations.
This past September, Ukrainian members of parliament passed a law to limit oligarchic influence on domestic politics. According to the bill, Ukrainian citizens who own more than 2.19 million hryvna ($1 million) in financial assets and media outlets have to register as "oligarchs." Moreover, the law requires senior state officials to declare any dealings with oligarchs (Euronews.com, September 23).
On November 26, President Volodymyr Zelenskyy alleged that the authorities had uncovered a coup attempt involving the country's richest person, Rinat Akhmetov. The latter owns inter alia the financial and industrial holding company System Capital Management (SCM), energy sector conglomerate DTEK (which controls 70 percent of Ukraine's power output) as well as Media Group of Ukraine. According to Zelenskyy, the top Ukrainian oligarch was at least tangentially involved in a Russian-backed coup against the president of Ukraine. Namely, recordings of several individuals from Akhmetov's inner circle appear to show them discussing the plot along with a $1 billion reward for the would-be perpetrators (Politico.eu, November 27).
Akhmetov quickly rebuked the charges by Zelenskyy in an official statement, calling the president's accusations an "absolute lie." Moreover, Akhmetov claimed he would do everything possible to prevent authoritarianism and censorship in Ukraine (Metinvestholding.com, November 26). Nevertheless, members of the president's Servant of the People (SoP) political party issued a statement announcing a boycott of the country's fourth most popular television channel, Ukraine24, controlled by Akhmetov's media holding (Censor.net, November 26).
The Ukraine and Ukraine24 media channels have been strongly criticizing the Zelenskyy administration for weeks, particularly over its handling over the "Wagner-gate" scandal. The story involves a controversial special operation, apparently hatched in 2018 by the previous administration of Petro Poroshenko (as he admitted late last year—see EDM, February 9), which aimed to capture some 33 Russian mercenaries of the Wagner Group private military company (PMC) who had previously participated in the conflict in Donbas. The Wagnerites were allegedly lured by the Defense Intelligence of the Ministry of Defense of Ukraine (GUR) to take on a well-paid mission in Venezuela; but their travel would involve a flight from Minsk to Istanbul, and the plane would apparently be intercepted by Ukraine's security services while flying through Ukrainian airspace. However, as the operation got underway in late July 2020, with the Wagner Group fighters awaiting their flight from Minsk, a sudden order came down from within Zelenskyy's presidential office to postpone the date of the targets' flight out of the Belarusian capital (Bellingcat.com, November 17). Instead, the Wagnerites ended up being detained by Belarusian police at a sanatorium (health-and-wellness/vacation resort) just outside Minsk, where they were staying (Interfax, July 29, 2020; see EDM, July 30, 2020 and August 3, 2020). The Ukrainian opposition, including Poroshenko's European Solidarity party, has been blaming Zelenskyy over his administration's failure to carry the special operation through to a successful conclusion (5.ua, November 3).
On November 19, former Ukrainian military intelligence chief General Vasyl Burba appeared publicly in an interview on the talk show Svoboda Slova, where he explained that the head of the Presidential Office, Andrii Yermak, personally insisted President Zelenskyy was ordering a delay to the operation; no written orders were ever sent, the former GUR chief claimed. According to Burba, Ukrainian intelligence suffered a "fiasco" due to "leaks" from a "mole working for Russia." Additionally, he stressed that the Belarusians would never hand the alleged Wagner mercenaries over to Kyiv due to Minsk's close coordination with the Russian intelligence services. Other Ukrainian GUR officers involved in the botched operation were fired from the Armed Forces and stripped of their high-level credentials, Burba contended (Bykvu.com, YouTube, November 19).
The talk show, which aired on Ukraine24, resonated loudly within Ukrainian society. And several weeks later, Ukraine's Prosecutor General announced an investigation into more than 200 criminal cases involving companies and enterprises related to Rinat Akhmetov (Ukraiinska Pravda, December 2).
The open confrontation between Zelenskyy's office and Ahmetov, Ukraine's richest man, worth over $11.5 billion, could lead to serious political consequences as both camps gain momentum. Recently, investigative journalists of Ukraiinska Pravda published materials revealing the lavish details of a birthday party celebration in Vilnius for Savik Shuster, who had interviewed Gen. Burba last month, on Ukraine24, regarding "Wagner-gate." Footage, apparently collected via hidden camera, shows a number of celebrities and political elites among Shuster's guests, including former interior minister Arsen Avakov, former prime minister Volodymyr Groysman, famous journalist and pundit Dmytro Gordon, as well as television presenter and physician Eugene Komarovsky. Rinat Akhmetov was also notably in attendance, and had flow to Vilnius from Paris on his private jet (Ukraiinska Pravda, December 1).
Immediately following the release of this expose, rumors began circulating that Akhmetov is looking to back an alternative to Zelenskyy and his SoP party in the next elections. Shuster has denied all accusations of his involvement in such a scheme to oust Zelenskyy and expressed disappointed at being secretly filmed. He has filed a statement with the police (NV.ua, December 3).
While tensions are rising, both camps have more than enough instruments at their disposal to carry out further attacks and counterstrikes. President Zelenskyy is turning to hard legal methods via the Security Service of Ukraine (SSU), the Prosecutor General's Office, and the National Security and Defense Council. In turn, Akhmetov can use his abundant influence in the energy and media spheres (see EDM, December 2) along with coordinating the actions of numerous loyal-to-him deputies in the parliament. Such a multipronged, acrimonious political confrontation at home conspicuously comes at a particularly dangerous time—amid a Russian military massing near the Ukrainian border.