The Saga of the Russian Mercenaries in Belarus: Competing Narratives
Publication: Eurasia Daily Monitor Volume: 17 Issue: 113
By: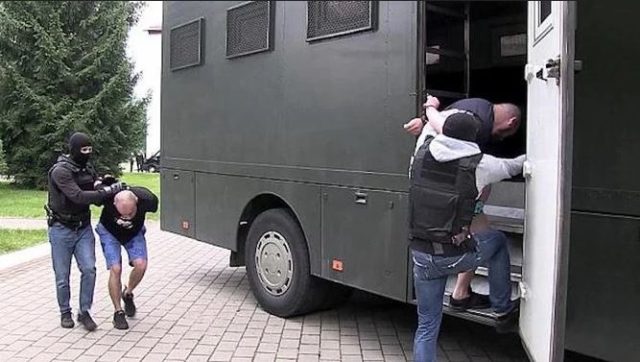 The case of the 33 associates of the Russian private military company (PMC) Wagner Group, apprehended in a sanatorium (a cross between a recreational and a medical facility) in Zhdanovichi, a suburb of Minsk (see EDM, July 30), has so far resembled a captivating detective story.
According to the Belarusian authorities, these "privateers" were sent deliberately to "organize riots" in Belarus (Belta, July 30). Several closely related versions of this narrative are circulating in the media. Pavel Karnazytsky, an analyst who left his native Belarus for Ukraine in 1998, only to be expelled from the latter in January 2019, has suggested that the arrested "boys" were supposed to help the "girls"—referring to the three women, Svetlana Tikhanovskaya, Veronica Tsepkalo and Maria Kolesnikova, now at the forefront of the opposition to incumbent President Alyaksandr Lukashenka, up for reelection to his sixth term on August 9. Karnazytsky believes that the entire operation was not organized by the Kremlin; rather, it was put in motion by "large Russian and transnational capital" hostile to "socially oriented Belarus" (Politring, July 29). In turn, Dzianis Melyantsov from the Minsk Dialogue Council, hypothesizes that the Wagner fighters may have been tasked with assessing the situation before a period of possible destabilization as well as to take control of certain objects if the situation spirals out of control. Additionally, he writes, the mercenaries could have been there to test the reaction of the country's security system or to protect some of the presidential candidates (Facebook.com/melyantsou, July 29). A similar explanation, though couched in less ambiguous terms, is promoted by Piotr Petrovsky (Facebook.com/piotra.piatrouski, August 1). The pro-government analyst had earlier predicted the arrest of leading presidential hopeful Victor Babariko and posted about four associates of Russian military intelligence reportedly caught by Belarusian authorities and expelled from the country (see EDM, July 14).
To many commentators, however, this family of explanations is problematic. Those nearly three dozen Wagner fighters were not apprehended along with ammunition and had on them external Russian passports—which would not have been needed to enter Belarus. If they were, indeed, saboteurs, their entire operation was organized with almost surreal sloppiness (T.me/shraibman, July 29). Why would almost the entire group, recognizable by their military outfits, settle in a single suburban sanatorium? The independent Belarusian military analyst Alexander Alesin has argued that the theory the militants arrived to subvert the Belarusian authorities is the least plausible (Belaruski Partizan, July 30). Aleksandr Golts and Pavel Felgenhauer, two Russian opposition-minded military analysts, interviewed by Radio Liberty, agree. Golts contended that President Vladimir Putin is ill-disposed to toppling dictators and thinks the Russian authorities' official explanation—that the mercenaries were in Belarus in transit to another country—is credible. In his turn, Felgenhauer focused on the mismatch between the actual capabilities of those apprehended and the would-be task of the real saboteurs. Their interview is suggestively titled "Lukashenka Signals to the West That Russia Wants to Overthrow Him" (Svaboda.org, July 29). A similar mismatch argument—those privateers are "blockheads, an infantry platoon without weapons"—is expressed by Russia's liberal Novaya Gazeta (Novaya Gazeta, July 31).
Another available version, that the entire story derived from Putin's and Lukashenka's collusion, was advanced, among others, by David Marples, a seasoned Western Belarus watcher (Facebook.com/drmarples, July 30). This narrative, however, is the least popular one. Analyst Artyom Shraibman calls it a "conspiracy theory one step too far," if only because there is little trust between the two national leaders (T.me/shraibman, July 29).
A final alternative explanation belongs to Kirill Koktysh, a native of Belarus and a professor of the prestigious Moscow Institute of Foreign Relations. In fact, his version—partially laid out by a Moscow radio channel (Govorit Moskva, July 29), foreshadowed by his earlier article (Russiancouncil.ru, July 3), and expanded upon in a personal interview with this author on August 1—echoes the aforementioned Radio Liberty title. Unnerved by the rising popularity of the protest movement, President Lukashenka allegedly fell victim to misleading internal advice. In order to energize his base and boost Western support for Belarusian sovereignty (while countering the nasty impression produced by repressions), the authorities allegedly took advantage of a routine transit trip by Russian mercenaries. Koktysh suggests this putative scheme will backfire because it is unlikely to boost Western support for Belarus while undermining whatever is left of Minsk's close ties with Moscow.
In the meantime, what has truly been energized is the electoral campaign of Svetlana Tikhanovskaya, the wife of jailed blogger/activist and attempted candidate Sergei Tikhanovsky, without her own political ambitions. By some accounts, Tikhanovskaya's July 30 rally in Minsk attracted 63,000 spectators (Tut.by, July 31). Her stump speeches in Mogilev, Grodno, Vitebsk, Lida, Borisov, etc. also drew quite a number of supporters. These mass gatherings were allowed by the authorities. But the number of Belarusians apprehended elsewhere and accused of fomenting unrest continues to grow.
Will these repressive actions and those yet to come trigger stern denunciations and sanctions by the West? Condemnations seem inevitable; yet, going beyond those is not preordained. On the contrary, a new Western attitude toward Belarus has been taking shape. A British analyst has uncharacteristically called upon Europe and the United States not to overreact to what is unfolding in Belarus, lest the country's sovereignty be jeopardized (ELN, July 30). Also, despite aggressive questioning by the director of the Belarusian Service of Radio Liberty, meant to trigger stern criticism of human rights abuses in Belarus, George Kent, Deputy Assistant Secretary in the European and Eurasian Bureau at the US Department of State, still hinted that, overall, Belarus's sovereignty matters more, whereas a respective country's individual path "has to be determined by the country itself, so we […] support the right to choose, even if the choice does not necessarily coincide with ours" (Svaboda.org, July 31).
Given this latter trend, one can question whether Minsk is acting rationally. On Saturday, August 1, Lukashenka continued to insist on the alleged subversive intentions of the Wagner mercenaries (Belta, August 1), but he noticeably moderated his tone; at the same time, Russian officials hardened theirs. For example, Sergei Naryshkin, the director of Russia's Foreign Intelligence Service (SVR), declared that "in European countries, political elites [and] government circles qualify this [developing story] as a staged action" (Naviny, August 1). By all accounts, the relationship between Moscow and Minsk is sinking to its lowest level yet.