Third Regime Change in Fifteen Years Upends Kyrgyzstani Politics (Part Two)
Publication: Eurasia Daily Monitor Volume: 17 Issue: 151
By: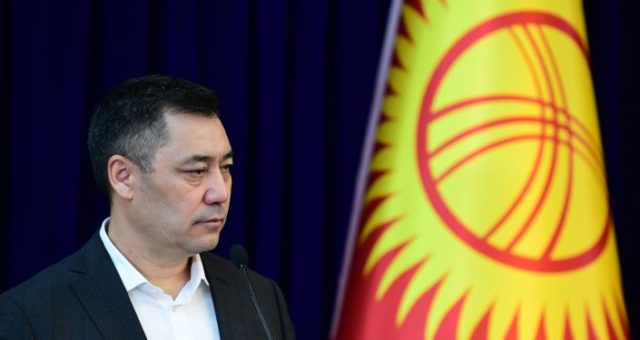 Since his election by Kyrgyzstan's parliament to the post of caretaker prime minister on October 10 and subsequent accession to the presidency on October 15, Sadyr Zhaparov has managed to fulfill his most important initial priorities—to ensure a swift return to relative stability and end to the violence in the streets (see Part One in EDM, October 20). And with the return to some semblance of order, Zhaparov is now engaged in an active reshaping of the state apparatus. He has already appointed confidants to top-level positions in the cabinet, National Security Council, State Security Committee, State Customs Service and Prosecutor General's Office. The hardest work still lies ahead, however. The new administration faces headwinds at home while seeking to secure recognition from Kyrgyzstan's foreign partners, all of which were taken by surprise when the previous ruling regime collapsed in just a matter of days (Manas News, October 23; Knews.kg, October 22; Elgezit.kg, October 19; Kloop.kg, October 16).
Among the external powers closely watching the events unfold in Kyrgyzstan, only Russia went beyond the routine calls for internal peace and compromise-seeking as well as against banditry and lawlessness. On October 12, the deputy head of President Vladimir Putin's administration, Dmitry Kozak, met in Bishkek with both the former and ad interim presidents, Sooronbay Jeenbekov and Sadyr Zhaparov, respectively, in an apparent attempt to broker a solution to the crisis. Reportedly, Russia will suspend all financial assistance to Kyrgyzstan until the return of political stability. Since 2012, Moscow has provided over $250 million in grants to Bishkek. In August 2020, the Eurasian Stabilization and Development Fund (ESDF), to which Russia is the single largest contributor, awarded Kyrgyzstan a $100 million preferential loan (RBC, October 16; Vedomosti, Lenta.ru, October 13).
Similarly to both the United States and the European Union, which have deliberately stood on the sidelines, China issued a brief statement on October 5, calling on all sides of the conflict to calm down and resume talks. On October 16, the new Kyrgyzstani foreign minister, Ruslan Kazakbayev, met with the Chinese ambassador, who transmitted his government's request for enhanced protection of China's economic interests in the country. Earlier, some of the most radical protesters had tried to exploit the political turmoil to disrupt Chinese-owned goldmining, plastics and cable-making businesses in Chuy (north) and Jalalabad (south) provinces (24.kg, Kaktus Media, October 16).
Nothing suggests Sadyr Zhaparov may want to question Russia's military presence on Kyrgyzstani soil. Indeed, during his working visit to Moscow on October 22–24, Foreign Minister Kazakbayev publicly backed a hypothetical extension of the Russian airbase in Kant, subject to a request from Moscow or the Russia-led Collective Security Treaty Organization (CSTO), of which Kyrgyzstan is a full-fledged member. "Our firm position is to preserve the airbase; we are not going to revisit the earlier agreements," commented the chief Kyrgyzstani diplomat. He also said that President Zhaparov would like to pay his inaugural foreign state visit to Russia, adding: "Our strategic relations […] ought to last forever." In exchange, Russian Foreign Minister Sergei Lavrov pledged assistance with the disbursement of the ESDF loan (Vb.kg, Kommersant, 24.kg, Vesti.kg, Vedomosti, October 23–24).
In a similar vein, the new regime in Bishkek will tread cautiously regarding China's expanding economic influence, including through the Belt and Road Initiative (BRI). Kyrgyzstan's growing debt remains a thorny issue, however, with China currently accounting for slightly more than 42 percent of the Central Asian republic's total external indebtedness, or $1.7 billion in absolute terms. However, despite the tough economic environment, Kyrgyzstan is unlikely to renege on its repayment obligations, at least in the short term. Bishkek is scheduled to pay Beijing another $20 million next January (Akchabar.kg, October 26; Vb.kg, October 21; April.kg, October 19).
While Kyrgyzstani-Chinese relations are stable and positive at the intergovernmental level, one detail in Zhaparov's biography may stir anxiety with numerous Chinese investors, in particular those without the benefit of full or partial state ownership in their enterprise. In 2012 and 2013, the current leader of Kyrgyzstan led a public campaign calling for the nationalization of the Kumtor Gold Mine to the detriment of its Canadian owner, Centerra Gold. He was sentenced to prison in May 2013 but was cleared of all accusations a month later. In 2017, Zhaparov was again arrested, on the Kazakhstani-Kyrgyzstani border, and later sentenced to 11.5 years in prison. On October 19, 2020, the Supreme Court voided the sentences of Zhaparov and two of his associates, one of whom is now the director of the State Security Committee (Vb.kg, October 19; Sputnik News, August 2, 2017; Kloop.kg, June 17, 2013).
Only time will tell how much of a nationalist Zhaparov really is. Meanwhile, he faces mounting challenges at home. On October 21, the Central Election Commission (CEC) scheduled the repeat of this month's disputed parliamentary elections for December 20. However, just a day later, the parliament approved a hastily drafted bill suspending several constitutional procedures and postponing the elections to no later than July 2021. An administrative court in Bishkek acted accordingly, on October 24, by canceling the December election date. To oblige Zhaparov, who had earlier prioritized the election of a new president over that of a new parliament, the CEC on October 24 called the presidential vote for January 10. Zhaparov is openly interested in running for the highest executive office, but he first needs the legislature to amend the Constitution, as he is currently ineligible as president ad interim (Sputnik News, Knews.kg, 24.kg, October 20–24).
In an interview to Kommersant, published on October 26, Foreign Minister Kazakbayev acknowledged Zhaparov's wish for constitutional reform prior to any renewal of the single-chamber legislature. This admission reveals three major pitfalls awaiting the Zhaparov administration. First, the current parliament's mandate expires on October 28, which has already led many legal experts to qualify his whole strategy as illegitimate since any reform of the main law after that date will be unconstitutional. Second, Zhaparov clearly favors a return to the presidential republic that existed prior to the 2010 revolution or its modified re-incarnation. These undisguised ambitions could cost him dearly at a time when Kyrgyzstani politics are more factious than ever and wide chunks of the political establishment remain attached to parliamentary democracy. Third, the planned lowering of the electoral threshold from 7 to 5 percent could result in a bitterly divided parliament—a sure recipe for more trouble (Kommersant, October 26; Vb.kg, October 24).