Moldova's Presidential Election: Geopolitics Take a Back Seat for Now
Publication: Eurasia Daily Monitor Volume: 17 Issue: 152
By: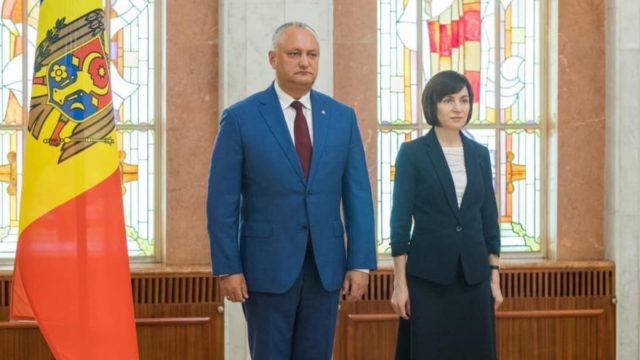 Moldova is holding its quadrennial presidential election on November 1, with a likely runoff on November 15 between the two leading contenders: the Socialist incumbent President Igor Dodon and challenger Maia Sandu, the leader of the Action and Solidarity Party in the parliamentary opposition (see EDM, October 19). These same candidates had competed in the 2016 presidential runoff, which Dodon won by 52 percent to 48 percent thanks to support from Vladimir Plahotniuc, the country's de facto ruler at that time. Plahotniuc is now a fugitive from justice but operates through two Moldovan proxy parties to influence this presidential election (see below).
Given that Dodon is described as a Russophile and Sandu as Western-oriented—accurately so on either side—the expectation of yet another "geopolitical election" fills the air in Moldova and beyond its borders. The assumption that Russia and the West compete over Moldova—and that competition intensifies at election time—is predominant in international media, among European politicians, and in Moldova's neighbors Ukraine and Romania. The views in the Kremlin, in Brussels (Dodon's and Sandu's putative patrons, respectively) and in Chisinau, however, are far more nuanced than that assumption.
Sandu has consistently declined to run a "geopolitical" campaign, which would involve denouncing Russia's past and current predatory designs on Moldova, reducing Dodon to a Russian puppet, rhetorically proclaiming the country's Westward march, and stressing Moldova's Romanian-ness. Instead, Sandu's campaign underscores the need for radical reform in law enforcement and the justice system, cleaning up the government and administration of corruption, instituting meritocracy, and creating the preconditions to attract productive investments to Moldova (Unimedia, Ziarul National, RFE/RL, October 1–27).
Those emphases reflect: a) Sandu's professional background as a financial-administrative technocrat and her diagnosis of the country's most pressing needs; b) Moldova's political reality that confronting Russia cannot be an election-winning strategy; and c) the European Union's policy, recusing itself from an explicit geopolitical competition with Russia in Moldova. Reforming Moldova along European lines would implicitly produce a geopolitical outcome without advertising it as such.
For his part, Dodon has staked his campaign heavily on expectations of Russian support. He hoped to capitalize (as he previously had) on Russian President Vladimir Putin's high popularity rating in Moldova and the heavy impact of Russian television channels in this country. Frequently meeting with Russian officials ahead of the electoral campaign, Dodon had publicly asked them for specific favors, symbolic as well as material, to help his reelection. In many cases, he even announced that Moscow—including President Vladimir Putin personally—was about to deliver on those requests or had promised to do so. But, on the eve of the election's first round, Russian support to Dodon's candidacy remains almost negligible.
Dodon's publicly voiced requests and hopes that Moscow has failed to meet include: Putin to visit Moldova; Patriarch Kirill to visit Moldova (an estimated 90 percent of Moldova's believers are affiliated with Russia's Orthodox Church); the Russian government to encourage Russian private capital investments in Moldova; the Russia-Moldova inter-governmental commission on economic cooperation to hold a (long-overdue) session in Chisinau; the Russian government to approve a €200 million ($235 million) state credit to Moldova for road construction. Unwisely, Dodon had announced all these Russian gestures to be forthcoming or in the making every time he came back to Chisinau from his visits to Russia.
Had the Kremlin decided to propel Dodon to a reelection triumph, it could have resorted to a combination of the following actions: photo-opportunities for Dodon and other Socialist politicians with their Russian counterparts; favorable coverage of Dodon's campaign on Russian television channels; re-negotiating the terms of the €200 million loan following the Moldovan Constitutional Court's ruling (which Dodon took on board—see EDM, May 5). Moscow has not taken any of those steps, however.
Putin had received Dodon countless times in Russia in 2016–2019, but kept him at arm's length this year without explanation. The coronavirus pandemic is a factor but probably not the only reason. On Dodon's August 5 Moscow visit, it was Putin's deputy chief of staff, Dmitry Kozak, who received the Moldovan president, and their meeting took place in a small unkempt office that provoked derision back in Moldova (Newsmaker.md, August 6).
What Moscow has delivered to help Dodon's candidacy thus far looks risible: 20,000 tons of diesel fuel as humanitarian aid for Moldovan farmers (out of 40,000 tons that Dodon had requested) and five snow-clearing machines for the Chisinau municipality; both actions were announced this month.
This limited engagement resembles Moscow's stance during Moldova's parliamentary election campaign in January–February 2019. At that time, Dodon may well have been Putin's most frequent guest among the world's heads of state. But the Kremlin delivered little to help Moldova's Socialist Party in those elections. The main practical favor was to add some Moldovan agricultural firms, presumably Socialist-connected, to the list of Moldovan authorized exporters to the Russian market. On the symbolic level, Dodon had expected a gift of 14 Russian Kamaz trucks and the repatriation of 2 Moldovan helicopter pilots rescued from Afghanistan. He wanted the trucks and the pilots delivered to Chisinau for a media event ahead of those parliamentary elections, but Moscow did not manage to make the delivery until after those elections.
In this presidential election, however, Russia may yet act with potentially decisive effect to help Dodon in the runoff. Toward that end, the Kremlin can: a) mobilize Moldovan migrant workers in Russia to vote massively for Dodon; and b) instruct Transnistria's authorities to encourage their residents to cross the demarcation lines and vote for Dodon in the polling stations available for Transnistrian residents in Moldovan government–controlled areas (see EDM, October 19). Both of those moves or even one of them might suffice to tip the election in Dodon's favor against Maia Sandu in the runoff.