Pompeo's Call to Lukashenka and Aversion to Consensus-Building in Belarus
Publication: Eurasia Daily Monitor Volume: 17 Issue: 152
By: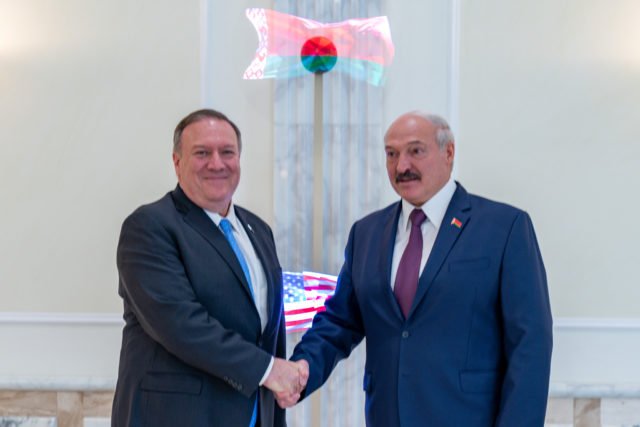 Following United States Secretary of State Michael Pompeo's Saturday (October 24) morning call to Belarusian President Alyaksandr Lukashenka (Belta, October 24), the international dimension of the situation in Belarus has grown even more intricate. According to reporting by the Telegram channel "Poole One," "Lukashenka described to his interlocutor the national dialogue that is actively underway in Belarus," while Pompeo assured the Belarusian leader that "neither NATO [North Atlantic Treaty Organization], nor Poland or Lithuania present any threat to Belarus" (T.me/s/pul_1, October 24). Regardless, critics may see the call itself as legitimizing the president, who has been condemned by the collective West—most vigorously, by the European Union. Indeed, not that long ago, Lukashenka refused to respond to phone calls by German Chancellor Angela Merkel (see EDM, September 8). But ironically, one day before the conversation with Secretary Pompeo—and in conjunction with the ultimatum to Lukashenka to step down, issued by his main election rival, Svetlana Tikhanovskaya (see EDM, October 21), the US embassy in Minsk warned US citizens to "avoid mass gatherings" and "maintain at least a three-day supply of food, water, medications, cash and other essential items for emergency use" (By.usembassy.gov, October 23).
In any case, the two high officials had no shortage of topics to discuss. One of those subjects was almost certainly the fate of Vitaly Shklyarov, a political consultant and US and Belarusian citizen, who was released from KGB detention on October 19 and placed under house arrest (Tut.by, October 19). Notably, two days after Pompeo and Lukashenka spoke, Shklyarov was allowed to leave the country (Meduza, October 27). Moreover, just prior to the October 24 phone call, Sergei Naryshkin, the director of Russia's Foreign Intelligence Service, visited Minsk. One leaked statement by Naryshkin apparently claimed that "inspectors" from the Pentagon and Central Intelligence Agency (CIA) were participating in preparations for continuing mass protests in Belarus and were concocting a major provocation. Purportedly, the US scheme would result in an authoritative Belarusian Catholic cleric being wounded or even killed (Telegraf.by, October 22). That Russian conspiracy theory allegation may explain why the Belarusian authorities abruptly canceled a major pro-Lukashenka rally, planned for October 25, that was supposed to involve 300,000 participants driven in to Minsk from all over Belarus. Lukashenka's domestic detractors attributed the rally's cancelation to a shortage of genuine supporters (Svaboda.org, October 23); but the official explanation offered by the authorities invoked major security-related misgivings (Belta, October 23). Meanwhile, a huge street demonstration occurred in Minsk in support of Tikhanovskaya's ultimatum (Tut.by, October 25). The political crisis in Belarus shows little sign of abating.
Revolutions need martyrs and, quite possibly, Pompeo may have attempted to dispel the notion that US intelligence seeks to manufacture such outcomes. Besides, as Yury Drakakhrust of Radio Liberty suggests, Pompeo may have offered Lukashenka a kind of a "deal" that might include the release of political prisoners (T.me/bigidon, October 24).
In the opinion of the Minsk Dialogue's Dzianis Melyantsou, recent visitors from Russia tried their best to talk Lukashenka into accepting a Russian airbase on Belarusian territory, and that was likely also a key theme of the Pompeo-Lukashenka talks. Melyantsou also pointed out that, compared with the EU, the US side exercised more restraint in its condemnations of the Belarusian authorities (T.me/realist_belarus, October 24).
Earlier, in a passionate speech delivered on the Russian TV talk show 60 Minutes, the pro-Lukashenka pundit Alexander Shpakovsky posited that the Belarusian leader will find common language with those from the opposition willing to shake his outstretched hand (YouTube, October 22).
Both "national dialogue" and the "outstretched hand" reflect the aftermath of Lukashenka's October 10 visit with opposition figures held at the KGB detention center in Minsk (see EDM, October 14). One of the prisoners released soon thereafter was the entrepreneur Yuri Voskresensky, who helped collect a record number of signatures in support of Victor Babariko's candidacy for president. Voskresensky is now cooperating in constitutional reform talks. In his extensive interview for Tut.by, he identified himself as a "mediator between the powers that be and the alternative part of society," i.e., the protest movement (Tut.by, October 20). Needless, to say, many protesters accused Voskresensky of betrayal or at least of having been broken by the KGB.
Such accusations, however, are not universal. For example, Kastus Lukashou, a geologist and former political prisoner, attributes them to "our" inveterate inability to "come to a consensus, evaluate the situation, [and] put together strategies and even tactics" (Lukashou, October 20). According to the philosopher Viacheslav Bobrovich, "if everything that [Voskresensky] is doing and saying now is caused solely by fear and a desire to adapt to the situation, then I can only express compassion. But if he does all of this consciously and out of conviction, then it is admirable. Not everyone is able to go against their milieu and not everyone is able to understand the significance of a dialogue with the authorities during this period" (Obucheniye Demokratii, October 21).
Yet consensus-building is not a dominant trend in Belarusian society today, as Yauheni Preiherman, of the Minsk Dialogue Forum, has repeatedly pointed out (see EDM, April 22, September 22). Rather, each side seeks to show it embodies society's interests and that it makes up the majority. "The country really is 20 percent made up of an overly active minority, which is trying, including by illegal methods, to impose on us its vision of the country's future," writes Piotr Petrovsky, in an article focusing on constitutional reform (Piatrouski, Belta, October 22). "We Are the Majority!" screams the title of a local newspaper article devoted to a pro-Lukashenka rally (Gomelskaya Praŭda, August 20). In fact, the abortive October 25 pro-Lukashenka rally had intended to demonstrate the same. On the other side of the barricades, supporters issue abundant claims to being the majority and sometimes utilize more sophisticated techniques. As a case in point, a recently published sample survey of 899 Belarusian urbanites asserts that, on August 9, 52.2 percent of Belarusians cast their vote for Tikhanovskaya and only 20.6 percent for Lukashenka (Chathamhouse.org, October 21). However, not only did the survey neglect to poll rural Belarusians, most importantly it was carried out using the Computer Assisted Interview method, thus surely dramatically under-sampling Lukashenka's electoral base—which the opposition has all long identified as the less educated, older, and rural- and small-town folks). As such, it is interesting that the above-described poll found as many Lukashenka supporters as it did.