Bringing Belarus's Political Crisis to Resolution Requires Realistic Image of Belarusian Society
Publication: Eurasia Daily Monitor Volume: 17 Issue: 148
By: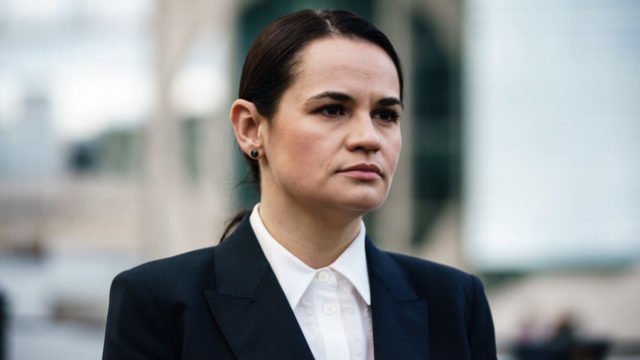 "Moralizing About Coronavirus Policy Does Not Stop Coronavirus," reads one August headline in Bloomberg. So can moralizing about the Belarusian crisis help bring about an agreeable solution? The European Union's leaders seemingly think so, at least judging from their non-stop condemnations of Belarusian authorities, intent to extend sanctions to President Alyaksandr Lukashenka, and resuming generous aid to the Belarusian opposition (Deutsche Welle—Russian service; Consilium.europa.eu, October 12). Yet this approach failed in the past.
To be sure, the atrocities Belarusian riot police and detention center guards have reportedly committed against peaceful protestors deserve utmost emotional condemnation and rebuke. In one of most publicized cases, a video furtively recorded on August 11 shows detainees forced to run through a gauntlet where they were repeatedly beat by police batons (YouTube, October 11). Another case involves Maxim Khoroshin, a 34-year old co-owner of a flower shop. Detained on October 13 in downtown Minsk, he was beaten unconscious (Svaboda.com, October 13) and left hospitalized with a traumatic brain injury, broken nose, corneal damage, bruised tissues on the left side from the upper back to the buttocks, and a shoulder dislocation (Tut.by, October 15). Painstaking analysis of the catalogued traumas resulting from police brutality in August through September revealed 1,376 victims, including 57 women. The most serious injuries were sustained from rubber bullets and flash-bang grenades (Mediazona, October 13).
Even famous national athletes were not spared mistreatment by the authorities. Yelena Levchenko, who used to play center on Belarus's Women's National Basketball Team and now plays for a club in China, was vacationing in her home country and was detained after participating in a rally in Minsk and sentenced to 15 days behind bars. "For the last 12 days," Levchenko said upon release, "I have been sleeping […] on cold metal rods. Bed linen was confiscated. There was no hot water and we were not taken to the shower; the toilet flush was turned off… Because of these unsanitary conditions, I have lice. My preexisting condition—a herniated disc—has worsened" (Svaboda.org, October 15).
Yet will condemnations alone help resolve the Belarusian crisis? Two recent unexpected events could help cast light on this question. First, on October 10, Lukashenka paid a visit to the KGB detention center and spoke with 11 detainees being held there, including former presidential hopefuls Victor Babariko and Sergei Tikhanovsky (see EDM, October 14). Not much is known about the content of those talks, but 2 of those 11 individuals were released shortly thereafter (Tut.by, October 11); moreover, Tikhanovsky was given an opportunity to talk with his Vilnius-based wife, Svetlana (who ran in his place during the election and then had to flee the country), for the first time in four months (Tut.by, October 12). Subsequently, Liliya Vlasova (a prominent attorney and a leading member of the opposition's Coordination Council), Ilya Salei (Babariko's attorney) and Vitaly Shklyarov (a political consultant) were also released and put under house arrest (Intex, October 19). In early September and then again in October, the United States' Secretary of State Michael Pompeo had demanded the release of Shklyarov, who holds American citizenship (Reform.by, October 15).
Opinions about Lukashenka's October 10 visit to the detention center vary. Some of his supporters (Facebook.com/piotra.piatrousk, October 10) and sympathizers of the protest movement alike suggest that Lukashenka showed weakness, caving in to demonstrators and/or to pressure from Moscow. However, one of the regime's major propagandist, Vadim Gigin, opined that Lukashenka's "extraordinary step" was in line with the "logic of constitutional reform." In that sense, the Belarusian president "overstepped considerations of rank and status in order to talk to people that embody a certain political force" (Belta, October 11).
That on the next day, Sunday, October 11, riot police treated the protesters almost as harshly as right after the August 9 elections was attributed by some analysts to Lukashenka's desire to dispel the perception of his weakness (Svaboda.org, October 10). The pro-government side, however, observed that the harsh treatment was motivated by an increased aggressiveness on the part of the protesters themselves (Belarus Segodnya, October 12).
The second major event was equally unexpected. From Vilnius, Svetlana Tikhanovskaya issued a "people's ultimatum" (Tut.by, October 13) to Lukashenka. Unless by October 25, the ultimatum demands, Lukashenka declares his resignation, stops police violence in the streets, and releases all political prisoners (currently 96, according to the human rights watchdog group Viasna—Euroradio, October 13), "all of the country will turn to the streets," and a national strike will begin on October 26. Due to a solicitation of the Belarusian government, Tikhanovskaya is now on the international wanted list (Tut.by, October 16).
Few domestic supporters of the protest movement approved of the ultimatum. According to Alexander Feduta, a seasoned Belarusian opposition commentator, "Belarusians reject Lukashenka more overwhelmingly than they support Tikhanovskaya" (Facebook.com, October 14). A national strike, thus, may not pan out. Others suggest that such an ultimatum will only provoke brutality by law enforcement, which is perhaps what Tikhanovskaya's current advisors want. Zianon Pazniak, the founder of the Belarusian Popular Front and an émigré since 1996, is among those who share this opinion (Euroradio, October 14). Kirill Koktysh, a professor at the Moscow-based MGIMO, believes that Tikhanovskaya's ultimatum is a sign of jockeying for leadership and of the long-anticipated fracture of the protest movement: specifically, a split between radicals in exile and those more prone to negotiate with the authorities, contribute to the constitutional reform process, and create a political party (Facebook.com/grigory.ioffe, October 13).
Herein lies the potential bifurcation point for international mediators interested in exerting peace-making influence on Belarus. For the EU and especially for Vilnius and Warsaw, the showdown is between Lukashenka and Belarusian society at large. The latter ought to be supported whereas the former crushed (EaDaily, October 11). However, according to a more nuanced point of view, exemplified by such analysts as Denis Melyantsov of the Minsk Dialogue Council (T.me/s/realist_belarus, October 15) and Viacheslav Bobrovich of Belarusian State University (Facebook.com, October 14), there essentially exist three countries in one: the Belarus of the protestors, the Belarus of the loyalists, and the Belarus of those still uninvolved. Each Belarus is prone to downplaying the stature and sometimes even to doubting the existence of the two others; but all three nonetheless coexist. It seems likely that only those international mediators who come to embrace this perspective will succeed in facilitating a resolution of the Belarusian political crisis. From that perspective, however, ultimatums—unlike dialogues and negotiations—are counterproductive.