Belarus at Moscow's Mercy All Over Again
Publication: Eurasia Daily Monitor Volume: 17 Issue: 122
By: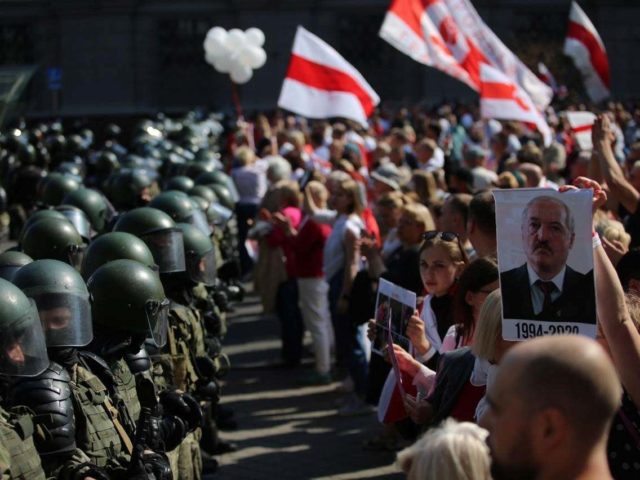 Alexei Dzermant is a Belarusian champion of closer amalgamation with Russia and the author of the upcoming book Belarus-Eurasia: Borderland of Europe and Russia. "There is one thing the white-red-whites ought to be appreciated for," he writes, "Their active role in this political crisis has facilitated Belarusian-Russian integration" (Facebook.com/alaksiej.dziermant, September 3). "White-red-whites" refers to the current protesters in Belarus who widely exhibit the country's previous flag with those respective colors. While Dzermant's formula disregards some essential causal links, it deftly summarizes the hitherto evolution of the situation of Belarus: the magnitude of anti-regime protest has been unprecedented and, as a side effect, Russia is more of an ultimate decision-maker in Belarus than ever before since 1991 (Minskdialogue.by, September 4).
Sunday, September 6, marked the 29th day of street protests in Minsk, thus warranting several critical observations. First, the opposition recently obtained the original August 9 presidential election vote counts from 1,310 out of Belarus's 5,767 precincts. The precincts in question represent all Belarusian regions and account for 32.2 percent of last month's turnout. Svetlana Tikhanovskaya won 81 percent of the vote in those 1,310 precincts. For the incumbent president to end up with the official result of 80.8 percent of the vote, Tikhanovskaya would had to have won 2.97 percent of the total vote in all the remaining voting places—a dubious outcome (Tut.by, August 20).
Second, by responding to the vote-rigging and subsequent police crackdown, the protesters evinced solidarity and consequently may have pushed forward Belarus's unaccomplished nation-building. At the same time, a feeling of their irretrievable distrust in the authorities deepened. These reactions have been entirely homegrown. Yet, the activity of the Telegram channel NEXTA, managed from Warsaw, Poland, played an enormous role in the protest rallies' coordination and logistics. Given the magnitude and sophistication of this operation, it is hard to believe that the channel's personnel consist of just four Belarusian emigrants in their early 20, as is portrayed by the media (Forbes.ru, August 16).
Third, the authorities did not flinch. Several Belarusian diplomats were fired for expressing support for the protesters, and one parliamentary deputy, Valery Voronetsky, acknowledged publicly that the elections did not earn the trust of the people, that the riot police committed atrocities, and that the authorities failed to initiate a dialogue (Tut.by, September 4). But otherwise, there have been no serious observable cracks in the monolith. According to Yury Shevtsov, a seasoned analyst, the political elites evinced "good understanding of what would befall them should the ongoing revolution win" (T.me/yuryshevtsov, September 1). Indeed, further acts by officials contributed to public outrage. For example, Pavel Latushko, who directed the Belarusian National Yanka Kupala theater, was fired following his public statement in favor of the demonstrations, leading almost the entire theater troupe to resign. And Archbishop Tadeusz Kondrusewicz, the leader of Belarusian Catholics and a Belarusian citizen, was denied reentry from Poland (Tut.by, September 3).
Fourth, aside from marching together, the protesters did not show organizational strength. Moreover, when Maria Kolesnikova, who led candidate hopeful Victor Babariko's electoral staff, announced a new political party, many in the opposition were taken aback. By now, several potential leaders, including Svetlana Tikhanovskaya, Pavel Latushko, Valery Tsepkalo, and Olga Kovalkova, have been forced to leave the country. Yesterday, Kolesnikova was reportedly abducted in downtown Minsk and subsequently arrested at a Belarusian-Ukrainian border crossing (Tut.by, September 8).
Fifth, since 2014, Belarus had achieved a breakthrough in its contacts with the West. On the contrary, the relationship with Russia soured and, with ever-increasing frequency, President Alyaksandr Lukashenka accused the Kremlin of encroaching on Belarus's sovereignty. The Western governments approvingly watched what looked like a slow but steady geopolitical reorientation of Belarus. Moreover, following Russia's aggression against Ukraine starting in 2014, the West was ready to deemphasize its tired democracy promotion policy in favor of more energetically propping up Belarus's sovereignty as a bastion against Russian interventionism—which implied embracing the head of state in Minsk. In a matter of two days in August, however, Lukashenka squandered the entire political capital he was amassing painstakingly for six years. On August 15, he called Vladimir Putin and asked for help. Since then, Lukashenka has talked to his Russian counterpart at least six times but did not pick up the phone to speak with German Chancellor Angela Merkel. On September 4, he even declared that his intelligence service intercepted a conversation between Polish and German officials that purportedly confirmed the poisoning of Russian opposition leader Alexei Navalny was fake (Tut.by, September 5). Though this alleged revelation by Belarusian intelligence has been roundly denounced as fabricated, it is clear that Lukashenka is fighting for Russia's leniency.
In the words of Maxim Samorukov of Carnegie.ru, "for the Russian leadership, the [present] situation looks too advantageous to be content with a simple restoration of the [pre-election] status quo" (Carnegie.ru, September 3)—i.e., with Belarus returning to Moscow's embraces as a loyal member of the Union State. Consequently, Russia's goals and tactics have come under a renewed spotlight. Already, Russia's Prime Minister Mikhail Mishustin visited Minsk and resolved the long-lasting oil and natural gas price and loan repayment deadlocks. Other themes of the negotiations included the possible redeployment of Belarusian export transit from Lithuanian to Russian ports along with, potentially, a return to the roadmaps for bilateral integration that Lukashenka did not sign in 2019 and the question of a Russian airbase on Belarusian territory (Sputnik.by, RBC, September 3). In his turn, Belarus's Foreign Minister Vladimir Makei visited his Russian counterpart, Sergei Lavrov, and declared that Belarusian authorities had thwarted the "Ukrainian scenario" in Minsk—a euphemism connoting the supposed treacherous role of the West in fostering a color revolution in Kyiv (Naviny, September 2).
In the meantime, except for Poland and the Baltic States, which assertively imposed personal sanctions on Lukashenka, the European Union's official reaction has so far been restrained. Oleg Barabanov, a program director of Russia's Valdai Club, even suggests that the EU has reneged on its "normative power" principle, endorsed by the 2009 Lisbon Treaty, which calls for a primacy of values in international relations. According to Barabanov, Brussels may be hoping that Lukashenka, though now cornered, will eventually revert to his West-friendly mode (Valdaiclub.com, September 1). One of the problems with this putative approach is that Moscow's own long-term hopes pinned on Lukashenka are arguably even fainter than the West's. So while it is not clear at the moment how much more time the long-serving Belarusian leader has at his disposal, it is likely that the respective decision will ultimately be made in Moscow.