Moldova's Presidential Elections Influenced by Heavy but Discreet Russian Involvement
Publication: Eurasia Daily Monitor Volume: 17 Issue: 146
By: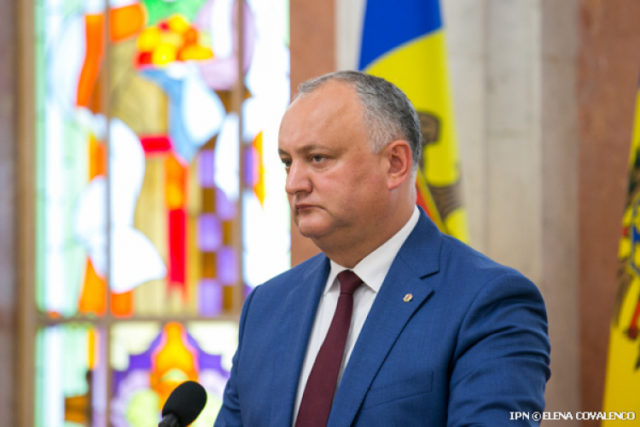 Russian Foreign Minister Sergei Lavrov's recent lengthy interview (Komsomolskaya Pravda, October 14) stirred deep concerns in the Republic of Moldova. Local media outlets underlined, in particular, Lavrov's accusation that the United States is attempting to create "an abscess" in Moldova by pushing for the total victory of pro-Western political forces in the highly consequential November 1 presidential elections (NewsMaker, October 15). But such accusations turn the reality on its head.
In fact, it is Russia that has been heavily involved in Moldova's electoral process, discretely promoting the incumbent by emphasizing President Igor Dodon's alleged ability to solve the country's problems—with Moscow's assistance. Some of the related actions are promises of Russian aid, largely publicized on the major news channels controlled by Dodon. These include Russian Prime Minister Mihail Mishustin's pledges to his Moldovan counterpart, Ion Chicu, of financial assistance to Moldovan farmers who suffered drought-related losses, of extending the number of Moldovan companies allowed to export to Russia, and of a €200 million ($234 million) loan (Sputnik.md, October 1). Notably, last May, the Moldovan Constitutional Court rejected an interstate credit agreement (specifically including a €200 million loan) that the Dodon-controlled government signed with Russia, ruling that its questionable conditions undermined Moldova's sovereignty (Europalibera.org, May 7).
Moreover, in a video-conference with Dodon at the end of September, Russian President Vladimir Putin essentially openly endorsed the Moldovan head of state, expressing "very high hopes" to continue their dialogue after the elections (Kremlin.ru, September 28). Probably not coincidentally, the leadership of separatist Transnistria—a Russian proxy—shortly thereafter reversed its previous decision to restrict until December 1 any movement from the Transnistrian region into the territory controlled by Moldova's authorities, invoking anti-coronavirus measures (Newsmaker.md, September 23, October 1). Those restrictions, which Dodon explicitly admonished at the time, would have prevented local inhabitants from crossing the administrative line to vote in Moldova's presidential elections (NewsMaker, September 18).
In a genuinely free and fair election, Dodon faces an extremely high risk of losing to Maia Sandu, the leader of Party of Action and Solidarity (PAS). Last year, Dodon ousted Sandu from the prime minister's post after she resisted his attempts to acquire control over the General Prosecutor's Office (see EDM, November 12, 2019). Since then, she has campaigned on a purely anti-corruption platform instead of turning to geopolitical—East versus West—arguments (Deschide.md, July 24).
A recent IRI poll puts Sandu's popularity at 20 percent compared to 18 percent for Dodon, thus, for the first time, eking out the top spot among Moldovan candidates (Iri.org, September 24), after having trailed Dodon since 2016.
Faced with these declining electoral prospects, Dodon has redoubled his efforts to generate votes by other means. In addition to repeating his previous campaigns' practice of outright buying Transnistrian votes (Deutsche Welle—Moldovan service, November 13, 2016; Agora.md, February 26, 2019), the Moldovan president is using his control over the Central Electoral Commission (CEC) to open an exaggeratingly high number of polling stations in Russia (Newsmaker.md, September 16) as well as ones for Transnistria-based voters. A journalistic investigation revealed that activists linked to Dodon's Socialist Party falsified signatures to compile lists of citizens demanding that more polling stations be opened in Russia. For comparison, during the 2019 parliamentary election, only 600 citizens registered to vote in Russia (Tv8.md, September 15), but for the 2020 election, the CEC received over 6,000 such requests (Newsmaker.md, September 22). Moreover, a number of "civic organizations" in Russia, claiming to represent the interests of Moldovans, sent letters to the CEC requesting more polling stations (Deschide.md, July 21), even though the experience of previous elections suggested otherwise.
As a result, the CEC, led by Dodon's former legal adviser, boosted the number of polling stations in Russia to 17, compared to 11 opened during the 2019 parliamentary elections. Provided that one polling station can receive up to 5,000 ballots (Diez.md, October 9), as many as 85,000 blank ballots could be sent to Russia. And given the Russian government's vested interest in these elections, coupled with the fact that Moscow possesses the passport data of the many Moldovan citizens working in Russia, the risk is this data could be used to cast perhaps tens of thousands of fraudulent votes for Dodon. A similar risk exists regarding the polling stations designated for Transnistrian inhabitants. In Moldova's 2019 parliamentary elections, some 40,000 inhabitants of the separatist region voted (Ipre.md, April 28), thanks to an ad hoc deal between Chisinau (then de facto led by oligarch Vladimir Plahotniuc) and the secessionist Transnistrian administration (Infotag.md, February 24, 2019).
Sandu's team has accused Dodon of being advised by an unofficial—clandestine—group of Russian political "technologists" sponsored by the Russian government. Her campaign revealed the name of this Russian group's leader and requested that Moldova's intelligence service and immigration authorities conduct investigations into this matter (Deschide.md, October 13). Just-released Moldovan and Russian journalistic investigations appear to corroborate those charges, while further alleging Dodon is being run as an "influence agent" by both the Kremlin and Russian foreign intelligence (Newsmaker, Dossier, October 19).
Moscow's involvement is likely to facilitate the transport of larger numbers of Moldovan citizens living in Transnistria to the 42 polling stations set aside for their use—a potential of 210,000 votes—and incentivize them to cast ballots for Dodon. In contrast, in many Western countries, where most of Moldova's pro-Sandu diaspora resides, the opening of sufficient numbers of polling stations has been curtailed due to coronavirus restrictions.
On October 9, US Under Secretary of State for Political Affairs David Hale made separate calls to both Igor Dodon and Maia Sandu, and he emphasized the importance of a free and fair electoral process, including the elimination of illegal foreign support for political campaigns, among other issues (State.gov, October 13). The US ambassador to Chisinau, Dereck J. Hogan, reiterated this appeal for a fair electoral process in an interview to local media (NewsMaker, October 13).
Lavrov's recent accusations against the United States (see above) were voiced precisely in response to those calls by the US envoys. He perceived them as a signal that Washington does not approve of Moscow's involvement in the Moldovan presidential elections. And his verbal attacks and accusations directly signaled that Russia will not back off. The stakes are high. If Russia's candidate, Igor Dodon, loses the presidential elections, he will be deprived of his ability to control crucial governmental institutions such as the police, General Prosecutor's Office, legal courts, intelligence service and the military. Sandu will be able to dissolve the parliament, which otherwise would operate for over two more years. New parliamentary elections won by Sandu's allies will further reduce Dodon's influence and, by extension, Russia's control over Moldova.