Mariupol: A High-Value Target in Russia's War Against Ukraine
Publication: Eurasia Daily Monitor Volume: 11 Issue: 156
By: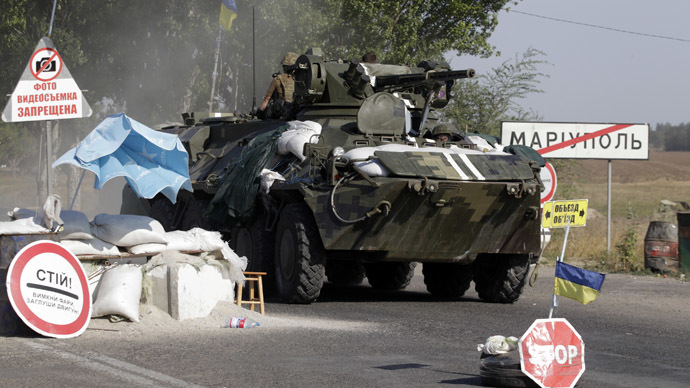 Russia opened its second front against Ukraine in late August on the Azov Sea coast, threatening to capture the port city of Mariupol (Donetsk region's outlet to the sea), and potentially to link up with Crimea. The opening of this second front, coordinated with Russia's thrust in the Donetsk-Luhansk area (Donbas), compelled an exhausted Ukraine to accept the September 5 armistice.
Mariupol's pivotal geographic location, massive industrial and logistics assets, and political significance (see accompanying article) turned this city of 500,000 into a prize of the first order in Russia's war against Ukraine. The ceasefire's timing has saved Mariupol for now from Russian capture.
Russian forces had opened this second front against Ukraine on August 25 along the Azov Sea littoral (SHAPE Headquarters briefing cited by Jane's, August 28). Entering into Ukraine directly from Russia's Rostov oblast, regular Russian forces advanced with "Donetsk people's republic" (DPR) irregulars in tow. "DPR prime minister" Aleksandr Zakharchenko told Russian state television that regaining Mariupol (which they had briefly seized in May) was an immediate objective (Rossiya 1 TV, August 26). Moving westward on the coastline and in hinterland, the attackers reached Mariupol's outskirts by September 4.
Mariupol authorities, loyal to Ukraine, prepared for a last-stand defense along with the National Guard's Azov battalion. But this would have been no match for the Russian armor and artillery. Ukraine's General Staff had no spare forces to send to the Azov front while the Russians were making gains around Donetsk and Luhansk at the same time (sprotyv.info, September 4, 5).
Russian planners have undoubtedly considered the range of further offensive options, were Mariupol to be captured in an ongoing conflict, or if the Azov littoral ends up on the Russian/"DPR" side of an armistice line.
Mariupol is an ideal starting point for a northward march to Donetsk city, there to remove what remains of the Ukrainian encirclement and replace that with an impregnable Russian ("DPR"-flagged) protective ring. The area between Mariupol and Donetsk is currently a no man's land, up for grabs as part of "DPR's" claim to Ukraine's Donetsk province.
Mariupol's location is also ideal for Russia to open a land corridor westward to the Russian-annexed Crimea. This can even occur "peacefully" by a separate agreement between Moscow and the "DPR," if Russia endorses the latter's claim and attaches the coastline to it (or a follow-up "Novorossiya" entity). Ukrainian and Western officials are concerned about such a scenario developing even in a post-conflict stage. Russia can well demand an overland "humanitarian" corridor as the only viable option to supply Crimea with life necessities.
Russia's short-term political objective is to create a Donetsk-Luhansk (Donbas) protectorate, entailing de facto its secession from Ukraine. The Kremlin also holds the "federalization" project in play, entailing privileged economic relations between Ukraine's eastern provinces and Russia. The more ambitious Novorossiya is also a working hypothesis. Any of these possible scenarios may feature Russian acquisitions of Donbas industrial assets. And under any of these scenarios, Russia would probably want to ensure that the heavily industrialized Donbas retains its vital access to the Mariupol seaport.
The state-owned Mariupol Sea Port ("sea gateways of Donbas") ranks as Ukraine's second-largest merchant port, and by far the largest on the Azov Sea. It imports metallic ores (concentrates) and chemicals for the Donbas processing industries; and it exports those industries' finished products, as well as grains and other Ukrainian agricultural commodities. The port of Mariupol serves Ukraine's Donetsk, Luhansk, and Kharkiv provinces.
Mariupol itself (population 500,000) is the largest center of industrial production in the Donestk province, with a unique concentration of assets. Mariupol is the location of Azovmash, Ukraine's leading producer of mining and metallurgical industry equipment, railroad cars of various specializations, and lifting and hauling equipment. The government owns 50 percent of Azovmash's shares and is offering that package for privatization this year.
Russia has closed its market to Azovmash's products, in retaliation for Ukraine's decision to sign the association agreement with the European Union. Nevertheless (and fully consistent with Russia's move to reduce Azovmash's value), Russia's leading heavy machinery enterprises continue eyeing Azovmash for possible takeover (azovmash.com; forbes.ua, August 19; Delo, August 27).
Mariupol is home to the Azovstal and Ilyich steelworks, the second- and third-largest in Ukraine, with a combined workforce of more than 70,000 and production capacities of 12 million tons of steel products per year in Mariupol. Ukraine's wealthiest industrialist, Rinat Akhmetov, is their main owner (ilyichsteel.metinvestholding.com; azovstal.metinvestholding.com; Delo, August 27).
While steel production has come to a standstill in most of Donbas amid the ongoing conflict, the production continues albeit downscaled at the Mariupol steel plants. Azovstal, Ilyich, and other assets are integrated into the Metinvest trust. Akhmetov's System Capital Management (SCM) and Vadym Novynsky's Smart Holding own 71 percent and 24 percent, respectively, of Metinvest. While Akhmetov's political influence has declined elsewhere in Donbas, his assets and workforce in Mariupol underpin Akhmetov's political influence there (see accompanying article).