Flawed 'Strategic Partnership': Putin's Optimism on China Faces Harsh Reality
Publication: Eurasia Daily Monitor Volume: 15 Issue: 175
By: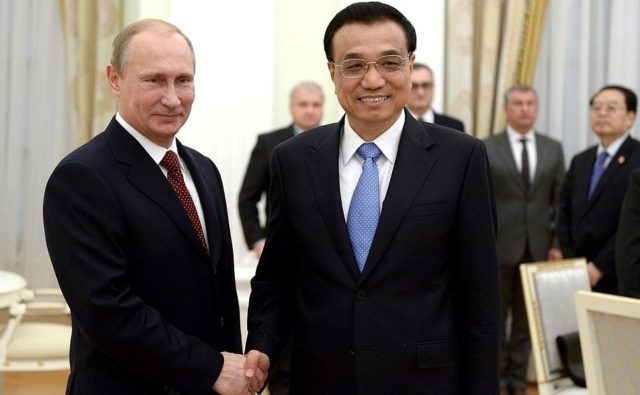 During the annual VTB Capital Investment Forum "Russia Calling!" on November 28, President Vladimir Putin called the frictions between Beijing and Washington a "window of opportunity" for Russia to achieve a qualitatively new level of bilateral economic relations with China (RBC, November 28). The following day, Beijing hosted the First Russian-Chinese Energy Business Forum, which boosted Russia's confidence in its status as China's key partner in terms of energy-related deals (Rosneft.ru, November 28). Russia's vision of its role vis-à-vis China was perhaps best expressed by President Putin on November 15, during his meeting with Prime Minister Li Keqiang in Singapore, on the sidelines of the East Asia Summit: "Relations between Russia and China are now creating a strong basis for a privileged strategic partnership" (Regnum, November 15). As noted by Russia's Prime Minister Dmitry Medvedev, during his visit to China earlier last month, "The Chinese People's Republic is our largest trade partner and investor in our country… we are currently looking at reaching $200 billion in terms of bilateral trade" (Government.ru, November 7). Bilateral trade turnover equaled $100 billion in 2018 (RT, September 27).
These positive sentiments toward China are fully shared by mainstream Russian policymakers and experts. For instance, the director of the National Energy Security Fund (NESF), Konstantin Simonov, has argued that Russia and China are destined to be partners not only because of their shared border, but also because of the global political situation: "American and European sanctions against Russia and continued pressure on China—this is yet another reason for growing international energy cooperation between our two countries. We can safely say that politics brings us closer to one another" (Nezavisimaya Gazeta, November 29). A reading of pro-Kremlin sources would suggest that Russia's much-desired "turn to the East" (Globalaffairs.ru, December 27, 2017) has been a complete success. The reality, however, appears to be more complicated and less unequivocal.
When assessing the state of Sino-Russian economic cooperation between 2015 and 2018, authoritative Russian sources note that, in 2015, Russia (for whom China was the leading trade partner) found itself only in 15th position among China's trade partners (Gazeta.ru, September 4, 2015). By 2018, Russia still had not entered the top ten list. Whereas, "in spite of growing frictions, Chinese-American trade hit a new record level [that year], increasing to $414.2 billion" (Moskovsky Komsomolets, September 9, 2018).
The second set of problems boils down to the fact that, despite the encouraging rhetoric, China is cooperating with Russia only in those areas that Beijing itself deems beneficial and potentially lucrative. As noted by Yuri Zaitsev from the Gaidar Institute, China is well aware of the economic sanctions imposed on Russia and their effect. But "China is willing to invest in the Russian economy only under certain circumstances," he argued, noting that this provides Beijing with leverage to "impose its interest on Moscow" (Finanz.ru, December 5).
Particularly troubling, from the Russian point of view, has been the news that Chinese banks are unwilling to support investments in Russia due to the growing risks for potential investors. Namely, the Central Bank of the Russian Federation has reported "problems with Chinese commercial banks stemming from economic sanctions imposed by third parties." As explained by Vladimir Danilov, the representative of Russia's Central Bank in Beijing, "some Chinese banks are construing counter-Russian sanctions in an extremely broad manner." Danilov noted that for the moment this does not threaten bilateral monetary operations; "yet, a certain amount of difficulty is present" (Nakanune.ru, November 21). Danilov also stated that "this reaction of the Chinese partners is rather strange, since the Bank of Russia and China's main clients on the Russian financial market have not been blacklisted" (Moskovsky Komsomolets, November 21).
This assessment was presented in a much less benign light by Skymax managing partner Igor Shibanov, who pointed out the longevity and growing complexity of the problem. Specifically, Shibanov said that the predicament became evident approximately one and a half years ago, when Chinese financial institutions started to become far less enthusiastic when it came to dealing with Russian customers, even labeling Russian businesses as "toxic." As a result, Chinese financial institutions started blocking corporate transfers. For instance, he noted that "it is still possible to open up a company, but it is impossible to set up a bank account [in China] with a Russian passport. If the director is a Russian citizen—you are out of options… [I]n one bank, they informed us that, 'You have one week to withdraw your money and close down the account.' We tried to explain that we have big contracts here, asked for at least a month—a week was what we received in the end." Shibanov also said that, at some Chinese banks (not only on the mainland, but in Hong Kong as well), they were told that the institution had received clear instructions not to allow any financial operations by Russian passport holders. At other banks, such as the China Merchant Bank, his clients were asked to "take the money, close their accounts, go, and never come back" (RIA Novosti, October 29).
The despondent picture worsened further when Russian sources started to report that Chinese companies have not only slowed down investing in the real sector of the Russian economy, but, following the example of Western countries, began to actively withdraw their financial capital. Specifically, in January–June 2018, Chinese investors withdrew more than $1 billion. As a result, the total share of Chinese investments in Russia is now less than 1 percent of the overall investments flow. In comparison, the share of Chinese investments in Russia is 49 times lower than that of Cyprus and 6 times less than Germany (Finanz.ru, December 5). On top of that, such major and sought-after projects as the idea to sell a share of the Russian state-owned oil giant Rosneft to China's CEFC, or construction of a high-speed "Eurasia" railroad (Beijing–Moscow–Berlin) have suffered a sound defeat.
It now appears that Russia's much-hailed "turn to the East," seen in Moscow as an antidote to Western sanctions and international isolation, is gradually demonstrating its profound weaknesses.