Gas-Rich Turkmenistan Looks to Export Diversification
Publication: Eurasia Daily Monitor Volume: 13 Issue: 69
By: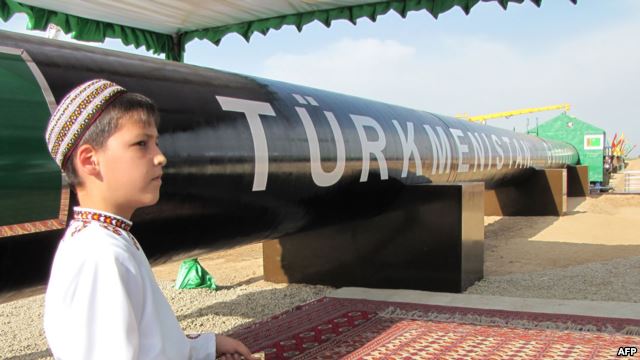 In January 2016, the Russian media reported that Russia's gas giant, Gazprom, had discontinued all purchases of natural gas from Turkmenistan and was not planning to resume imports any time soon. This information was later confirmed in a company statement released in mid-March, containing some revelatory details about what had led to a sudden rift between Gazprom and its Turkmenistani counterpart, state-owned Turkmengas. Gazprom had previously sought to alter the contractual price of natural gas it had been buying from the Central Asian country, given that its own gas deliveries to Europe, whose price is tethered to the price of crude oil, have been significantly discounted since the middle of 2014. According to media reports, the 2010 contract between Gazprom and Turkmengas settled on a price of $240 per thousand cubic meters, but the Russian gas firm had already attempted to modify the previous arrangement as early as 2008 (Lenta.ru, March 15; Interfax, January 9; RIA Novosti, January 8).
In January of last year, Gazprom said it would no longer pay the 2010 price for gas imports from Turkmenistan, because it was incurring losses stemming from a growing discrepancy between what it owed to its suppliers and what it was paid by its primary clients in Europe. This unilateral move led, in June, to Turkmengas hurling public accusations at the Russian gas giant in the government press. The conflict took on a new turn in July 2015 when Gazprom lodged a lawsuit with the International Court of Arbitration in Stockholm. The Russian company asked the Court to review the price with a view to imposing a lower tariff on the Turkmenistani side. It has not been reported since then whether the case was dropped following the open-ended stoppage of imports, but the truth is that Turkmenistan has effectively lost its second-largest customer, behind the China National Petroleum Corporation (CNPC) (Kommersant, July 27, 2015; Vedomosti.ru, July 26, 2015; Gazeta.ru, July 8, 2015).
Relations between Gazprom and Turkmengas have never been easy. In April 2009, a major explosion occurred at the Central Asia–Center gas pipeline, which was built in Soviet times and has since been used by Russia to buy gas from Turkmenistan. A few days earlier, Turkmenistan's President Gurbanguly Berdimuhamedov was visiting Moscow where he was supposed to sign an intergovernmental agreement with the Vladimir Putin administration. The proposed accord regarded the Russian-backed construction of the East–West pipeline aiming to pump gas from southeastern Turkmenistan to the Caspian shore in the country's west. However, the Turkmenistani leader refused to add his signature because of Russia's insistence on an interconnection with its own pipeline infrastructure. Back in Ashgabat, Berdimuhamedov announced an international tender to collect bids for pipeline engineering, although the authorities had previously planned to pick a Russian government contractor (Easttime.ru, April 22, 2009; Fergananews.com, Lenta.ru, April 9, 2009).
The flow of gas in the pipeline linking Turkmenistan to Russia was restored only in January 2010. At the time, government officials in Ashgabat openly speculated that Gazprom could have been behind the incident since the explosion was likely caused by a sudden drop in pressure, presumably orchestrated by Russian engineers. Yet, another reason for Moscow's growing dissatisfaction with Turkmenistani energy politics has been Ashgabat's rapid rapprochement with China. In December 2009, the Central Asia–China gas pipeline was commissioned, delivering natural gas from Turkmenistan and later, starting in August 2010, neighboring Uzbekistan through Kazakhstan over to China's Xinjiang Province (Xinhua, December 22, 2009; Centrasia.ru, Newsru.com, April 10, 2009).
As per the CNPC data, China imported a total of 121 billion cubic meters (bcm) of natural gas from Turkmenistan between the launch of the pipeline, in late 2009, and November 2015. Meanwhile, gas purchases by Gazprom declined from 42.6 bcm in 2007, when Russia was still Turkmenistan's largest energy partner, to less than 4 bcm last year. In early 2015, a senior Gazprom representative, Alexander Medvedev, warned that imports from Central Asia might ease altogether, with Turkmenistan being the first local supplier to feel the pinch—to be followed shortly by Uzbekistan. Therefore, China has quickly replaced Russia as the main buyer of Turkmenistani gas. In 2015, Turkmengas accounted for over 81 percent of all gas exports to China by pipeline and for almost 44 percent of aggregate piped and liquefied natural gas (LNG) exports, BP's Statistical Review of World Energy shows (Bp.com, April 5; Gazprom.ru, January 18; Cnpc.com.cn, November 16, 2015).
The government of President Berdymukhamedov is currently actively pursuing two export diversification options in order to avoid the overreliance on China as a source of export revenue. The Trans-Caspian pipeline was first proposed in the 1990s and aims to supply Turkmenistani gas across the Caspian to Azerbaijan, where it could be fed into the sprawling export infrastructure consisting of three back-to-back pipelines, of which two—the Trans-Anatolian Pipeline (TANAP) in Turkey and the Trans-Adriatic Pipeline (TAP) in Greece, Albania and Italy—have yet to be built. The project is strongly supported by Azerbaijan, Turkey and the European Union, which wants to diminish its structural dependence on Gazprom, especially in light of a drastic deterioration in Russian-EU relations following the former's annexation of Crimea in March 2014. The major difficulty is that both Russia and Iran oppose the construction of an underwater pipeline in the Caspian before the legal status of the sea is fully ascertained, and this could still take years to materialize (Haqqin.az, June 10, 2015; Rg.ru, June 9, 2015; Turkmenistan.ru, October 18, 2011).
The second option being pursued by Ashgabat is the Turkmenistan–Afghanistan–Pakistan–India (TAPI) pipeline, whose total throughput capacity should reach 33 bcm a year by the time its construction ends—sometime between 2019 and 2020, if all goes according to plan. Turkmenistan broke ground for TAPI in December 2015, following years of uncertainty during which no foreign oil and gas company, such as the US-based ExxonMobil and Chevron or France's Total, had agreed to join the project because of Ashgabat's reluctance to allow production sharing at its lucrative onshore deposits. Another sizeable challenge is the security situation in both Afghanistan and Pakistan, where the Taliban and other radical groups have been stepping up attacks on local governments and the remainder of Western coalition forces (Regnum.ru, February 18; Oilgas.gov.tm, December 18, 2015). While Turkmenistan is likely to continue the work to diversify its hydrocarbon sales, it will also have to look beyond the pure export agenda and seek to modernize its economy, which certainly requires a fair dose of democratization and market liberalization (see EDM, March 15).