Huawei's Smart Cities and CCP Influence, At Home and Abroad
By: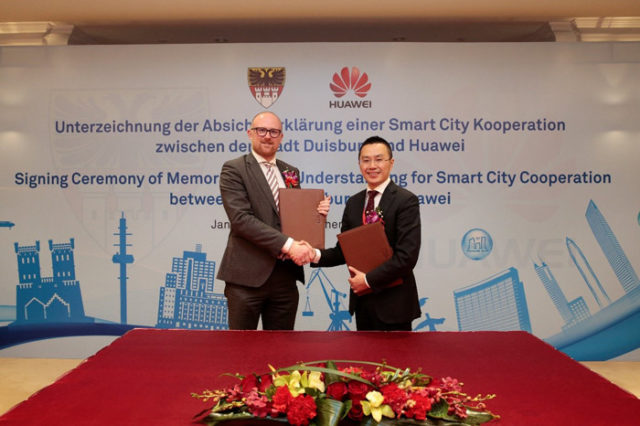 What do international espionage concerns, a Chinese truckers' strike, and the smart cities of the future all have in common? All are part of the story of how the commercial ambitions of Huawei—one of the PRC's leading developers of high-tech electronics and telecommunications equipment—could be leveraged by the Chinese Communist Party (CCP) to protect its wealth and prerogatives at home, and extend its surveillance reach abroad.
21st-Century Strike Breaking
On June 8, truck drivers at locations across China began a loosely coordinated national strike (China Labour Bulletin, June 11). The CCP immediately banned any mention of the strike by social or traditional media (China Digital Times, June 12).
The information blackout, a common tactic for preventing the spread of large-scale industrial action, indicates that the CCP's response to the strike is likely to follow a well-worn path: Strike leaders will probably be detained by state security organs. Some strike participants may be subject to criminal punishment, or stripped of their employment (China Labour Bulletin, December 2017) [1].
These time-honed strikebreaking tactics have been given a new edge by the CCP's widespread deployment of tools such as networked surveillance cameras, facial recognition algorithms, and big data-enabled monitoring of social media communication. These tools make it easier to identify, track, and punish people—like strikers—who threaten social stability (SCMP, May 31).
Huawei is doing its part to contribute, through its development of what it calls "safe city solutions"—a marketing term for smart city platforms that integrate and analyze the torrent of data generated by this proliferation of automated surveillance technology. Huawei compares its flagship smart city product, its "Intelligent Operation Center", to a smart city 'brain' that guides and makes sense of the input from the city's 'nervous system'—networked cameras and other sensing devices— to provide comprehensible, actionable information on crime and unrest to police and municipal decisionmakers (Huawei, November 10, 2017).
In the PRC, such decisionmakers' prospects for promotion depend in large part upon their ability to stamp out unrest, maintain social stability, and promote economic development. The demonstrated efficacy of technological solutions like Huawei's may help explain the embrace of its "safe city" platform by officials in Hefei and Chengdu, two large cities reportedly affected by the recent truckers' strike (China-ASEAN Expo, September 2017; CCPSE, May 30 2016).
For Whom the Strike Was Broke
In the case of the truckers' strike, Huawei's safe city solutions could help to protect more than just the careers of a few local officials. Using advanced surveillance tools to break strikes could also help protect the interests of other large tech companies, and their politically well-connected investors.
One of the truckers' loudest complaints was about Manbang, a cell phone app some call the "Uber of trucking" that lets companies hire truckers on demand; some of the most widely circulated videos of the strike feature truckers yelling "down with Manbang!". Manbang was formed in November 2017 by the merger of two competing companies, giving it a monopoly on its market. Recent updates to the app have removed truckers' ability to decide what they charge; shipping fees are now determined by Mangbang itself. Some of the striking truckers say that the new arrangement makes it almost impossible for them to make a living and feed their families (Twitter, June 11).
In April 2018, several months after the merger that formed Manbang, a private equity firm named China Reform Fund led a $1.9 billion private placement in the newly merged company (China Money Network, April 24) [2]. China Reform's ultimate beneficial owners are not clear; in China, as in many other countries, this information is not always available. However, there are circumstantial reasons to suspect that China Reform could be helping line the pockets of individuals with powerful political connection, among them China Reform's status as a centrally managed state-owned enterprise, and the state-connected private equity industry's long history as a locus of elite corruption within China [3].
To be sure, none of this proves that officials are using Manbang to enrich themselves, or that Huawei is helping them protect their investments through the suppression of the truckers' strike. But it does suggest that Huawei's smart city systems could be useful to CCP leaders in ways that go beyond simply protecting law and order, and extend into of the protection of powerful monied interests, at the expense of the less powerful. Such a model of social control has obvious attraction for elites within China. It could also potentially prove appealing for elites in other countries.
Taking Huawei's Smart City Global
Huawei has successfully marketed its smart city solutions abroad. In the space of three years it doubled the number of countries where its smart city technology is deployed, from twenty to forty (Huawei, November 14 2017; Huawei 2014). Huawei has several smart city business lines; it describes its "safe city" public safety solutions as one of its most important (Eastday, October 31 2017).
Whether Huawei's safe city technologies are being employed by authoritarian and kleptocratic regimes to reinforce their rule is an understudied question. However, it is both interesting and suggestive that the list of countries where Huawei's safe city solutions were first deployed includes a number of authoritarian and hybrid regimes with close ties to China, among them Russia, Pakistan, Venezuela, Laos, and Angola (Huawei, 2014).
Since then, Huawei has branched out to democratic countries. It recently signed a contract to install safe city solutions in the small city of Valenciennes in northern France, as well as the German city of Gelsenkirchen (Xinhua, February 10 2017; Huawei, Sept 7 2017).
It has also made progress in selling other smart city solutions to other sub-national actors in Western Europe. For example, Huawei and the German city of Duisburg recently signed a memorandum of understanding for Huawei to provide Duisburg with "eGovernment" smart city solutions designed to make city bureaucracy work more effectively (Huawei, January 12).
Underlying the spread of Huawei's smart city solutions into democratic countries are concerns that the company's equipment may act as a conduit for PRC intelligence gathering. Both Australia and the United States have banned Huawei equipment from their telecommunications backbones over spying concerns (VentureBeat, February 23).
"eGovernment" smart city solutions could be of particular concern in this respect, as they involve Huawei intermediating directly between citizen and state, with the information gathered potentially available to PRC intelligence services. China's recently ratified National Intelligence Law codifies the obligation of PRC-based entities to assist in intelligence gathering. The relevant passage reads:
All organizations and citizens shall, in accordance with the law, support, cooperate with, and collaborate in national intelligence work, and guard the secrecy of national intelligence work they are aware of. The state will protect individuals and organizations that support, cooperate with, and collaborate in national intelligence work (ASPI The Strategist, Mar 28).
While there are questions as to how the law is enforced in practice, the mere existence of such a legal obligation should give pause to any western municipality considering the installation of Huawei hardware as the 'brains' of its new smart city.
So too should the ways in which the PRC could use Huawei's 'safe city' technology at home, as well as the ways in which such technology could be deployed abroad. While the smart cities of the future could be better, more efficient cities, they could also provide authoritarian regimes with previously undreamt of tools of surveillance and control.
Matt Schrader is editor of the Jamestown China Brief. Follow him on Twitter at @tombschrader.
Notes
[1] One PRC worker who recently shared on social media a call for crane operators to strike described his subsequent experience: "Terrifying. Because I forwarded a post about a worker strike on May 1 yesterday, the Changsha Ministry of State Security collected all possible information about me within a day, including my address, telephone number, work unit and more. Two hours ago they came to my workplace and demanded that I come to the police station and explain myself." (China Change, May 7)
[2] Other participants in the private placement include Softbank, a major Japanese technological investment firm, as well as CapitalG, Google's investment arm (Crunchbase, April 24). Softbank has been active in the PRC, including its recent establishment of a Beijing-based JV for one of its microchip design subsidiaries that could help China break its dependence on foreign microchip technology (China Brief, May 9).
[3] To elaborate further, China Reform is a state-run private equity firm. In the past, centrally managed state-owned enterprises and private equity firms have frequently acted as the vehicles by which the families of top CCP leaders amassed enormous wealth (New York Times, May 12 2012). Second, an examination of China Reform's corporate structure reveals connections to some of the most corrupt elements of China's party-state (China National Enterprise Credit Information Publicity System, June 15). One of its important underlying entities is China's state-owned tobacco monopoly, famous as an avenue by which officials siphon off state resources.