UK, Japan Companies Help China to Counter US's Tech Leverage
Publication: China Brief Volume: 18 Issue: 8
By: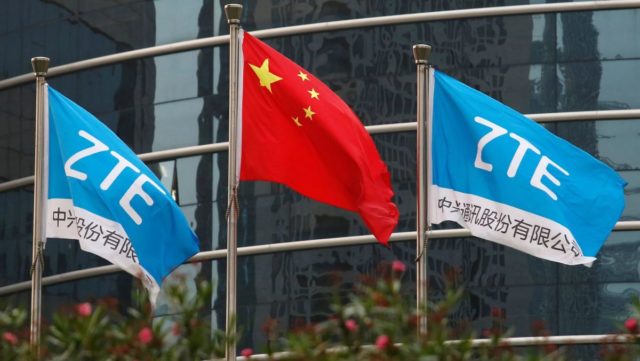 With the help of major tech companies from the UK and Japan, China may be poised to take an important step towards isolating its microchip supply chain from US pressure, as the Chinese Communist Party (CCP) accelerates an indigenous technology drive in the face of stiffening pressure from the Trump Administration.
On April 26, ten days after the US Treasury Department announced potentially crippling sanctions against ZTE, a major PRC consumer electronics firm, CCP General Secretary Xi Jinping spoke at the Three Gorges Dam on the topic of China's technological independence (Xinhua, April 26) [1]. Standing atop one of the PRC's great engineering achievements, Xi said, "In the past we tightened our belts, gritted our teeth, and built the two [atomic and hydrogen] bombs and a satellite…In the next step of tackling technology, we must cast aside illusions and rely on ourselves."
His remarks came a few days after an editorial in the state-run Global Times (环球时报) newspaper that read, in part:
"ZTE's case suggests that US supply is not reliable … China must prepare for the worst and integrate resources to support the development of core technologies. China's technological exploration shouldn't be upset by US factors. It's time for China to make up its mind and develop domestic technologies." [2] (Global Times, May 6)
Read together with Xi's speech, the message is perfectly clear: the CCP will not allow China to depend on other countries for crucial processor technologies. The need goes beyond business; Xi and the CCP believe global technological leadership should be one of the PLA's core missions.
Xi's concern is not misplaced. What was done to ZTE could be done to others. The Treasury Department's punishment of ZTE was also a clear shot across the bow of Huawei, China's leading telecommunications hardware firm—indeed, word leaked on April 26, the same day as Xi's speech, that the Treasury Department had opened a similar investigation into Huawei (New York Times, April 26).
ZTE was vulnerable to the US Treasury because it neither designs nor manufactures its own chips; in both respects it depends on foreign companies. Huawei's position is a little better. Its fully-owned subsidiary Hisilicon does some of the design work on the chips that go into its consumer smartphones and its upcoming 5G chipsets. But even Hisilicon bases its processor designs on chip architecture provided by a UK-headquartered firm called Arm Holdings.
Arm Holdings, which became a wholly-owned subsidiary of the Japanese tech conglomerate SoftBank in 2016, is as important to the processor industry as it is little known outside it. The company estimates that 95 percent of the smartphones sold each year use chips based on its designs (Wired, July 18, 2016). Chip design is Arm's only business; unlike competitors such as Intel, it does no manufacturing. Arm likens the intellectual property it creates to "recipes", which "chefs" like Apple and Huawei then license, and use to create customized chips that fit their hardware. Arm's designs are foundational to the smartphone, tablet, and mobile device businesses. It is an increasingly important player in the internet of things, and will be one of the prime movers in building out the worldwide 5G ecosystem. Intellectual property of the kind Arm controls is one of the key missing pieces in China's quest to build a self-sufficient, internationally competitive domestic chip industry.
Arm appears eager to help China's domestic chip industry progress. In 2015, it opened "ArmAccelerator", a Beijing-based tech incubator focused on AI and the internet of things, the company's only such accelerator globally (Economic Observer, May 5). Soon after, in 2017, Arm announced that it would establish a PRC-based joint venture, in which it would hold a 49 percent stake. The controlling stake would be held by a consortium led by Hopu Investment Fund, a PE firm headed by Fang Fenglei. One of China's most famous financial rainmakers, Fang helped set up Goldman Sachs' business in China, and is reportedly close to PRC Vice President Wang Qishan, with whom he worked at China International Capital Corporation (CICC), China's earliest investment bank. Wang Qishan led Xi Jinping's fearsome first-term corruption purge, and is probably the second most powerful person in China behind Xi [3].
At the announcement of the JV, Rene Haas, president of Arm's intellectual property products group, explained the business rationale behind the move, saying, "The intent is for that joint venture to develop products for the Chinese market for China partners, and specifically around the areas of technology that a Western company might not be able to do." He singled out China's security services and military as potential buyers, adding, "the security has to be at a very high clearance in such a way that China wants to have it only inside China. With this kind of new joint venture, this company can develop that. In the past, this is something we couldn't do." (Nikkei Asia, June 1 2017).
Although Chinese analysts are divided as to whether the JV will result in the transfer of core IP, Nikkei Asia Review quoted a source familiar with the JV's planning as saying it could help allay Chinese chip designers' fears they might be shut out of access to Arm IP, adding that "with this joint venture, which is now a Chinese company, [the designers] are expected to secure sources of Arm's fundamental IPs that are foundations of their chip products."
Despite a dominant hold on its market, Arm's business has regressed under SoftBank. The company added significant new headcount in 2017, and posted its first annual operating loss since it began reporting annual results [4]. In this respect, the JV may provide a needed boost: a document seen by Nikkei projects that the JV will surpass the parent company's revenues by 2025. (Nikkei Asia Review, May 3). The document also requests that investors in the JV not sell their holdings to non-Chinese entities after a three-year holding period.
The Arm-Hopu joint venture officially opened its doors in April and plans to list shares on China's domestic A-share market soon (EE News China, May 2). Its progress will be worth tracking closely, as the CCP attempts to secure China's semiconductor future in the face of mounting foreign resistance.
Matt Schrader is editor of the Jamestown China Brief. Follow him on Twitter at @tombschrader.
[1] The Treasury Department issued a "denial order" against ZTE, banning it from buying components from US companies as punishment for repeated violation of US sanctions banning sales of electronic components to Iran. 25 to 30 percent of the components inside a ZTE phone are US made, including some of the most critical parts. ZTE's chairman said the ban could "put the company immediately into a coma".
[2] Although the Global Times is not as authoritative an interlocutor as, for example, People's Daily, it often acts as a mouthpiece for conservative parts of the PRC establishment, voicing sentiments that more official bodies are not able to say directly.
[3] For more information on Fang's career path, see his Baidupedia page. Wang led CICC during Fang's time there as a vice-president. For more information on Wang's career and relationship to Xi Jinping, see this 2017 South China Morning Post article.
[4] For more information on Arm's 2017 results, see this Bloomberg article. For Arm's previous annual financial results, see: https://www.arm.com/company/investors/financial-results