Implacable Adversity: Moscow's Response to Zelensky's Election in Ukraine (Part Two)
Publication: Eurasia Daily Monitor Volume: 16 Issue: 69
By: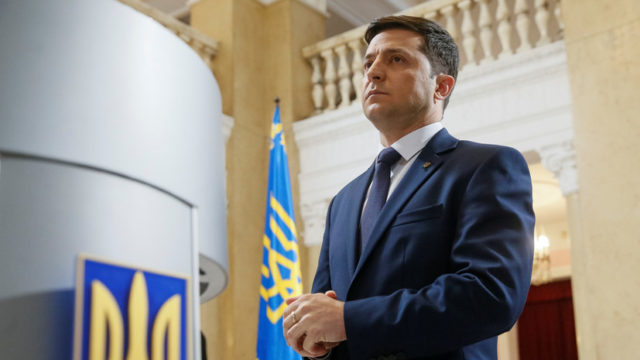 Ukraine's outgoing president, Petro Poroshenko, and the governing coalition (whose mandate is also about to expire) have bequeathed the foundation and building blocks of Ukrainian resilience against Russia's adversity.
President-elect Volodymyr Zelensky and the soon-to-be-elected next parliament are inheriting a Ukraine that has finally exited the Russian World; de-Sovietized the public space and the memory policy, suppressed many pro-Moscow propaganda outlets within Ukraine; achieved the autocephaly of the Ukrainian Orthodox Church; legislated the position of the Ukrainian language into the lingua franca in the public sphere, mass media and education; decentralized local-level administrations so as to prevent centrifugalism at the level of regions; ended the once-crippling dependence on Russian natural gas; reoriented a growing share of Ukraine's trade toward Europe; enshrined Ukraine's goals to join the North Atlantic Treaty Organization (NATO) and the European Union in Ukraine's constitution; established a strategic partnership with the United States; built a capable army; and enacted what should be (if honored) insurmountable legal safeguards against compliance with the Minsk armistice "agreements" in their existing form.
These results are, however, an unconsolidated work in progress after a single term in office of the outgoing authorities. The Zelensky team can build on this legacy to strengthen Ukraine's resilience vis-à-vis Russia's intensifying political and economic pressures amid a protracted war (see Part One in EDM, May 9). But Zelensky is also inheriting a highly heterogeneous electorate by dint of its sheer size: an ad hoc, unrepeatable conglomeration of protest-motivated voters, as distinct from a party-based coalition. The 73 percent of voters (spread almost evenly throughout Ukraine) who elected Zelensky on April 21 differ widely in terms of their values, interests, priorities, and the expectations they attach to the new president. These differences include attitudes toward Russia, the ongoing war, and national and cultural identity. Zelensky's decisions down the road on these issues will carry the political risk of splitting his electorate. On the other hand, the national interest would be put at risk by compromise decisions or issue-straddling with electoral motivations.
Zelensky's own statements thus far indicate, basically, continuity with the policies of the outgoing president and governing coalition vis-à-vis Russia. The president-elect has not yet authorized members of his team to make policy statements publicly. This team is still the electoral campaign team. He has yet to recruit experts on foreign policy, international relations and (particularly) on Russia for a transition team. Given Zelensky's lack of experience in these areas, it is assumed that his public statements are supplied to him, possibly from experts outside the known team. Zelensky has aired a number of policy positions on Russia via Facebook.
According to Zelensky, "we are prepared to discuss the new conditions of Ukraine's coexistence with Russia," but "real normalization only after the complete de-occupation of Crimea and Donbas" (Liga.net, April 27). The difference between coexistence and real normalization remains to be clarified after the president-elect takes office. (Comparatively, the current relations between Georgia and Russia may be described as a model of "coexistence without real normalization").
Zelensky has dismissed Russian President Vladimir Putin's references to "commonalities" between Russia and Ukraine (same people, same language, said Putin most recently on April 29—Kremlin.ru, April 29). "All that remains 'in common' between us is one thing: the state border. And Russia must give back every millimeter of it on the Ukrainian side [in Donbas]," Zelensky replied (Liga.net, May 2).
The president-elect has already ruled out a "special status" for the Russian-controlled territory in Donbas, "dialogue" with Russia's proxies there, and amnesty for them (an amnesty would pave the way for "elections" to be staged there). These positions are fully in line with the legislation adopted by the Verkhovna Rada (Ukrainian parliament) and signed by Poroshenko in January, which provides a legal shield against the implementation of the political provisions of the Minsk armistice.
Russian state television channels characterize Zelensky's statements as "anti-Russian," and similar to those of Ukraine's previous authorities. However, Zelensky's high popularity in Russia protects him at least for the time being from ad hominem attacks on Russian television.
Along with the punitive economic and political measures against Ukraine (see EDM, April 25, May 9), Moscow seeks to lure Zelensky into bilateral talks following his inauguration. The Kremlin has extended to Kyiv the same offer on natural gas that Moscow had presented to the pro-Russia opposition leaders on March 22 ahead of Ukraine's presidential election. As rehashed by Putin and Prime Minister Dmitry Medvedev (Kremlin.ru, April 27, 30), Russian Gazprom would grant to Ukrainian Naftohaz a 25 percent price discount, if Ukraine re-starts procurement of natural gas directly from Russia (as distinct from procuring gas of varied provenance including Russian via European traders and reverse transit).
External recommendations from any quarter for Zelensky to meet with Putin are premature. Inexperienced, lacking a competent team of foreign policy advisors, and without having formulated a strategic policy concept, venturing into such a meeting would be a high-risk move for the Ukrainian president-elect.