Iran Expanding Its Naval Presence in the Caspian
Publication: Eurasia Daily Monitor Volume: 17 Issue: 75
By: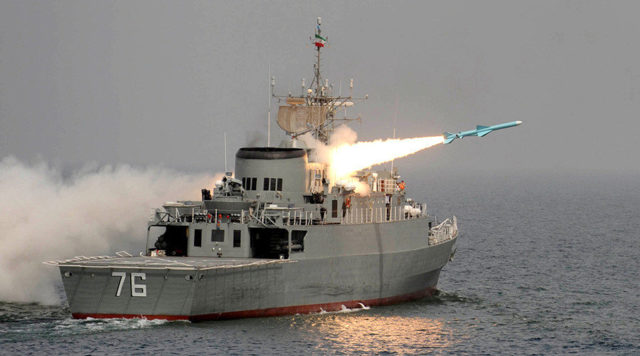 Western analysts tend to focus on the Iranian navy almost exclusively in terms of its ability to harass or block oil tankers coming through the Strait of Hormuz, an understandable perspective given the danger that Iran could disorder world oil markets if it was successful in doing so. But Russian analysts have an additional worry—Iran's growing naval presence in the Caspian Sea and its use of that presence to expand Tehran's influence in the capitals of the littoral states of Azerbaijan and Turkmenistan, challenging Moscow's currently dominant position. And while Iran's northern fleet is far too small to be a direct threat to the Russian Caspian Flotilla, Tehran's political use of its naval vessels worries some Russian analysts that Iran could ultimately prove to be a less-than-entirely-reliable ally for Moscow (see EDM, September 12, 2019). A series of recent statements by senior Iranian naval officers and politicians has only intensified this concern (Caspian Herald, May 15, 2020).
In April, Rear Admiral Hossein Khanzadi, the commander of the Islamic Republic of Iran Navy, visited the Iranian Bandar-e Anzali (formerly Bandar-e Pahlavi) base on the Caspian and declared that "the Caspian Sea is a sea of peace and friendship, and we can share our military tactics with our neighbors in this region. We are fully ready to expand ties with neighboring and friend[ly] countries." But at the same time, he said, it was important to ensure that Iran has its own "strong presence" in that sea (Mehr News Agency, April 15). His comments came after he had said, in December 2019, that Tehran was ready to undertake joint naval exercises with other Caspian littoral states. Moreover, his remarks about maintaining a sufficient Caspian force followed Iran's trilateral drills with Russia and China in the Indian Ocean and Sea of Oman earlier this year.
To underscore the importance of an Iranian naval presence off the country's northern coast, Khanzadi also visited shipping yards where the destroyer Damavand, the flagship of Iran's Caspian fleet, is being refitted with advanced weaponry and radar systems and where other ships for the flotilla are being built. Ten days later, on April 26, Khanzadi's deputy, Admiral Habibullah Sayari, paid a visit to the yards near Enzeli, together with Admiral Amir Rastegari, who is in charge of naval construction at the Iranian defense ministry. Sayari claimed that Iran, having long been dependent on other countries for its naval projects, has now achieved self-sufficiency and can build any kind of ship it wants, including submarines and (dubiously) even aircraft carriers. "Thanks to the Islamic Revolution, the self-confidence of the youth, and round-the-clock efforts of experts of the Iran Maritime Industries Organization, we have arrived at a point where we are designing and producing all the required equipment of our armed forces" (Mehr News Agency, April 26).
Three days after that, Khanzadi, on the occasion of Iran's national day, described the naval presence on the Caspian as "vital" to the country's national security and the basis, along with its ships in the Persian Gulf, "for reviving Iran's maritime civilization" as "the second step of the Revolution." Such Iranian power, he continued, will make it impossible for the West to restore its dominance over Iran and will allow the Islamic Republic to take its proper place as a regional power. "We are serious about maintaining sustainable peace and security in the region and will not let any foreign agent undermine the security of the area," he said (Mehr News Agency, April 29).
Some of these remarks are certainly bluster and intended to distract attention from the fact that the Iranian naval presence on the Caspian is not only small—a few minesweepers and corvettes—but has actually been reduced in recent months because of the damage a January 2018 storm inflicted on the Damavand. Iran has been working to repair it since then, but only in March of this year did it declare those repairs and refittings allegedly completed. Launched in 2013, the ship has modern weapons, including anti-ship and anti-aircraft rockets, new radar capabilities, and a helicopter pad. It carries a crew of 140 officers and men, and it is thus comparable to the best ships that Russia wields in the Caspian basin, although Moscow has many more of them and far more air support (Caspian Herald, May 15, 2020; see EDM, December 4, 2018).
Neither this ship nor any combination the Iranians are likely to launch anytime soon represent a direct threat to Russian naval dominance of the Caspian at present. But its existence and Tehran's obvious intention to expand Iranian influence across the region by making use of the fleet mean that the former Soviet littoral states, which, up to now, had looked only to Moscow, may increasingly have reason to look to Tehran as well. These trends will certainly complicate the geopolitical and geo-economic competition in this landlocked sea and may increasingly become a source of conflict over the coming decades. So when an Iranian admiral says Tehran wants to prevent "any foreign agent" from playing a role there, some in Moscow clearly fear he is speaking about the Russian Federation and not only the West.