Iran-US Crisis Spotlights Vulnerabilities Across the South Caucasus
Publication: Eurasia Daily Monitor Volume: 17 Issue: 10
By: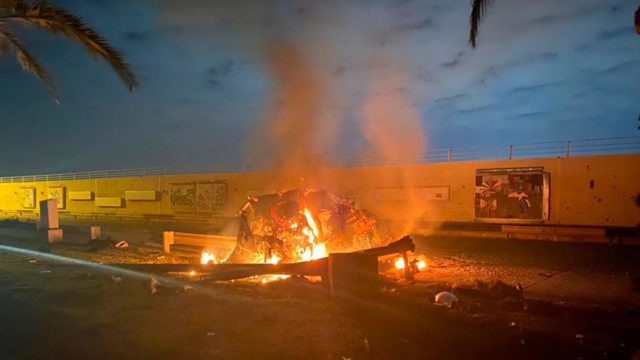 The three countries of the South Caucasus—Armenia, Georgia and Azerbaijan—found themselves in a precarious situation following the United States' killing of Iranian General Qasem Soleimani, on January 3, 2020, due to their parallel relationships with both Tehran and Washington. Armenian Foreign Minister Zohrab Mnatsakanyan offered condolences to Iran in a phone conversation with his Iranian counterpart, Javad Zarif, on January 5 (Mfa.am, January 5, 2020). The phone call—which the website of the Armenian foreign ministry noted was initiated by Tehran—came in the wake of reports, on January 3, alleging that Armenia's Prime Minister Nikol Pashinyan had sent a message congratulating the US on the attack that killed Soleimani. Those reports apparently led Tehran to initiate the diplomatic call, held two days later, in order to urge Yerevan to crystalize its position. Without this cajoling, Armenia likely would have tried to remain silent on the matter (Massispost.com, January 4, 2020; The Armenian Mirror-Spectator, January 9, 2020). Nonetheless, some international media outlets focusing on the South Caucasus region entirely omitted the fact that Yerevan offered condolences to Iran (Jam-news.net, January 5, 2020). Whereas those same media outlets emphasized Baku's condolences to Tehran delivered during a phone conversation between the Azerbaijani and Iranian foreign ministers on January 4, hence portraying Baku's reaction as more inclined toward Tehran, in contrast to Yerevan's (Mfa.gov.az, January 4, 2020). But in fact, the wording of the statements from both Baku and Yerevan was essentially identical.
Armenia's and Azerbaijan's analogous responses to the strike on Soleimani were driven by variety of considerations. Neither government wants to spoil its relations with Tehran for fear this could lead to regional hegemon Iran suddenly clarifying its ambiguity toward either supporting or opposing Karabakh separatism—an issue of foremost importance for both Yerevan and Baku (see EDM, October 2, 2017). Moreover, Yerevan depends on Tehran economically and politically. For Armenia—which is isolated regionally by Turkey and Azerbaijan—the open border with Iran represents a second life line after Russia. That said, their partnership cannot be taken for granted by Armenia: in particular, Yerevan hosts one of the largest US embassy compounds in the world, which Tehran regards as designed to serve against Iranian interests. Bilateral relations with Iran are a similarly complicated issue for Azerbaijan, one of the world's only other Shia Muslim–majority countries alongside Iran, Iraq and Bahrain. Iran enjoys some political and cultural-religious influence in Azerbaijan despite a slew of historic and modern controversies between the two. Furthermore, their relationship is strained by Azerbaijan's strong partnership with Israel (see EDM January 30, 2017 and May 14, 2018; Armenianweekly.com, January 8, 2020). That said, in recent years, Azerbaijan has tried to pursue closer engagement with Iran, as illustrated by their joint development of the North-South Transport Corridor, for example (see EDM November 9, 2017 and April 5, 2018).
Unlike Armenia and Azerbaijan, Georgia does not share a border with Iran, and it refrained from issuing a formal statement on Soleimani. However, a tweet from Georgian Foreign Minister David Zalkaliani was in line with the US position: "We condemned recent violence, [and the] provocative attack [on] the US Embassy in Baghdad. [The] US has the legitimate right to defend its citizens" (Twitter.com/dzalkaliani, January 3). Tbilisi's position shows that it clearly wants to side with the US; but that desire comes with specific limitations. Tbilisi has tacitly accepted Iranian influence over its Muslim populations: according to Ansgar Jodicke, a Swiss-based senior researcher on the region, "the Iranian activities in Georgia did not damage bilateral relations" even as "Azerbaijan's bilateral relations with Iran remained precarious" (Brookings.edu, December 13, 2018). The rationale behind Tehran's policies has been to counter both Baku's influence over ethnic-Azerbaijani Shiite communities in Georgia as well as Ankara's influence over Georgia's Sunni Muslim communities. Moreover, Iran has built ties with Georgia's breakaway regions of Abkhazia and South Ossetia, whose positions are normally aligned with Russia's (see EDM, December 12, 2009). Accordingly, Abkhazia and South Ossetia condemned the US in harsh terms for the strike on the Iranian general, calling it a "terror act" and a "blatant violation of international law and the sovereignty of an independent state" (RIA Novosti, January 4, 2020).
While Abkhazia and South Ossetia took diametrically opposite stances on the issue vis-à-vis Tbilisi, the separatist regime in Karabakh staked out a much blurrier position. On the one hand, the "secretary of the Security Council" of Karabakh condemned the killing of Soleimani on his personal Facebook page (Yekramas.org, January 3, 2020). But in an official statement, the de facto authorities in Karabakh used more neutral, general language, without explicitly mentioning the US strike on the Iranian Quds force commander, and called for a reduction of tensions in the Middle East (Nkr.am, January 4, 2020). The statement also pointedly declares that the regime in Karabakh "is in constant contact with the partner structures" of Armenia—suggesting an effort to distribute the diplomatic risks of their position between Yerevan and Stepanakert (Khankendi in Azerbaijan). Thus, the official statement from Yerevan sounds more in line with Tehran's position, while that from Stepanakert is worded in such a way to be implicitly more satisfactory to Washington. It was also presumably intended to present Armenia and Karabakh as ostensibly independent and separate actors with individual foreign policy lines.
Azerbaijani official media stayed mute on the matter. But social media users in the country were actively engaged and sharply divided on Souleimani's killing: some sympathized with the former Quds commander, while others held sharply opposing views. A particular concern for many was why the killing of a general of a foreign country (Iran) by another country (the US) should divide citizens in Azerbaijan at all. The related debates thus focused on local Iranian influence over Azerbaijani society; but it largely ignored the special impact of Souleimani's unique biography. Notably, as a child, Soleimani had to drop out of school and work to repay a loan his family had borrowed—a compelling life story for many Azerbaijanis who tend to be more sentimentally than ideologically driven. Moreover, Azerbaijan remains at war with Armenia, and it continues to respect its veterans and heroes of the Karabakh war. For some Azerbaijanis, therefore, Souleimani did not represent simply a hero of a foreign Iran-Iraq war but was also a symbol of a war hero who became part of the ruling elite (Strateq.az, Ednews.net, January 3, 2020; Musavat.com, Hokm.az, Demokrat.az, January 5, 2020; Turkustan.info, January 10, 2020; Azpolitika.info, January 13, 2020).