Kuwaiti Newspaper Implicates Azerbaijan in Israel's Iran Operation: Fake News or Information Leak?
Publication: Eurasia Daily Monitor Volume: 15 Issue: 73
By: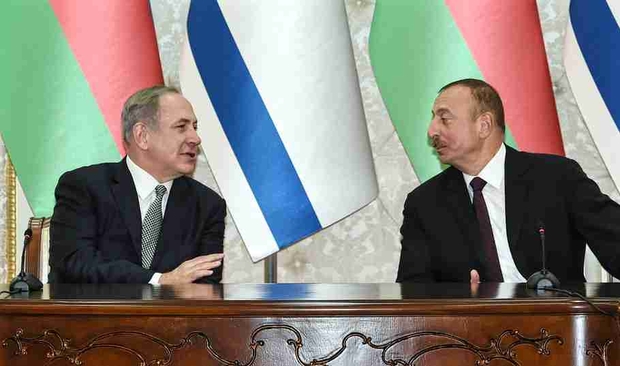 Kuwaiti newspaper Al-Jarida published a report, on May 3, that cited "an informed source" alleging Israeli intelligence services had used the territory of Azerbaijan to smuggle half a ton of seized secret files regarding the Iranian nuclear program from Tehran to Israel. The source did not comment on whether the route for smuggling the documents into Azerbaijan was over land or sea. But it underlined that Azerbaijan's authorities were not aware of the alleged transfer of the files via Azerbaijani territory, from where they were airlifted to Tel Aviv (Al-Jarida, May 3). The article was published a few days after Israeli Prime Minister Benjamin Netanyahu publicly presented those files among what he termed "new and conclusive proof" exposing Iran's secret nuclear weapons program (called Project Amad), allegedly hidden after Iran signed a nuclear deal with world powers (the Joint Comprehensive Plan of Action—JCPOA) (Haaretz, April 30).
Hikmat Hajiyev, the spokesperson for the Azerbaijani Ministry of Foreign Affairs stated that the relevant Azerbaijani authorities had conducted a serious investigation into Al-Jarida's report regarding Azerbaijan's alleged role as a transit country for Mossad's operation in Iran. He categorically rejected the allegations, calling the Kuwaiti paper's information a "complete fake" (Azertag, May 4). But whether or not the Al-Jarida article was in fact "fake news" or a deliberate leak of classified information, there are at least three different—and not necessarily mutually exclusive—motivations behind the circulation of the report.
First, the article's release may have been motivated by someone's desire to mar relations between Baku and Tehran. Bilateral ties between Azerbaijan and Iran recently saw some tangible improvement, including a signed deal on the joint development of long-disputed oil and natural gas fields in the Caspian Sea as well as the development of other joint commercial projects (see EDM, April 5; President.az, March 28, 2018; November 9, 2017). And this past March, Iranian President Hassan Rouhani more clearly expressed support for the principle of territorial integrity to assuage Azerbaijan (President.ir, March 28). Considering the Sunni-Shiite rivalry in the Middle East, good relations between Azerbaijan and Iran—two of the three Shiite Muslim–majority countries in the world alongside Shiite-majority but Sunni-ruled Bahrain—may have sparked concerns among other regional actors. Moreover, Baku's high-profile criticism of United States President Donald Trump's decision to recognize Jerusalem as the capital of Israel was possibly viewed as symptomatic of Azerbaijan's warming relations with Iran at the expense of Israel (Azernews, December 13, 2017; Jam News, December 14, 2017; Presstv, Azvision.az, December 20, 2017). Therefore, it is possible to suspect Israel of having been behind the reported allegations. But such a view dismisses the notable peculiarities of the Azerbaijani-Israeli partnership: both sides understand each other's sensitivities and habitually approach those sensitivities in a flexible way (see EDM, January 30, 2017; Breaking Israel News, February 8, 2018; Eurasia Daily, December 19, 2017; 168.am, April 16, 2016; The Jerusalem Post, November 2, 2015; Inss.org.il, January 4, 2015; EurasiaNet, August 7, 2014). Nevertheless, the impact of the report may overshadow the heretofore trustworthy nature of the Azerbaijani-Israeli relationship.
A second motive could have been to give additional credence to Prime Minister Netanyahu's presentation of the Iranian nuclear program. By leaking details as to the route the secret files allegedly followed (specifically, through Azerbaijan, a rare proud Muslim partner of Israel) as they were smuggled out of Iran, Netanyahu's case regarding Iranian efforts toward a nuclear bomb are made even more convincing. Indeed, from that angle, the Al-Jarida report appears specifically designed to amplify the belief in the veracity of the proof Natenyahu presented, while showcasing the capacity and might of the Israeli secret services (The Straits Times, May 2). It sends a bold message to Tehran that the Islamic Republic is not immune to external, physical penetration into its best-protected national security sites, and that Israeli secret services comfortably operate inside Iran and its immediate neighborhood. Such signaling would be in the interest of both Israel as well as Iran's Arab foes, since it would make Tehran more anxious and less confident.
Third, the report may have alternatively been meant to discredit the reputation of the Israeli intelligence services and Prime Minister Netanyahu's government. Alex Fishman, a senior defense analyst at the leading Israeli newspaper Yedioth Ahronoth, had raised the possibility that Mossad actually seized the secret files through a cyber-operation, without needing a physical presence inside any secret facilities in Tehran (Twitter.com/AsafRonel, May 4). If true, the Al-Jarida article would further highlight the contradiction between the two versions of the operation to exfiltrate the Iranian documents—the physical transfer of hard-copy files from the secret site, versus a cyber hack—thus undermining the credibility of the official Israeli version. This must be seen particularly in light of statements from Western leaders, some of whom have characterized Netanyahu's presented proof as outdated and irrelevant, while Tehran has depicted it as a "baseless, childish, naïve show" (France24, Presstv, April 30).
Arab and Iranian media tend to consider Kuwait's Al-Jarida newspaper a pro-Israeli information or psychological warfare tool (Newsru.co.il, May 3). Moreover, Kuwait, like its fellow Gulf nations, is not renowned for championing freedom of speech or the independence of media (Human Rights Watch, 2018; Freedom House, 2016). Meanwhile, the May 3 article itself, which implicates Azerbaijan as a transit country in the Mossad operation, may be perceived by its target audiences in ways that do not necessarily conform to or serve the agendas of those who originally initiated the report.
One conclusion for the appearance of Al-Jarida's reporting is that some actors may be worried that Azerbaijan has managed to maintain constructive relations with two diametrically opposed and hostile regional power players—Iran and Israel. Another, wider conclusion is that those actors aligned with neither Israel nor Iran may be attempting to exacerbate the animosity between them as well stir up related controversies involving Azerbaijan. And finally, apart from the specific Azerbaijani-Iranian-Israeli-Arab context, this case highlights a growing challenge concerning the global information security domain: figuring out whether a specific report is "fake news" or a leak of true information. Making this distinction thus requires a nuanced understanding of how the target audience is likely to perceive the particular report.