Is There Still a Role For Russia in the Korean 'Peace Process?'
Publication: Eurasia Daily Monitor Volume: 15 Issue: 73
By: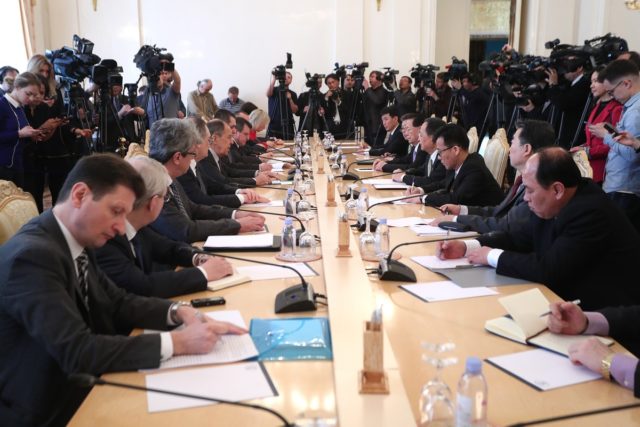 Since the announcement of looming inter-Korean and United States–North Korean summits, regional powers China, Japan and Russia have all striven mightily not to be excluded or marginalized from those processes. All thee governments are doing what they can to support the summits. On one hand, they feel they have no choice, believing the alternative could be a relatively rapid drift toward war on the Korean peninsula. But on the other hand, they support the summits because that may be the only way they can preserve their importance to the overall "peace process." For Moscow, as well as the other two governments, this obviously entails an effort to improve official ties with Pyongyang. And it has expressed itself recently in ministerial exchanges between North Korea's Foreign Minister Ri Yong-ho and his Russian counterpart, Sergei Lavrov (Nezavisimaya Gazeta, April 11).
Indeed, in those exchanges, President Vladimir Putin apparently invited North Korean leader Kim Jong-un to come to Russia. Essentially, the Russian government and experts were trying to talk up their country's importance by reminding audiences that Kim Jong-un's father held a summit with both Russia and China before the first inter-Korean summit in 2000 (Nezavisimaya Gazeta, April 11). However, a bilateral Russian–North Korean summit has not happened and probably will not occur before Kim's meeting with US President Donald Trump next month. While the North Korean dictator is happy to say he wants improved ties with Moscow, sends his foreign minister there and hosts Lavrov, the prize of a summit has so far been withheld from the Kremlin. On the other hand, Russian commentators know full well that Kim has gone to China and see in this signs that he is maneuvering between Washington and Beijing, much as his father and grandfather deftly played off the governments of China and the Soviet Union or Russia. Indeed, Russian papers reported that it was not ruled out that China could act as a mediator between Washington and Pyongyang—a process from which Moscow would then be excluded. The journalists specifically queried Deputy Foreign Minister Igor Morgulov on the fact that the communiqué of the inter-Korean summit omitted any mention of Russia. Although Morgulov finessed the issue, clearly this exclusion touches a nerve (Nezavisimaya Gazeta, March 29; Mid.ru, April 28).
Therefore, Moscow has tried to argue that events are actually following the script laid out in the Sino-Russian roadmap for Korea (Mid.ru, April 10). Russia also seeks to utilize this opportunity to persuade both South and North Korea to resurrect so-called trilateral projects—i.e. the trans-Korean and Trans-Siberian railways as well as natural gas pipelines that Moscow has been pushing for almost twenty years (Mid.ru, April 10; see EDM, May 7, 2014). These are really the only projects by which Moscow will be able to exercise any lasting influence on the Korean peninsula, since it cannot be a party to a peace treaty as it was not formally a combatant during the Korean War.
While Tokyo, Beijing and Moscow have all openly endeavored to strengthen communications or existing relations with Pyongyang, in fact only China, the foreign power with the greatest amount of influence on North Korea, appears to have achieved any success in these endeavors. Russia has no choice but to roll with the punches for now, hoping that the upcoming inter-Korean and US–North Korean summits ultimately will give way to a renewed six-party process, in which it can again participate. But otherwise, due to its lack of credible leverage with either Korea or the US, it clearly runs the risk of exclusion. And if Moscow does not play a part in the resolution of the complex issues affecting the future status of both Koreas, its overall Asian policy will stand revealed as an empty shell, highlighting Russia's inability to exercise substantial influence on the most urgent regional security question.
Moscow's effort to invoke enhanced ties with Pyongyang and to pursue economic projects with both Koreas reflects its increasingly transparent efforts to assert a role in any further Korean peace process (Mid.ru, April 10; Reuters, April 27; Koreaherald.com, April 29). The same idea applies to Lavrov's equally transparent attempt to claim that the Russo-Chinese roadmap is being fulfilled by the two Koreas and the United States (Kommersant, April 11). This diplomatic strategy reflects the reality that Russia has been left behind—along with Japan, if not even to some degree China. But for the Kremlin, the stakes are even higher: if Russia cannot exert substantive influence upon the Korean peace processes, its entire Asian policy will come into question both at home and in the wider region.