Russia's Game in North Korea
Publication: Eurasia Daily Monitor Volume: 11 Issue: 85
By: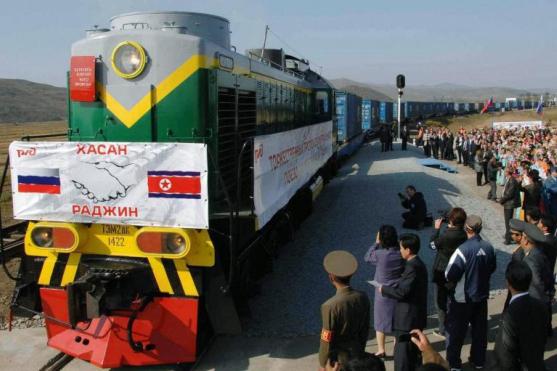 During his visit to Seoul in late 2013, Vladimir Putin almost explicitly warned the Democratic People's Republic of Korea (DPRK—North Korea) that, if it did not respond to Moscow's proposal for a trans-Korean pipeline and railway, which would connect to Russia's planned Siberian gas pipeline network and railroad, Russia would proceed without it (kremlin.ru, October 7, 2013; November 13, 2013). These long-standing Russian proposals date back most recently to former North Korean supreme leader Kim Jong Il's August 2011 agreement to take them into consideration. But as of November 2013, the DPRK had not made a single gesture indicating a willingness to move forward. Evidently, however, Pyongyang has finally changed its mind.
Since January 2014, North Korea has shown renewed interest in Russian economic ties, while Moscow is now more openly supportive of Pyongyang's policies. The collapse of East-West relations in the wake of the invasion, occupation, annexation of Crimea, and subsequent incitement of unrest throughout eastern Ukraine will only add to the forces driving Pyongyang and Moscow together again. On January 21, Russian Foreign Minister Sergei Lavrov once more blasted the United States for over-reacting militarily in the region and exaggerating whatever threat North Korea might present. Indeed, Lavrov noted that Pyongyang was signaling its willingness to resume the long-suspended six-party talks on North Korea's de-nuclearization without preconditions, and he obliquely referred to new North Korean–Russian contacts in the working groups that derived from the suspended negotiations (Interfax, January 21). Thus, Lavrov reiterated Russia's line that US military pressure is at least as much to blame for North Korea's nuclear tests and programs as Pyongyang's own obduracy.

On January 24, in a major speech, the Russian foreign minister again insisted that there was no alternative to the resumption of these negotiations and that North Korea was willing to talk without preconditions. Lavrov then added that Russo–North Korean relations were developing intensively and eventfully. He repeated that Russia is ready to implement trilateral energy, railway and electricity infrastructure projects with both Korean states (mid.ru, January 24; Rossiya 24 TV, January 21).
In February, Russian and North Korean officials both stated that conditions were auspicious for seeking more practical bilateral economic ties, including the tripartite projects to modernize the railway between Rajin and Khasan as well as to modernize the port in Khasan (cntv.cn, February 9; Yonhap, April 30). Thus, Russia discreetly backed away from Putin's threat to go it alone with just the Republic of Korea (ROK—South Korea). Rather Moscow has clearly signaled it is again prepared to work together with the DPRK and ROK to implement its proposed projects. Illustratively, by March, North Korea publicly welcomed the successful implementation of several economic growth projects with Russia (Interfax, March 17). And later that same month, Russia's minister for the development of the Far East and the Russian Chairman of the Inter-Governmental Committee for Cooperation, Trade, Economics, Science, and Technology, Aleksandr Galushka, arrived in Pyongyang for talks. Galushka signed a protocol pledging to seriously boost bilateral trade to $1 billion per year by 2020. However, the Russian side stuck to its demand that the mutual trade be conducted in rubles, a newly invigorated prerequisite by Moscow, but one of long standing (nknews.org April 3). Since then Moscow has written off 90 percent of North Korea's debt and will convert the rest into equity in DPRK investments (nknews.org, April 21; Reuters, April 19).
Russia also has supported North Korea's position regarding regional security and the nuclear issue. Apart from Russia's penchant for blaming the US for North Korea's nuclear weapons program, Moscow said in March that all parties should consider each other's concerns—another instance of justifying Pyongyang's actions (Interfax, March 17). In April, the Russian Ministry of Foreign Affairs voiced its concern that joint US-ROK military drills would affect regional security and escalate tensions around the Korean peninsula. It called for a cessation of US-ROK military actions and the formation of a multilateral security mechanism in Northeast Asia (Ministry of Foreign Affairs of the Russian Federation, April 10, 2014).
Moscow's protest to US–South Korean defense exercises proved to be yet another example of Russian double standards, however. On April 27 the Chinese publication Sina released satellite photos of Russian-made aircraft deployed at North Korea's Sunch'o'n base, comprising of MiG-29s, SU-25s, MiG-21BSs, MiG-19s and other aircraft. Thus here, too, far from contributing to a peaceful resolution of disputes, Moscow is clearly contributing to their incitement (Sina, April 27).
Undoubtedly, Moscow's Korean policy is part of its own "pivot" to East Asia. Yet, it increasingly looks like that pivot is also conceived as an inherently anti-American gambit and is based, at least in part, on the idea that for Russia to play the Korean game it must reward North Korea for its outrageous behavior. Although some analysts have argued that Russia in East Asia may be less willing to clash with the US than is the case in Europe, judging from the North Korean example, that proposition looks rather dubious. But beyond that, exactly what does Russia gain by rewarding Pyongyang for its behavior except the illusion of leverage and influence on North Korea? Indeed, the US fails to grasp that Russia's calculus here is driven by anti-Americanism, pure and simple. That is a lesson whose significance transcends Korea.