Georgia Receives More Vague Verbal Promises From NATO
Publication: Eurasia Daily Monitor Volume: 11 Issue: 85
By: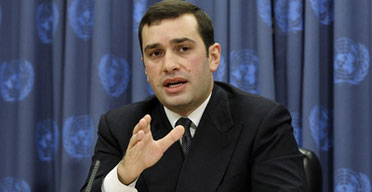 On April 30, while speaking at an event hosted by the Washington-based think tank the Atlantic Council, Georgian Defense Minister Irakli Alasania said that the North Atlantic Treaty Organization (NATO) should deploy defensive alliance assets—specifically, anti-aircraft and anti-armor capabilities—in Georgia. He said such a step was needed to send a signal to Russia that NATO was serious about the security of the post-Soviet space against the background of the Russian onslaught on Ukraine (Maestro TV, Rustavi 2 TV, May 1).
NATO Deputy Secretary General Alexander Vershbow, who was also present at the venue, called the suggestion "controversial." He did, however, promise to take the offer back to Brussels. Vershbow also said that NATO needed to step up its support for the defense reforms and military modernization programs of Russia's neighbors, such as Ukraine, Georgia, Moldova, Azerbaijan and Armenia (civil.ge, May 1). Furthermore, he stressed that the Alliance should upgrade its practice of military exercises with its partners. Nevertheless, Vershbow's words did not contain any concrete plans of military assistance to the post-Soviet countries located on the border of an increasingly aggressive Russia.
Georgia is badly in need of help. In fact, for years the country has been under a de-facto arms embargo from its closest partner, the United States. Specifically, the Barack Obama administration repeatedly rejected the Georgian government's pleas since 2009 for defensive anti-tank and anti-aircraft weapons (https://jamestownfoundation.blogspot.com/2009/08/parameters-of-us-military-assistance-to.html). Out of consideration for the US-Russia reset policy, the Obama administration did not want to spoil its ties with Moscow for the sake of Georgia. But now, with the reset largely in tatters, the US government may be willing to reverse course and finally provide much needed military equipment to the Georgian military. The Russian threat to Georgia is real, and could become even more dangerous if Moscow succeeds in fully dismembering Ukraine (see EDM, April 25). As the Russian 2008 invasion of Georgia and the 2014 invasion of Ukraine plainly show, Georgia needs to be ready for any possible scenario.
Minister Alasania's request for stationing air defense and anti-armor capabilities is logical. The 2008 Russian-Georgian war clearly illustrated that Georgians disparately lacked both types of weapons. Invading Russian air forces, facing no significant obstacles from the ground, quickly imposed air supremacy over Georgia and easily knocked out strategic targets across the country. Similarly, hundreds of Russian tanks rapidly overwhelmed Georgian positions in central and western Georgia, as Georgians did not have proper weapons to stop the steady stream of the Russian armored battalions (Rustavi 2 TV, Channel 1TV, August 9–12, 2008). This lack of anti-tank and anti-aircraft weapons was one of the key reasons for the rapid collapse of the Georgian military back in August 2008. And NATO Deputy Secretary General Vershbow's cautious response to Alasania last week proves the situation is not going to change for Georgia, thus leaving its armed forces with weak military capabilities.
Six years after being promised that Georgia would become a member of NATO (https://www.nato.int/cps/en/natolive/official_texts_8443.htm), Tbilisi's membership prospects still do not look any better. On May 1, James Appathurai, the NATO Secretary General's Special Representative for the Caucasus and Central Asia, traveled to Georgia. His mission was obvious: after President Obama's March 26 statement that Georgia (along with Ukraine) is not on the path to NATO membership and there were no immediate plans for enlarging the Alliance (Civil Georgia, March 27), Appathurai tried to soothe Georgia's battered public opinion and assure the country that NATO still stood behind it. It is difficult to say, however, whether Appathurai succeeded in his mission, as he stuck to the same old worn out rhetoric. He praised Georgia for its successful reforms and for its continual contribution to international peace and security. Additionally, he stated that the Alliance is looking for "next steps" to bring the country even closer to NATO. He also tried to assure Georgians that Russia does not influence NATO's open door policy for further membership (Imedi TV, May 1).
Overall, Appathurai's rhetoric contained more of the same, repeatedly heard from him and other Western officials in the past, which has so far brought few tangible results for Georgia. First of all, it was unclear what exactly Appathurai meant by "next steps." Moreover, it is patently apparent that NATO will not extend its membership to Georgia in the foreseeable future due to the Alliance's fear of antagonizing Russia. In fact, NATO cannot even agree whether to grant a Membership Action Plan (MAP) to the country, let alone membership (civil.ge, April 11). It is almost certain that Georgia will not receive a MAP at the upcoming NATO summit in Wales in September 2014. More than likely, Georgia will instead again receive a verbal assurance of eventual membership and be given one more plan to implement before a promise of being offered a MAP.
For now, Georgia and its society remain committed to Western values and the prospect of membership in Euro-Atlantic structures. Consequently, Georgia continues to be vehemently opposed to joining any Russian-dominated regional integrationist projects such as the Eurasian Union. However, to avoid being forcibly pushed into abandoning its pro-Western orientation, Georgia needs meaningful and immediate assistance from NATO and the wider West. To date, Georgia's calls for real help have yet to be answered.