Kazakhstan-Kyrgyzstan Dispute on Track for Resolution, but Risks Remain
Publication: Eurasia Daily Monitor Volume: 14 Issue: 159
By: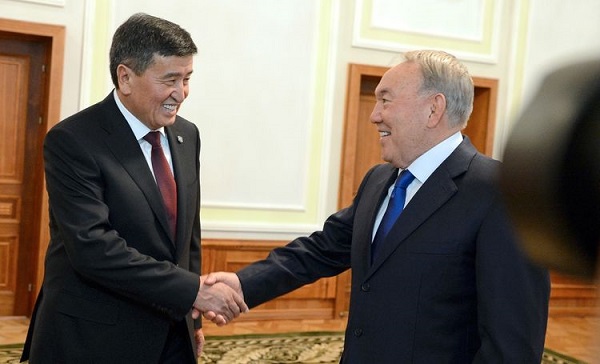 Kazakhstan and Kyrgyzstan are the only two countries of Central Asia that participate in regional economic integration as members of the Russia-led Eurasian Economic Union (EEU). While bilateral relations have historically been cordial, with Kazakhstan actively supporting Kyrgyzstan's efforts to modernize its economy and ensure macroeconomic stability, their recent trade dispute has had many skeptics predicting the unraveling of the EEU. Indeed, it seems highly likely the five-strong EEU would not survive a prolonged border standoff along its southern rim.
Relations between Kyrgyzstan and Belarus, another EEU member, have been strained since 2010, when Minsk provided refuge to former Kyrgyzstani president Kurmanbek Bakiyev, ousted by a popular uprising. Meanwhile, Armenia's legacy conflict with Azerbaijan over Karabakh is a bitter pill to swallow to both Kazakhstan and Russia. Azerbaijan and Kazakhstan share cultural and linguistic similarities and strive to develop economic ties across the Caspian. As for Russia, it actively sells weapons and military equipment to the Azerbaijani Armed Forces all the while guaranteeing the territorial integrity of Armenia, without Karabakh, within the framework of the Collective Security Treaty Organization (CSTO) (Eadaily.com, June 24; Exclusive.kz, January 24; see EDM, February 15, October 16).
The outgoing Kyrgyzstani president's accusations of interference in his country's domestic affairs, which he personally addressed to Kazakhstani President Nursultan Nazarbayev after he met an opposition candidate in the October 15 presidential election, led to a full-blown crisis (see EDM, September 27, October 18). Kazakhstan retaliated by closing the border, under the pretext of an alleged terrorist threat and uncontrolled migration flows. Ardak Tengebayev, the chairman of the Kazakhstani State Revenue Committee, said on October 17 that the southern neighbor had been intentionally undervaluing re-exported goods from China. According to his boss, Finance Minister Bakhyt Sultanov, Kyrgyzstan's actions entailed annual damages of up to $300 million to the entire EEU. Bishkek quickly lodged a formal complaint with the World Trade Organization (WTO) in Geneva, leading some observers to speculate that a long and costly trade war was in sight (Lsm.kz, Ozodlik.org, October 18; Inform.kz, October 17).
When Almazbek Atambayev's former prime minister Sooronbay Jeenbekov confidently won the election in mid-October (see EDM, October 18), there was initial hope that the dispute would die away. Contrary to many expectations, the now-former president terminated half a dozen agreements just a week before leaving office. Those included an accord to develop economic integration in the EEU, a technical assistance protocol signed in December 2016, and a $100 million financial stability grant from Kazakhstan. The defiant gesture came on the heels of Atambayev's stubborn refusal to attend a Commonwealth of Independent States (CIS) summit in Sochi and his then–prime minister Sapar Isakov's almost failed trip to Astana, where he managed to obtain only limited border concessions from the Nazarbayev administration (Tengrinews.kz, October 24; Kloop.kg, October 19; Lenta.ru, October 9).
The head of Kazakhstan's government, Bakytzhan Sagintayev, reiterated Astana's firm position at a subsequent CIS summit for prime ministers in Tashkent, in early November. He accused Kyrgyzstan of breaking the common customs area rules by authorizing the illegal re-exportation of Chinese goods and neglecting to check the safety of food products in transit. He also made public a five-point ultimatum comprising such broad measures as "making Kyrgyz laws compatible with EEU tax administration regulations" or "preventing violations of EEU transport norms."  Despite the lack of specific evidence of contaminated or otherwise dangerous food imports, last month Kazakhstan banned the entry of 300,000 Kyrgyzstani-made eggs, followed by Kyrgyzstan's reciprocal move to suspend the exports of seeds and agricultural products (Novosti.kg, November 13; Akipress.kg, November 8; Sputniknews.kz, November 3).
The Kazakhstani-Kyrgyzstani dispute has resulted in numerous appeals by civil society activists, political scientists and ordinary citizens on both sides of the border to resolve the crisis in a peaceful manner. Despite their differences, the two countries' leaders are still driven by pragmatism as the state of their bilateral relationship directly impacts on the economic well-being in border areas and wider regional stability and security. Nursultan Nazarbayev met his new Kyrgyzstani counterpart, Sooronbay Jeenbekov, on November 30, in Minsk where the presidents of the CSTO member states gathered together for the final summit of 2017. Following a friendly handshake, Nazarbayev declared that "an agreement had been reached to establish joint border controls not only between Kazakhstan and Kyrgyzstan but also on the border with China," while Jeenbekov added that "all outstanding issues would be resolved" (Inform.kz, Total.kz, Sputnik.kg, November 30).
A subsequent visit to Astana by Kyrgyzstan's Deputy Prime Minister Tolkunbek Abdygulov paved the way for the signing of a detailed roadmap, which contains a list of as many as 50 separate measures to be taken as part of a mutual settlement (Sputnik.kg, December 2). This is a major step in the direction of dispute resolution and a powerful reminder to skeptics that Kyrgyz-Kazakh relations are stronger than the pursuit of near-term political gains. Yet, it also underscores the fragility of the EEU itself, amid constantly delayed plans to set up a common market for such strategic goods as crude oil and petroleum-based products. Unlike European integration, which took decades to develop from a customs area of highly developed economies toward a full-fledged economic and monetary union, the EEU has been pushed forward by Russia's ambition to resurrect a mini-Soviet zone of exclusive control. So far, the experiment has little to show for it and its future remains uncertain.