Armenia-Belarus Friction Gaining Momentum
Publication: Eurasia Daily Monitor Volume: 14 Issue: 19
By: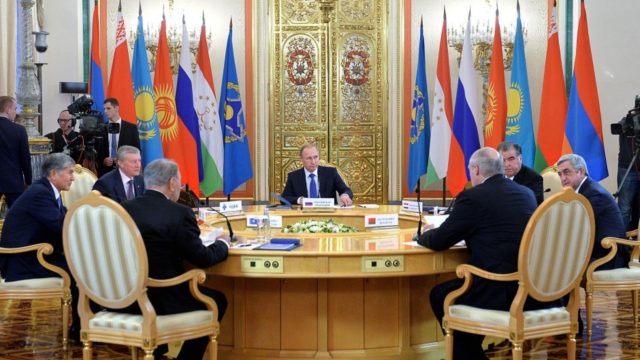 Amidst intensifying tensions with Russia (see EDM, February 6, 14), Belarus's relations with another erstwhile ally, Armenia, are also deteriorating. Even though, Armenia and Belarus are both members of the Russia-led Collective Security Treaty Organization (CSTO) military alliance, their bilateral relationship is full of controversy and ambiguity. Indeed, over the past decade, Yerevan's ties to Minsk have progressively grown more confrontational. The most recent issue roiling their relationship was Minsk's decision earlier this month (February 2017), to arrest and extradite to Azerbaijan Russian-Israeli blogger Alexander Lapshin (Armenpress.am, February 7; see EDM, February 13). According to the government of Azerbaijan, this person not only repeatedly visited the Armenian-supported separatist Azerbaijani territory of Karabakh, but allegedly also routinely wrote pro-Armenian and anti-Azerbaijani comments online. As a result, he had been "blacklisted" by Baku (Haqqin.az, December 16, 2016).
In response to Lapshin's extradition, Armenia strongly criticized Belarus, vowing to retaliate within the framework of the CSTO and of the Eurasian Economic Union (EEU), another Russia-dominated bloc where both of these former Soviet states are members (Belsat.eu, February, 10). Simultaneously, a vociferous debate grew inside Armenia about the country's possible departure from these "useless" post-Soviet regional organizations. From the perspective of the Armenian analytical mainstream, the Lapshin case is just another "litmus test" indicating that Yerevan should revise its membership in the CSTO and the EEU, as they are at odds with Armenian national interests (1in.am, Aniarc.am, February 9). Some also insisted Belarus's disregard for Armenian interests represented another failure of Yerevan's diplomacy—an argument that has been widely articulated within the Armenian political elite and civil society for years (Azarutyun.am, February 9). Meanwhile, parliamentarians from Armenia's ruling Republican Party suggested that the government take steps to force Belarus out of the CSTO (Azatutyun.am, February, 8). The Belarusian Ministry of Foreign Affairs quickly replied that "no legal basis exists for triggering the issue of terminating Belarus's membership in the CSTO" (1in.am, February 8).
In fact, the rift between Minsk and Yerevan is nothing new. The political divergence between these "allies" has continued to intensify since the second half of the 2000s because of a simultaneous rapprochement between Belarus and Azerbaijan—Armenia's principal adversary (Belarusdigest.com, September, 29, 2011). Belarus was a co-founder of the Organization for Security and Cooperation in Europe's (OSCE) Minsk Group mediatory initiative aimed at settling the Armenian-Azerbaijani conflict over Karabakh. As such, Minsk used to maintain a neutral position between the two South Caucasus republics in order to support a peaceful resolution to the conflict. Yet, over time, this posture shifted given the emergence of coinciding interests between Azerbaijan and Belarus.  Minsk began to prioritize its relations with Baku to the detriment of Yerevan's interests, even while sharing common security and economic commitments with the latter.
The profound gap between Yerevan and Minsk deepened after Belarusian President Alyaksandr Lukashenka paid a visit to Baku in November 2016. During the meeting with his Azerbaijani counterpart, Ilham Aliyev, the Belarusian head of state underscored the key importance of the two countries' close bilateral partnership. Furthermore, he commended the level of extensive cooperation across all major sectors, which is expected to reach $700 million in total trade turnover in 2017. For Minsk, one of the most important areas of cooperation with Baku lies in energy. Since 2011, Minsk has been pursuing ways to import hydrocarbons from the oil-rich South Caucasus country in order to mitigate Belarus's energy dependence on Russia (President.gov.by, November 28, 2016; Belta.by, November 29, 2016).
In Yerevan's eyes, Belarus as well as Kazakhstan, another official strategic ally of Armenia, are clearly siding with Azerbaijan—turning the CSTO into a platform of solidarity with Baku. Specifically, in light of a deadly escalation of violence in Karabakh between Armenian and Azerbaijani armed forces, in April 2016, Belarus and Kazakhstan unequivocally expressed their support for Azerbaijan's territorial integrity, at the expense of Armenia's position in the conflict. Relations among the three CSTO/EEU allies were further strained when the Belarusian and Kazakhstani governments declared that, in light of the recent Armenian-Azerbaijani hostilities, they would not be attending an EEU summit in Yerevan, scheduled for April 8, 2016. The summit was instead postponed and held in Moscow on April 13 (Mfa.gov.by, April 2, 2016; Kazkazplus.com, April 8, 2016). In response, Armenia's President Serzh Sargsyan stated, "I don't know whether they helped Azerbaijan with this [decision to not hold the summit in Yerevan], but they have definitely tarnished the reputation of our Organization, and it's a fact," (President.am, April 7, 2016).
More recently, Armenian-Belarusian antagonism was augmented by Minsk and Astana's implicit reluctance to see an Armenian take over as secretary general of the CSTO for the next five years. Though the CSTO members agreed in 2015 that Armenia would be the first member state in the rotation to name the next secretary general of the alliance, the Armenian government has accused Belarus and Kazakhstan of repeatedly putting up bureaucratic roadblocks to the appointment (Armenpress.am, January 19).
Notwithstanding the fact that Armenia and Belarus continue to dispatch their troops to joint military drills within the framework of the CSTO, Minsk has been ramping up its military-technical partnership with Azerbaijan, including in the realm of operative data sharing (Trend, November 14, 2008; Minval.az, September 26, 2016). Moreover, like Russia (see EDM, April 12, 2016), Belarus has been physically assisting Azerbaijan in strengthening and developing its armed forces by upgrading obsolete Azerbaijani military equipment and selling it significant amounts of modern offensive hardware. Despite its collective defense commitments toward Armenia and even though it is a fellow participant in the Minsk Group, Belarus has supplied 11 Sukhoi Su-25 aircraft to Azerbaijan. In 2005–2011, Baku also acquired 12 self-propelled "Pion" howitzers, roughly 150 T-72B main battle tanks, up to 60 BTR-70 armored personnel carriers and over 90 122-millimeter D-30 howitzers from Belarus. Moreover, as recently as 2013–2014, Azerbaijan procured from Belarus at least two deeply overhauled battalions of 9K37M "Buk-MB" (SA-17 "Grizzly") surface-to-air missile systems (Newsby.org, July 20, 2011; Oxu.az, June 10, 2015). Though constitutionally a neutral country, Azerbaijan has clearly managed to gain allies within the bloc where Armenia officially resides.
If the friction between Yerevan and Minsk continues to mount, it will inevitably lead to a political standoff, potentially precipitating the decline and collapse of Moscow-backed re-integrationist initiatives within the post-Soviet space. For now, Yerevan is left to fundamentally rethink its vulnerable diplomacy. Increasingly, a withdrawal from the CSTO and the adoption of non-bloc neutrality akin to Moldova or Azerbaijan—all the while increasing its reliance on bilateral strategic ties with Russia—seem like a best-case scenario for Armenia.