Uzbekistan Turns to Russia in Search of Modern Weapons
Publication: Eurasia Daily Monitor Volume: 14 Issue: 19
By: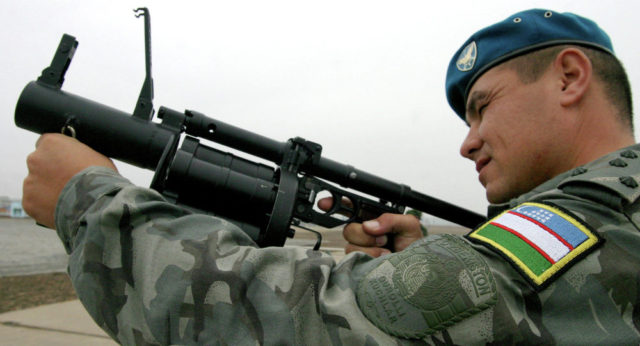 On January 13, 2017, the newly elected president of Uzbekistan, Shavkat Mirziyaev, attended a ceremony commemorating the 25th anniversary of the establishment of the independent Uzbekistani army (January 14, 1992). The event is an annual fixture on Uzbekistan's calendar. But this year, the celebration gained special importance as the Central Asian republic's new leader rolled out his vision of the necessary reforms to be carried out within the Armed Forces. According to President Mirziyaev, upgrading the military's arsenals with modern weapons and technology will be given high priority. He expressed dismay that, to date, this work had not been taking place at the desired pace envisioned by the government (President.uz, January 13).
Though mostly equipped with aging Soviet-era weaponry, Uzbekistan's army adopted a major rearmament program in 2012. By pursuing diversification in its weapons procurements, since 2012 Uzbekistan purchased 16 military-transport helicopters from Airbus Helicopters and 2 military-transport planes from the Airbus Corporation. Those deals were in danger of being derailed by Germany were it not for pressure from French manufacturers to go forward with the sales (Gazeta.uz, May 18, 2016). Uzbekistan has also purchased one HQ-9 anti-aircraft missile complex and an unspecified number of unmanned aerial vehicles (UAV) from China (Podrobno.uz, February 1, 2015). Additionally, in an unprecedented move, the United States government donated, under its Excess Defense Articles program, 308 armored vehicles and 20 support vehicles. The move was considered the largest ever transfer of military hardware from the US to a former Soviet Central Asian state (Anhor.uz, January 23, 2015).
On the other hand, the United States nixed Uzbekistan's plans to purchase 12 T-50 Golden Eagle military-training fighter jets from South Korea. By some accounts, Washington feared that the technology used in those planes—which is partially produced by US companies—might be leaked to Russia or even China, in view of Uzbekistan's close ties to those countries through its membership in the Shanghai Cooperation Organization (SCO). Whereas, others claimed that Uzbekistan's "poor human rights" record was the main barrier to acquiring the T-50 trainers (Koreatimes.co.kr, October 25, 2015). Currently, Uzbekistan is not subjected to any European Union or US arms bans or embargos. The EU and the US lifted all their arms sales restrictions on Uzbekistan in 2009 and 2014, respectively.
Securing Russian weapons, with which Uzbekistan's military is quite familiar, on preferential terms, for a time also became problematic as a result of Uzbekistan's withdrawal, in 2012, from the Moscow-led Collective Security Treaty Organization (CSTO) military alliance. However, during the state visit of the late Uzbekistani president Islam Karimov to Moscow, in April 2016, he finally managed to convince the Kremlin to accept Uzbekistan's terms for developing bilateral cooperation. Namely, Tashkent pushed Moscow to drop its requirement that Uzbekistan join the Russia-led Eurasian Economic Union or CSTO in order to gain access to the Russian market or to buy Russian weapons at convenient terms. This was an achievement of sorts for Karimov, who strived to build relations with Russia on an equal rather than on a client-state basis. The latter is prevalent across the post-Soviet space: countries including Belarus, Armenia, Kyrgyzstan and Tajikistan all depend, to various degrees, on Russia's economic and military subsidies (see EDM, May 12, 2016).
During his April 2016 visit to Moscow, Karimov also successfully settled Uzbekistan's long-standing debt dispute with Russia. This opened the possibility for Tashkent to obtain Russian loans to purchase military equipment from Moscow (see EDM, May 12, 2016). As a follow-up, Uzbekistani Defense Minister Kabul Berdiev traveled to the Russian capital in November. There, the two sides signed an agreement on military-technical cooperation. During the negotiations with his Russian counterpart, Army-General Sergei Shoigu, Berdiev admitted that "perhaps there were times when bilateral relations were not that active, but Uzbekistan never severed its ties with Russia." He also said that bilateral cooperation between the two countries' defense ministries would be significantly boosted in 2017 (Mil.ru, November 29, 2016).
Furthermore, Defense Minister Berdiev expressed his gratitude for Moscow renewing the training program for Uzbekistani officers at Russian military institutions, which were disrupted in 2012.   Berdiev also tried to curry favor with his Russian counterparts by saying that he was closely following Russia's successful military operations in Syria, which, according to him, demonstrated the high capacities of Russian weapons and military technologies (Mil.ru, November 29, 2016). Indeed, Russian officials in the past had themselves characterized the military campaign in Syria as an ideal opportunity to showcase the capacities of Russian weaponry. As a result, Russian arms sales have reportedly spiked in recent months (Sputnik News, June 7, 2016).
The Russian military attaché in Tashkent, Colonel Sergey Chenishev, highlighted two important aspects of the agreement, signed in November 2016, which significantly facilitates military-technical cooperation between the two countries. Under the agreement, Uzbekistan will purchase Russian military equipment at prices close to Russian domestic prices. Moreover, Uzbekistan's authorities will be able to directly deal with Russian weapons manufacturers, bypassing state regulators like Rosoboronexport, which supervises Russian military sales abroad. The first weapons purchase deals are expected to be announced during President Mirziyaev's upcoming visit to Moscow in the spring this year (Ru.sputniknews-uz.com, December 30, 2016; Izvestia.ru, January 31, 2017).
Increasing military cooperation between Uzbekistan and Russia will almost certainly lead to Tashkent's greater dependence on Moscow. However, as long as Uzbekistan pays the bills for its weapons procurements with hard cash, the Kremlin will likely treat Tashkent with due respect as befits a paying customer. Either way, the long-practiced policy among many governments in the West of preventing countries like Uzbekistan from purchasing Western military equipment is inadvertently pushing the region to more tightly embrace Russia.