Mikheil Saakashvili Appointed Governor of Ukraine's Odesa Province (Part Two)
Publication: Eurasia Daily Monitor Volume: 12 Issue: 104
By: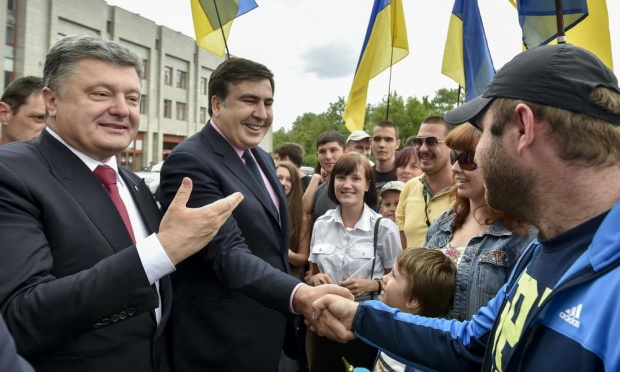 For all their personal friendship, President Petro Poroshenko's appointment of Mikheil Saakashvili as governor of Odesa province in Ukraine is the ultimate merit-based appointment. In Georgia, Saakashvili had presided over the boldest and most successful reform programs of any country in Europe's East (see Part One in EDM, June 2).
Introducing Saakashvili to the assembled Odesa public, Poroshenko remarked how Georgia's capital Tbilisi, the sea ports, tourism sector, investment climate, the state administration and civil service, had all "changed beyond recognition" in Georgia within a few years (2004–2012). Poroshenko seems to anticipate a repeat performance in the Odesa province: "Mikheil is a man who can turn the impossible into the possible" (Novaya Gazeta, June 1).
Yet, Saakashvili will have to operate in Odesa lacking almost all of the instruments that had been available to him—or he had fashioned—as Georgia's reform driver. Those instruments included: the institution of the executive presidency; a highly dedicated, Western-schooled core team; the vertically organized state administration; a stable parliamentary majority of the pro-presidential party, for two full legislative terms; discretionary budget-forming authority; one or two consistently supportive television channels; an instinctively pro-Western populace; and (as the first necessary step) the reformed law enforcement agencies to guarantee stability and rule of law.
No such reform-driving instruments exist in Ukraine generally or in the Odesa province. There, moreover, Saakashvili will have to surmount the built-in obstacles, not only to reforms, but even to rational management. In Odesa, those obstacles include: a political and administrative system deeply factionalized along the lines of parties and clans; institutional resistance from corrupt networks within the customs service, tax authority, port authorities, and the justice and law enforcement system, over which the governor has no direct control; a chronic deficit of administrative capacity and Western-trained personnel; a pre-modern bureaucracy, quasi-immune to quick dismissal for corruption or incompetence; multiple decision-making centers, such as the elected Province Council and the Odesa City Mayoralty, with their own constitutional and legal powers and their own vested interests, capable of frustrating reform measures; and the danger that local networks might quickly transcend their own rivalries and close ranks against an outside disturber of the status quo (Odessablog.wordpress.com, Odessatalk.com, May 24–June 3).
Saakashvili and his government did have the means to overcome those types of obstacles in Georgia, but he will not hold anything like comparable powers as governor of the Odesa province.
Some of the major challenges in Odesa are similar to those that Saakashvili had confronted in Georgia, namely: local organized crime and the hostility of Russia. If Georgia was the post-Soviet metropolis of organized crime before Saakashvili's government eradicated it, Odesa also reverted to its historical condition as a hub of criminal corruption in post-Soviet times. The current smuggling route from Odesa to Russian-controlled Transnistria is only one aspect of that problem, and Moscow is denouncing the Ukrainian government's recent steps to deal with it (Interfax, May 22, 30).
On the other hand, the new governor (technically: chairman of the provincial state administration) brings with him certain unique assets, both in the internal Ukrainian context and internationally. Unlike any Ukrainian official, Saakashvili holds a presidential carte-blanche, based on his track record on reforms; Poroshenko made this clear during the investiture ceremony in Odesa (see above and below). It is also a rarity in Ukraine that this governor is not linked to any political party or interest group, is not involved in business, and "does not owe anything to anybody" politically or personally. Moreover, Saakashvili's Western connections can help to raise Odesa's profile, re-brand it and attract external investments.
According to Poroshenko at the investiture ceremony in Odesa, he expects the new governor (technically: chairman of the provincial state administration) to: maintain political stability in the province, secure the 400-kilometer demarcation line opposite Transnistria, oversee law enforcement to prevent Russian subversion in Odesa, clean up the police and the prosecutors' offices, work to bring honesty and transparency to the courts, the customs service and the tax authority, initiate a transparent privatization of state assets, and attract foreign direct investments. Poroshenko expects the first results within one year that would "turn Odesa into an example for all Ukraine" (Ukrayinska Pravda, May 31; President.gov.ua, May 30, June 1).
For his part, Saakashvili announced his intentions to: demonstrate (as in Georgia) "zero tolerance of corruption," introduce the merit system in the administration, launch a road rehabilitation program (he found the condition of roads shocking in this province), suppress the "raiding" of business assets, seek foreign investments for state asset privatization, and turn the Black Sea littoral into a center of international tourism (specifically including Russian tourism, again on the Georgian example). As an immediate first step, Saakashvili will fully replace the gubernatorial staff and almost all of the 26 district-level administration chiefs, by means of open competitions. But he cautions against any expectations of "quick results" (Ukrinform, May 30, 31; RFE/RL, June 1).