'Politkovskaya's Warning' and Russian War Crimes in Syria
Publication: Eurasia Daily Monitor Volume: 13 Issue: 162
By: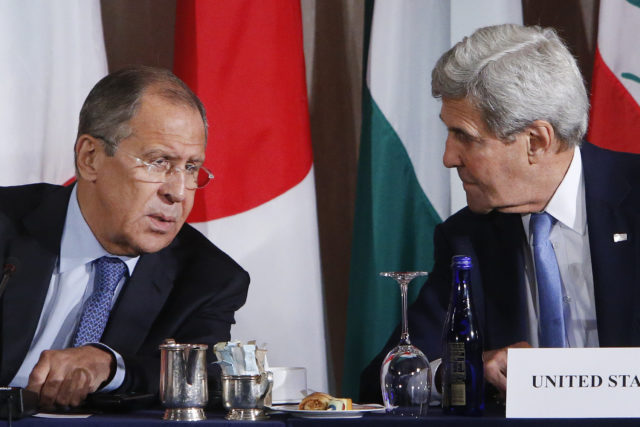 Last Friday (October 7) marked ten years since the murder of Novaya Gazeta journalist and human rights activist Anna Politkovskaya. And while her killer and several accomplices were convicted, the mastermind of this crime is still at large (Novaya Gazeta, October 7). Two days prior to the assassination, Politkovskaya had called Chechen leader Ramzan Kadyrov an "armed coward," who should face trial for his atrocities; but last week, her sworn enemy staged a grandiose inauguration in Grozny, celebrating his re-election as Chechnya's president (Svoboda.org, October 5). Russian officialdom avoided paying any tribute to the late world-renowned author, taking a clue from President Vladimir Putin's opinion that her influence on political life in Russia was "minimal" (Moscow Echo, October 7). Nonetheless, 39 percent of Russians admit they remember Politkovskaya (Levada.ru, October 6).
Fighting courageously for the rights of the victims of the Chechen war, Politkovskaya warned that the enforcement of draconian "peace" would not only turn Chechnya into a zone of crime and tyranny, but also transform Russia itself, so that the legacy of Stalinism would re-emerge in new political forms (Grani.ru, October 7). Chechnya has indeed matured into an armed dictatorship where Russian laws do not apply and brave human rights defenders like Natalya Estemirova are silenced by bullets (Novaya Gazeta, October 3; see EDM, October 4). This brutal suppression of opposition has brought no real peace to the North Caucasus, where low-intensity violent clashes have become a norm of everyday life (Kavkazsky uzel, October 7). Waging this messy domestic war and mobilizing public opinion in support of it, Russia has inevitably turned away from democratic reforms and regressed into a police state where predatory clans in various special services squabble for control over cash flows while pledging loyalty to the supreme leader (see EDM, October 3). The murder of charismatic opposition leader Boris Nemtsov, on February 27, 2015, in which Kadyrov's "warriors" are implicated but the master-mind remains untouchable, signified an ugly mutation of Putin's regime into a "hybrid Stalinism," which builds its domestic legitimacy upon the foundation of militarism and wars (Moscow Echo, October 7; see EDM, March 5, 2015; February 26, 2016; September 7, 2016).
Russian intervention in Syria is a direct manifestation of this mutation. Camouflaging its geopolitical game as a contribution to the international struggle against terrorism, Moscow saw no need to do anything about the unfolding humanitarian catastrophe in Syria; and Russian public opinion has remained indifferent about it (New Times, October 3). Defense Minister Sergei Shoigu bragged that the Syrian operation provided a perfect opportunity to test a range of modern weapons systems and a boost for Russian arms exporters, as if the targets for air and missile strikes were not schools and hospitals (RBC, October 6). US Secretary of State John Kerry went a long extra mile in seeking to accommodate Russian demands for defining many rebel groups as terrorist organizations and to negotiate a ceasefire, so that even the Russian Ministry of Foreign Affairs found it appropriate to commend his efforts (RIA Novosti, October 6). But Moscow saw his concern about the humanitarian agenda as a weakness in Washington's policy, which could be exploited by putting pressure on the besieged city of Aleppo (Ezhednevny Zhurnal, October 3). A new wave of airstrikes has pushed this game too far, and a deeply frustrated Kerry ultimately defined Russian actions there as "war crimes" (Newsru.com, October 7).
The breakdown of the US-Russian channel of communication on Syria fits into the general pattern of Russia's readiness to escalate tensions in its confrontation with the United States and the North Atlantic Treaty Organization (NATO). Upon canceling the stalled Plutonium Management and Disposition Agreement (PMDA, 2000) with the US, Putin announced he was inserting into draft legislation a long list of demands for normalizing bilateral relations. This list apparently includes calls for the withdrawal of NATO forces from the Baltic States and even financial compensation for Russian economic losses caused by Western sanctions and Russia's own counter-sanctions (RBC, October 4). Washington may have no issue with dismantling the costly PMDA, but for Moscow the key point in the message was to establish the fact that nuclear matters are not exempt from the confrontation (Carnegie.ru, October 4). This leaves few doubts about the transformation of Russia's relations with the West into a new cold war; it also shows that for Putin's regime, this high-risk hostility is a natural state of affairs (Gazeta.ru, October 4).
This pre-war alert, amplified by hysterical propaganda, provides justification for increasing pressure on all dissent: for instance, the international historical and human rights organization Memorial (where Estemirova worked) has now been branded a "foreign agent" by the regime (Svoboda.org, October 4). Emigration becomes the natural response of the urban middle classes. Official statistics show an increase in outmigration to 50,000 in 2015, but research data suggests the real outflow is four times higher (RBC, October 6). And having to contend with recurrent attacks by "patriotic" thugs, various Russian democratic opposition groups are forced to stage their events abroad, like the recent commemoration of Nemtsov in Berlin (Nezavisimaya Gazeta, October 7). Sober experts point out the accumulating losses for Russia from such strategic brinksmanship. But their voices are drowned out by tirades of professional opinion-makers, who chide the purported weakness of the timid and disunited West (Gazeta.ru, October 7).
Politkovskaya was right about the malignant influence of the Chechen war on Russia but wrong about the inner strength of Russian society to overcome the tendency to shirk from the hard work of upholding human dignity; she underestimated Russians' propensity to entrust the mission of restoring Russia's greatness to an omnipotent leader. Putin grants Kadyrov a free hand to rule Chechnya by despotic violence not because this helps keep the spread of terrorism in check but because the same model is gradually being reproduced throughout Russia. In fact, Kadyrov's willingness to send his armed gangs to sort out business conflicts in Moscow resemble rather closely Putin's demonstrations of power in Syria or in the Baltic theater, where Iskander ballistic missiles have yet again been deployed to Kaliningrad (RBC, October 8). Much like Kadyrov, Putin feels he is above the law, and he scorns moral norms in the international arena, assuming that nobody will call his bluffs. When stopped by a resolute counter-force, he will look for an asymmetric response. So a new US administration can start with a working proposition that Putin's Russia cannot return to "normal" behavior. Its hostility is guided by a deeply entrenched rationale, which is set to deliver Russia to yet another tragic failure.