Younger Crowd Will Not Rejuvenate Putin's Court
Publication: Eurasia Daily Monitor Volume: 13 Issue: 158
By: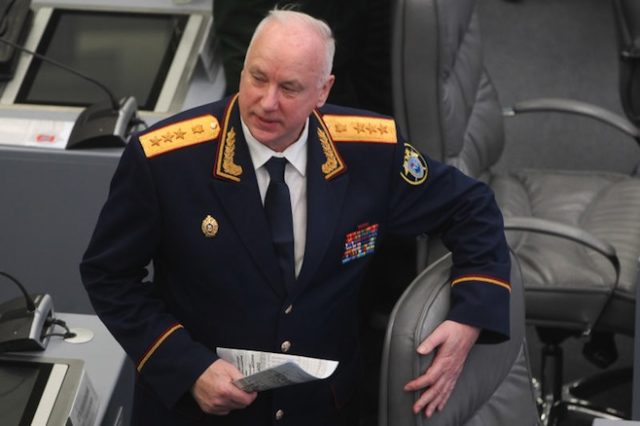 News and rumors of appointments and dismissals at the top levels of the Russian government have proliferated in recent weeks. And these continue to eclipse the tragic escalation of the war in Syria as well as efforts by the Organization of the Petroleum Exporting Countries (OPEC) to limit oil production and push up prices. Speculation keeps swirling about Sergei Kiriyenko's possible move from the general director of Rosatom to the presidential administration or about Alexander Bastrykin's resignation from chairing the Investigations Committee. So far, the unpredictable cadre reshuffling has defied attempts to find a pattern (Gazeta.ru, September 27). Meanwhile, Prime Minister Dmitry Medvedev's statement about the low effectiveness of the "awkward" state machine has added to expectations of long-overdue reforms in the overgrown bureaucratic structures (RBC, September 30). What is clear, however, is that the replacement of the "old guard" in many positions of power with younger favorites has greater significance for the transformation of President Vladimir Putin's authoritarian regime than the recent parliamentary elections. But the overall content of this transformation remains muddled.
The abrupt dismissal of Vladimir Yakunin, an outspoken member of Putin's inner circle, from the position of CEO of Russian Railways in August 2015 appeared to kick off the reshuffle process. Since then, further shakeups among the president's loyal courtiers have proceeded faster than Kremlin-watchers were able to invent explanations (Forbes.ru, September 29). Some political veterans, like the heretofore head of the Russian Foreign Intelligence Service (SVR), Mikhail Fradkov, are being eased into retirement with offers of minor sinecures. Other early-1990s-era business-political operatives from St. Petersburg, like Viktor Ivanov, have been unceremoniously dumped. Yet other "trusted lieutenants," like Andrei Belyaninov from the Federal Tax Service, were exposed as embezzlers (Nezavisimaya Gazeta, September 6). Putin evidently is willing to forgo his reputation of a loyal boss; the logic of his choices defies the model of usual behavior of an ageing autocrat.
One unique feature of this cadre renewal is that it is arguably not happening where it is most needed. The energy sector, for instance, is affected not only by low oil prices but also by poor management, which has caused a steady increase in operational costs. And yet, Gazprom's head, Alexei Miller, Igor Sechin of Rosneft, as well nearly all other Kremlin-connected beneficiaries of this revenues-generating business have so far remained safe from the "purges" (RBC, September 23). The financial sector, weakened by Western sanctions and discredited in a series of money-laundering scandals, is also undisturbed by the reshuffling. Indeed, Sergei Roldugin, who was personally implicated in the "Panama papers" scandal, was even awarded a state honor (Moskovsky Komsomolets, September 22). Russia's high-technology sector, which has shown dismal results despite significant investment, has also seen no personal responsibility. Rather, Deputy Prime Minister Dmitry Rogozin keeps promising spectacular scientific achievements in the indefinite future (RIA Novosti, September 20). Russia's federal budget is experiencing a severe contraction, but no meaningful economic reforms are likely without a change of leadership in these key sectors (Gazeta.ru, September 30).
Another feature of the on-going "changing of the guard" at the top is the steady gain of political power by the Federal Security Service (FSB), which initiated a series of decapitating attacks against its competitors in the Ministry of Interior and the Investigations Committee (Ezhednevny Zhurnal, September 27). Russian media outlets are even discussing purported plans to expand the authority of the FSB and give it back the old Soviet name Ministry of State Security (Kommersant, September 19). This leak is most likely deliberate misinformation, as it would hardly make much sense for the FSB to take over the SVR (as rumored), which has just received the ambitious former speaker of the State Duma Sergei Naryshkin as its new director (Grani.ru, September 23). Putin would probably also not wish to hand control of the Federal Protective Service (FSO) to the FSB (another stated rumor), even though the bodyguard service's influential chief (since 2000), Yevgeny Murov, was sent into retirement last May.
The FSO, and in particular its key department the Presidential Security Service (SBP), which has seen three new chiefs in as many years, has been the main source of cadre for Putin's appointments. This illustrates his recent tendency to promote subordinates way above their level of competence. As of yet, Viktor Zolotov, the former chief of the SBP, has not particularly distinguished himself as the head of the newly created National Guard; and bodyguards like Yevgeny Zinichev or Alexei Dyumin have so far been mediocre regional governors, despite enjoying favorable media coverage (Politcom.ru, September 30). The replacement of seasoned "heavy weight" Sergei Ivanov with a meek paper-pusher, Anton Vaino, at the top of the presidential administration might result in a sharp drop of power traditionally concentrated in this office (Moscow Echo, September 26).
The departure of many familiar faces from Putin's entourage and the decline of several key institutions, from the Investigations Committee to the presidential administration, has raised the influence of several remaining veteran siloviki (security services and defense personnel), if only by default. Defense Minister Sergei Shoigu stands out in this regard with his track record as a political survivor. He was able to protect his current ministry and the Ministry of Emergencies, which he headed previously, from any purges (Moscow Echo, September 23). Shoigu's main problem, however, is the hugely overblown defense budget. He may have to exhaust a lot of his political capital in the struggle to protect rearmament projects against inevitable cuts (Kommersant, September 17).
It is unclear—both for pundits and perhaps for Putin himself—to what degree he is in control of these cadre reshuffles and power redistribution schemes. Squabbles among feuding clans in the special services drive the politics of resource ownership in Russia. And as cash flows thin out, the clans, like the interior affairs department in the FSB, are increasingly disinclined to appeal to Putin as the supreme arbiter. At the same time, his new appointees understand perfectly well they are much more disposable than Putin's old "friends" who are fast becoming history; the demand for scapegoats in this situation of a deepening recession will thus continue to rise. They will, therefore, seek to monetize their uncertain positions of power as soon as possible, thus turning the struggle against corruption into a farce. The blend of greed and fear produces neither loyalty nor efficiency, leading to a deterioration in the quality of management in many key structures. Putin banished all contemplations about a possible successor, but his cadre experiments compel the few remaining old-timers and the many surprised over-achievers to nonetheless take it into account.