Poroshenko Outlines Peace Plan for Donetsk and Luhansk
Publication: Eurasia Daily Monitor Volume: 11 Issue: 116
By: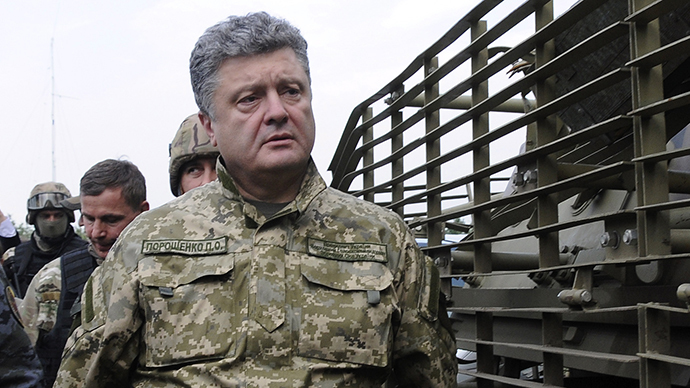 On June 20, President Petro Poroshenko unveiled a "peace plan" in 15 points for resolving the armed conflict in Ukraine's Donetsk and Luhansk provinces, parts of which have been seized by Russia's proxy forces. On the same date, Poroshenko ordered a unilateral ceasefire, from June 20 through June 27, by Ukrainian forces there (see EDM, June 24). Poroshenko announced these initiatives from a National Guard base in the Donetsk province during his first visit there as president. He further clarified and elaborated on the peace plan in his June 21 televised address to the country (president.gov.ua, June 20, 21).
Although Russia is involved in a war against Ukraine in that part of the country, Poroshenko's peace plan covers basically the internal Ukrainian consequences of Russia's actions. Poroshenko's plan avoids looking at Russia's responsibility for the conflict; it only alludes to that in one of its points by proposing that anti-Ukrainian combatants go back to Russia.
Some of the plan's points deal with the local military situation while others address the peaceful population of the Donetsk and Luhansk provinces. There, the post-Maidan government in Kyiv is facing not so much a crisis of loyalties among the population but, rather, a crisis of confidence in Kyiv's capacity to restore peaceful life against Russia's proxy forces and sheer anarchy. The Ukrainian government carefully and judiciously avoids conflating the radical secessionists with the vast "silent majority" there. Yet this peace plan addresses both problems in a single document, instead of doing so more effectively in two parallel documents.
The plan's Point 1 holds out "safety guarantees for all the participants in negotiations." Poroshenko's accompanying speech invites all the lawful authorities, civic groups with "views diametrically different [from the government's]," and "those who mistakenly endorsed separatism" ("except those involved in terrorism") from the Donetsk and Luhansk provinces, to conduct a political dialogue with the central government.
Point 2 of the plan offers an amnesty for "those who lay down the weapons and did not commit serious crimes." According to Poroshenko's explanatory address, an amnesty bill is pending in Parliament for members of unlawful armed groups, except those who killed civilians and Ukrainian soldiers.
The plan's point 3 calls for the release of hostages held by those unlawful armed groups.
Point 4 proposes establishing a 10-kilometer-wide buffer zone, on the Ukrainian side of the Ukraine-Russia border in the Donetsk and Luhansk provinces. This is intended to stop armed groups from entering Ukraine (the fact that Russia's border troops facilitate that flow is left unsaid).
The plan's point 5 offers a "secure corridor to be opened for evacuation of Russian and Ukrainian mercenaries" to Russia.
Point 6 of the plan consists of a single word, "Disarmament." Poroshenko's accompanying address stipulates that heavy weapons be left behind in Ukrainian territory. This condition may, in fact, be in Moscow's interest, considering the havoc that some of those groups could bring to Russia if they move there while still heavily armed. However, the Kremlin looks set to continue its paramilitary operations within Ukraine.
The plan's point 7 seems to call for reform and the decentralization of the police.
Point 8 appeals for freeing the illegally occupied administrative buildings in the Donetsk and Luhansk provinces and dismantling roadblocks and barricades there. Expanding on this, Poroshenko alludes to the residual Maidan in Kyiv, which "has sat for too long on the barricades without a reason." Coincidentally, on June 24, a section of that rump Maidan burned down (UNIAN, June 24).
In point 9, the plan offers to support legal authorities in the provinces of Donetsk and Luhansk to restore vital services to the population and (Poroshenko adds) rebuild devastated towns such as Sloviansk and Kramatorsk.
Point 10 calls for the restoration in Donetsk and Luhansk of Ukrainian television and radio transmissions from Kyiv.
In points 11 and 12, the plan offers decentralization of executive powers to locally elected executive committees, which would, in turn, elect their heads. Moreover, the plan calls for budgetary decentralization and the "protection of Russian language" (alongside the Ukrainian state language), all through the passage of constitutional amendments. Poroshenko's address envisages passing those amendments in the current parliament by September.
The plan's point 13 calls for electing a new Ukrainian parliament before the end of
2014 and, simultaneously with that, electing local authorities in the Donetsk and Luhansk provinces.
Points 14 and 15 promise the restoration of battle-damaged housing and infrastructure as well as the establishment of job-creation programs in the Donetsk and Luhansk provinces, to be partly funded by the government from Kyiv. Poroshenko's address to the population holds out the promise of European Union technical assistance and funding to such programs. Yet, "there will be no investment unless there will be peace," he notes.
None of the above can work without Russia's cooperation, however. Meanwhile, President Vladimir Putin on June 24 doubled down on his Novorossiya agenda against Ukraine (Interfax, June 24). Poroshenko's peace plan and unilateral ceasefire testify to Ukraine's good faith, but are almost certain to remain unrequited by the Kremlin.