Presidential Change in Lithuania: Implications for the Country's Foreign Policy
Publication: Eurasia Daily Monitor Volume: 16 Issue: 89
By: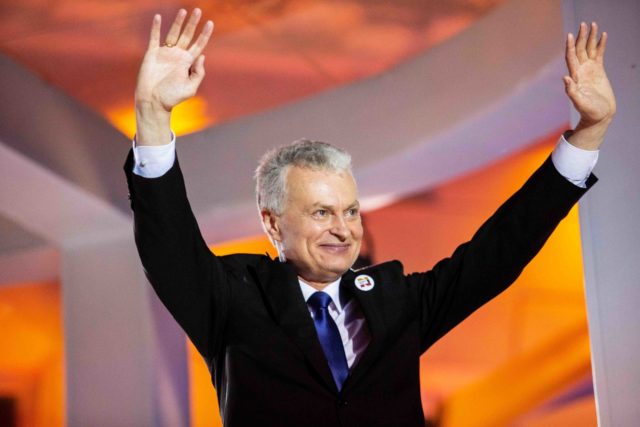 Gitanas Nausėda was elected the next president of the Republic of Lithuania on May 26. The race was intense in both the first and second rounds. But in the end, Nausėda triumphed, crushing his opponent, Ingrida Šimonytė, 66 to 33 percent (Vrk.lt, June 3). Such a strong margin of victory may have been somewhat unexpected, but his win was not really surprising. Even though Nausėda is a fresh actor on the Lithuanian political scene (he is not a member of any political party), he is a well-known and highly popular figure who led in the polls long before election day. He will assume office on July 12.
Nausėda will replace outgoing president Dalia Grybauskaitė, who, after completing her second five-year term, was constitutionally barred from running again. Although the two politicians declared a commonality of views upon meeting for the first time, many experts agree that these two figures have quite different personalities. What are the main differences, how may these translate into the president-elect's leadership style, and how might this affect Lithuania's foreign policy going forward?
Many facts about Grybauskaitė's personal history are well known. Throughout the ten years of her presidency, she established herself as a strong leader (both in domestic and foreign politics), having earned the nickname "iron lady." Her authority was based on strict decisions and even harsher rhetoric. Grybauskaitė came to be known as the "decapitator" when, as a result of a series of major scandals, she forced a number of high-ranking officials to step down—a popular move at that time (Delfi.lt, July 14, 2010). In turn, the international audience may remember her sharp accusation that Russia is a "terrorist state" because of its aggression against Ukraine (15min.lt, October 20, 2014). Compared to her predecessor, Valdas Adamkus, who came to be known for his unifying moral authority, empathetic and caring character, and unwavering respect for democratic values, Grybauskaitė predominantly embodied strong, uncompromising leadership and the propensity to take unilateral decisions in tough situations.
Nausėda is yet another story. He spent the majority of his career in banking as an economist, analyst and public intellectual. According to public opinion polls, his most lauded personal traits are his economic skills and professionalism. Some have criticized him for being too elitist and less able to connect with the grass roots. Yet, in one his first public speeches after winning the elections, he stressed his desire to "open the presidency to the people" in order to build bridges and pursue compromises among various social groups. Whether he succeeds in this pledge will become apparent in the coming months, but it is at least clear he will seek to emulate former president Adamkus's legacy (15min.lt, May 3, 2019).
In its last press release before the final presidential report to the Lithuanian parliament, the outgoing Grybauskaitė administration recounted its main foreign policy achievements (15min.lt, June 6). The list includes Lithuania's successful term as the European Union's rotating presidency in the second half of 2013 as well as becoming a temporary member of the United Nations Security Council. Despite a decade of various ups and downs, in general Lithuanian foreign policy remained consistently pro-European and trended toward strengthening ties with all of its strategic partners.
President-elect Nausėda's path is about to begin. It remains to be seen how he will handle various foreign affairs challenges likely to emerge in Lithuania's geopolitically charged neighborhood. But in the meantime, it is already possible to make some initial predications of where his foreign policy is likely to go. Following his victory at the polls, Nausėda officially announced that his first official visit as the president of Lithuania will be to Poland (LRT, June 5) even though he did not mention this country even once during the election debates. During President Grybauskaitė's term, diplomatic relations between Vilnius and Warsaw tended to be somewhat strained. Of course, this does not mean Lithuania will distance itself from its "brotherly" Baltic countries of Latvia and Estonia. However, the symbolism of a first official trip to Poland clearly demonstrates the incoming administration's near-term priorities.
Another notable distinction between Nausėda and Grybauskaitė regards a less severe attitude toward Russia, at least in terms of style. On the one hand, Lithuania is not going to loosen its firm position on, for example, continuing to support Western sanctions toward Russia. But the Nausėda administration can be expected to somewhat lighten its rhetoric vis-à-vis Moscow. In his own words, the president-elect noted, "My policy toward Russia will hardly change. It is hardly possible to maintain a warm relationship with a country that, unfortunately, remains an aggressor toward Ukraine," but added, "We would prefer not to use terms that would be unpleasant to the Russian people. If we use strong terms, it is rebroadcast by the Russian media in a way that creates the image of Lithuania as an enemy. I think people have to communicate, exchange experiences… We would like to see more wonderful Russian theater performances and classical music in Lithuania" (LRT, May 28).
Based on the ideas and priorities Nausėda expressed during the election debates (EurActiv, May 24), under his leadership Lithuania will maintain its set course in international politics. In other words, this southernmost Baltic State will continue to seek an integral role for itself within the European Union. Moreover, it will continue to advocate for greater Western attention to security matters on its eastern front, seek closer cooperation with other EU members, as well as remain a strategic partner for the United States in Europe and a responsible member of the North Atlantic Treaty Organization (NATO). But in the age of rising populism, Euroscepticism and ethno-nationalistic fervor across the continent, and as its large eastern neighbor maintains aggressive neo-imperialistic ambitions, newly elected president Nausėda is likely to face numerous challenges that will test his leadership at both the domestic and international levels.