Russia Pushes for Economic Mobilization Amid War and Sanctions
Publication: Eurasia Daily Monitor Volume: 19 Issue: 104
By: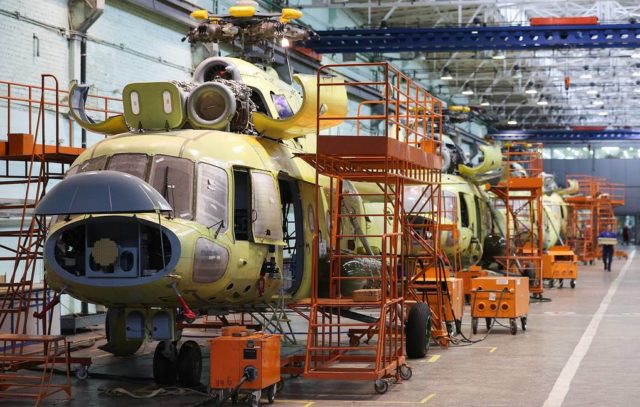 While Western economic sanctions are aggravating Russia`s business climate and leading toward its largest economic crisis since 1991, Russia is hoping to cope with the impending crisis by replacing vestiges of its market economy with command-style administrative regulations and a planned economy (Vedomosti.ru, July 3). While rumors about the inevitability of economic mobilization started to circulate in late spring, the first solid step in this direction was made in early July 2022, when a corresponding proposal was supported by both the chambers of the Russian Duma (Russia's parliament) and the Federation Council (Svpressa.ru, May 22; Sozd.duma.gov.ru, accessed July 12). Now, Russian President Vladimir Putin has to sign the decree (which is set to be drawn up shortly) to convert it into law.
According to the proposed piece of legislation, changes will occur in two strategic documents (Rbc.ru, July 6):
The federal law "On Defense" will be supplemented by another article that will allow the Russian government to "introduce special measures in the realm of economics." Those "measures" are heavily pivoted toward securing maximum capabilities of the defense-industrial complex and satisfying all the needs of the Russian Armed Forces.
Russia`s Labor Code will be amended to regulate implementation of special measures pertaining to worktime in general (e.g., overtime or nighttime work), as well as employment during holidays and vacations.
Based on information currently available, four important details must be highlighted. First, irrespective of their form of ownership (public or private), Russia-based companies will not be able to turn down a government-offered contract on the delivery of requested goods or services.
Secondly, the document clearly draws on the fact that, without "special measures" in the economic realm, problems already experienced by the Russian Armed Forces in terms of repairmen and maintenance of military equipment will amplify. Russia does not have an effective solution for this issue aside from pooling all its resources with the help of command-style administrative measures.
Thirdly, the defense-industrial complex and its needs will be prioritized over the needs of other branches of Russia`s economy. This concerns allocation of both critical natural and human resources. Of particular note, the government will seek expansion of its right to tailor worktime and work schedules at its own convenience.
Fourthly, so-called "power ministries"—the Federal Security Service (FSB), Ministry of Emergency Situations and National Guard (Rosgvardia)—will be given the authority to change the terms and conditions of any contract even after it is signed.
Commenting on these changes and initiatives, Deputy Prime Minister Yury Borisov stated that worries regarding Russia`s entire economy becoming subjugated to the army's needs are unfounded. He claimed that the main goal of these amendments is to "accelerate the achievement of all the goals of the special military operation" and that any changes in work schedule (e.g., duration of workday and overtime) will be adequately compensated. Borisov also added that these changes have a temporary nature and only aim to "liquidate a deficit of experts and specialists in certain areas of the defense-industrial complex" while Russia is engaged in its so-called "special military operation" in Ukraine (Rbc.ru, July 5).
As reassuring as this sounds, it is apparent that these measures will go beyond originally claimed scopes and are unlikely to be in place for a short-term or temporary basis. This clearly stems from mounting demands for dismantling the remnants of the market economy and a clear craving for greater centralization. In justification of the "righteousness" of this move, many economists and policy experts exemplify Joseph Stalin`s "successful measures" in the realm of economics (Argumenti.ru, March 1). Russia`s leading (conservative) mainstream economists are now blaming "Western neocolonialism"—foreign transnational companies in a broader sense—which deprives Russia of "80 percent of the net profits it could have gained if command-and-control functions were to be placed in the hands of the state." Therefore, these experts argue that, for the Russian economy to be able to overcome the impact of Western sanctions and successfully cope with existing problems, it must "get rid of the remnants of liberal ideas because Russia in the 1990s was living under permanent crisis" (Rossiyskaya gazeta, June 9).
It is quite ironic, however, that many of the Russian economists who passionately argue for economic mobilization and blame "liberal ideas" simultaneously admit that the "raw materials curse" originated from Soviet times and was inherited by Russia after 1991; in fact, the only, more or less, successful industries of the Soviet economy were related to extracting and exporting raw materials and related commodities (Profile.ru, March 10). That said, some Russian economists and subject experts are unconvinced, such as Yelena Veduta (head of the strategic planning and economic policy department at Lomonosov Moscow State University) who said that even these "special measures" will not be able to solve the economic challenges faced by Russia today. In effect, these measures—that not only lack basic calculations but are also completely out of touch with traditional business principles—could (further) accelerate existing problems in supply chain ties and induce negative spillover effects on other parts of the Russian economy (YouTube.com, July 4).
Finally, while it is still difficult to accurately forecast the future impact of the aforementioned changes on the Russian economy and society, some preliminary assessments can be deduced from previous writings on the subject. One fundamental book written back in 2015 identified the following Russia-centered principles of economic mobilization (Alexey Nedosekin, Mobilizatsionnaja ekonomika po-russki, 2015). First is the principle of "crucial link," which draws on the need to concentrate strategic resources—taken from "less significant areas"—in certain places ("links") of the economy. This idea plays a key role in warding off threats that pose a fundamental challenge to the existing system. Second is the principle of "achieving the goal whatever the costs," using "non-economic" means of coercion if needed. Third is the principle of "teamwork" (komandnost), which refers to a team of unified leaders and experts drawn from various segments of the economy that is jointly working on solutions to existing problems. Fourth, and final, is the principle of "consciousness" reflected in the need for all societal groups to be morally prepared to suffer losses and casualties as a key condition for victory. While the specific effects of these reforms will yet be determined, the outcomes will almost assuredly be influenced by these core tenets.