Russia Tests Network-Centric Air Operations in Syria
Publication: Eurasia Daily Monitor Volume: 12 Issue: 184
By: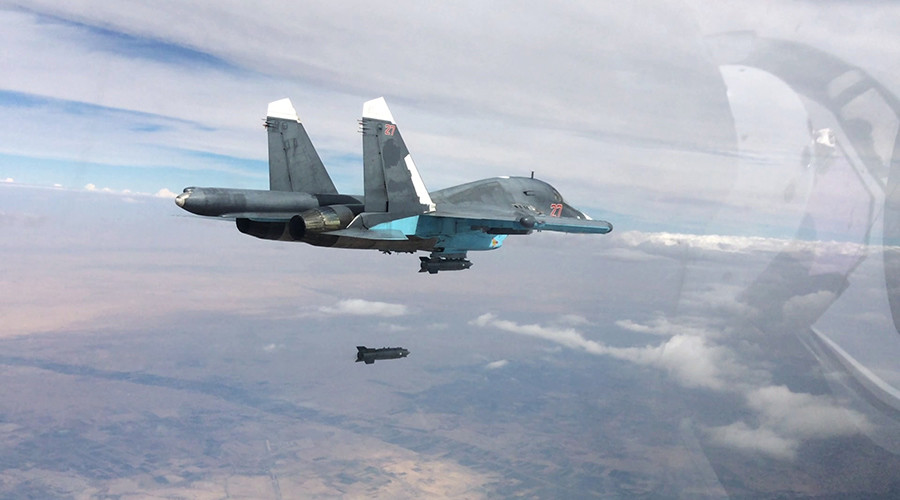 Russia's air operations in Syria intensified as the campaign moved from its initial phase to also providing close air support (CAS) for Syrian and other ground forces. Aerospace Forces (Vozdushno Kosmicheskikh Sil—VKS) assets deployed at the airbase in Latakia increased their daily number of sorties from 20–25 to 64–67, following the commencement of the CAS mission on October 7. President Vladimir Putin held a working meeting with Defense Minister Sergei Shoigu on October 7, and stated: "As for our next steps, as we agreed, it will be synchronized with the Syrian army's operations on the ground. Our Aerospace Forces will provide effective support for the Syrian army's offensive." Shoigu, in his response, confirmed the existence of overall planning for the operation and the idea that it will unfold in stages (Kremlin.ru, October 7). By October 10–11, the Ministry of Defense noted the tempo of sorties had increased using Su-34s, Su-24Ms and Su-25SMs to attack targets in Hama, Idlib, Latakia and Raqqa provinces (Krasnaya Zvezda, October 11). However, on October 8–9, the Russian media began paying closer attention to the role of the Su-34 in the air operations in Syria, in particular highlighting its network-centric capabilities.
Since the VKS launched airstrikes in Syria and moved to add the CAS mission to support mainly Syrian ground forces, it has become clear that the primary objective is to degrade rebel forces and prop up the Bashar al-Assad regime under the cover of an anti–Islamic State (IS) mandate. As these operations continue, testing and rehearsal have become prominent themes. Testing systems and platforms also extended to the decision to authorize the 26 Kalibr cruise missile strikes from the Caspian Flotilla on October 7, which coincided with the first movement of Syrian troops against rebel strongholds (LiveJournal, October 8).
Although most of the sorties flown by the VKS have involved the use of "dumb" munitions, the defense ministry has been keen to talk up the role of precision-strike capabilities. Some Russian commentators note that missions flown from Latakia are like a "fashion show" for the latest Russian military aircraft; and the star of the show is undoubtedly the Su-34 (Nezavisimoye Voyennoye Obozreniye, October 9). Shoigu referred to the Su-34 and confirmed that precision strikes against "terrorists" were rehearsed during the strategic-operational exercise Tsentr 2015, in September. On October 8, Shoigu said that such rehearsals were based on a General Staff assessment of the tactics of the IS in Syria and Iraq and Taliban activities in Afghanistan. Su-34 fighter-bomber crews relocated to three airfields during the exercise, honing their skills in flying in different weather conditions and supporting CAS missions as well as destroying an imaginary enemy's facilities and bases (Tvzvezda.ru, October 8).
The Su-34 effectively made its combat debut in Syria—Russia reportedly deployed six aircraft (out of a total of 73 in the VKS inventory)—although a prototype was rumored to have been used by the Russian Air Force to suppress Georgian air defenses in August 2008. On October 8, an anonymous "military-diplomatic" source in Moscow told the TASS agency that Su-34s were carrying equipment to conduct network-centric air operations (TASS, October 8).
The advanced TKS-2M communication and control system on board the Su-34 allows pilots to supply targeting coordinates to each other, bypassing ground-based command centers (TASS, October 8). Changes in the operational situation are transmitted to other aircraft and to the command posts online, permitting prompt retargeting of aircraft to newly detected targets. The TKS-2M is "fully automated and reliably protected against jamming" (Aviac.ru, accessed October 12; TASS, Ruposters.ru, October 8). However, since the Islamic State and other rebel groups lack electronic warfare (EW) capabilities, this feature of the TKS-2M is less relevant in Syria (Lenta.ru, October 8).
The Su-34, according to the VKS command, has 12 suspension points for airborne weapons, including ordinance such as the KAB-1500 and CC-500 bombs. It is equipped with four blocks of unguided missiles or controlled "air-to-surface" missiles (X-25, P-25L, X-29, X-31, X-35 up to six units), or two X 58 (V) and X-59 (M) (Tvzvezda.ru, October 8). In addition to testing Su-34s in an operational environment, the Russian military has also sent sophisticated EW assets to Syria. Krasukha-4 is a mobile, ground-based EW system designed to jam low-Earth-orbit spy satellites and airborne surveillance radars at distances of up to 300 kilometers. It seems it is being used, in part, to disrupt enemy forces' radio communications.
The Russian air operation has been accompanied by a slick information campaign: the operational goal is presented as attacking Islamic State targets. Meanwhile, however, Russian bombers have been concentrating much of their effort against rebel forces to "stabilize" the al-Assad regime. Publicly, it is being cast as a high-technology operation showcasing modernized and latest VKS assets. Yet, much of the bombing is conducted using dumb bombs mostly delivered from high altitudes to avoid man-portable air-defense systems (MANPADS) (Tvzvezda.ru, October 8). As the operation continues, the VKS will face issues relating to logistics, repair and supply. But the real test lies ahead in the face of the enemy, and evaluating the level of impact on the ground—a notoriously challenging aspect of any air campaign.
The Russian spearhead coalition in Syria, which appears to have developed from bilateral discussions between Moscow and Tehran, has witnessed the rapid development of military planning by Russia's General Staff. The size and mix of the air group seems less designed to conduct strategic-level operations and instead will likely focus on small tactical-level aims consistent with the collaborative effort using ground forces supplied by Syria, Iran and Hezbollah. However, into the fabric of the military planning, the General Staff has woven a number of inter-related themes of experimentation. These include the use of network-centric platforms, EW systems, and rehearsing and refining targeting and tactics. The Russian EW systems deployed in Syria suggest they want to conduct some of these experiments with the North Atlantic Treaty Organization's (NATO) "lights switched off": jamming high technology assets that can conduct surveillance of VKS operations. In this sense, from a military perspective, the choice of Kalibr cruise missiles to target undisclosed targets in Syria may have been aimed partly as a test of whether the United States or NATO would be caught off guard by these launches.