Russian Factory Ownership Hurts Ukraine's President Poroshenko
Publication: Eurasia Daily Monitor Volume: 12 Issue: 54
By: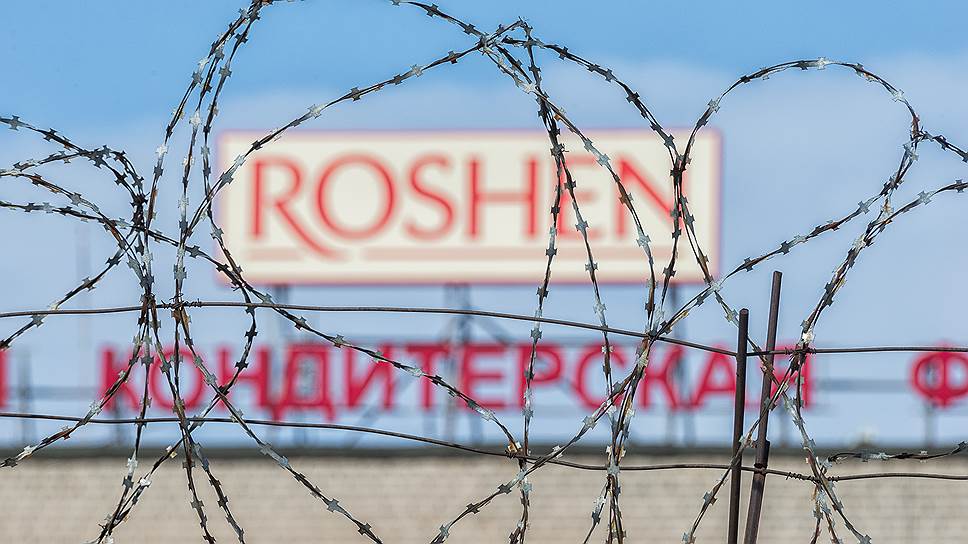 President Petro Poroshenko's continued ownership of a confectionary manufacturing facility in Lipetsk, Russia, has become such a political burden for the Ukrainian leader that he specifically addressed the issue of its sale in an exclusive TV interview earlier this month (March 2015) (TSN, March 13). Ukraine's president—who has yet to sell off his key business asset, the candy and chocolate producer Roshen Group—is under fire domestically for owning a factory in the adversary's country. At the same time, operations of Roshen's factory in Lipetsk are being disrupted in Russia as well.
The Lipetsk facility produces around 7 percent of the candy and chocolate sold on the Russian market (Moskovsky Komsomolets, October 7, 2014). Its share in the overall sales of Roshen Group is not exactly known. Roshen's largest factories are located in the Ukrainian cities of Kyiv and Vinnytsia; but the corporation's products are also manufactured in the European Union, at facilities in Lithuania and Hungary. In total, Roshen Group employs around 10,000 people. The company's 2014 self-reported revenues were a little over $1 billion. According to industry watchers, Roshen Confectionery Corporation is currently the world's 22nd-largest candy business (Candyindustry.com accessed on March 19).
In December 2014, President Poroshenko admitted that he had signed an advisory agreement with financial advisory company Rothschild Group to divest himself from Roshen. Poroshenko said there were four potential customers interested in Roshen, but negotiations had been protracted because of the ongoing war in eastern Ukraine. If the war continues to drag on, Poroshenko suggested the possibility of a management buyout under a deferred payment plan (Lb.ua, December 29, 2014). The major Russian snack producer KDV Group has been mentioned before as a potential buyer (TSN, November 12, 2014). The agreement with Rothschild precludes Poroshenko from being able to exercise any further control while the search for a buyer continues.
Ongoing delays in the sale of the Lipetsk factory have a clear business explanation: mergers and acquisitions (M&A) deals involving political risk on the part of the seller, such as in this case, may take quite a long time. Indeed, Roshen's Lipetsk factory is quite a valuable asset. Before the conflict with Russia, the Lipetsk plant might have been regarded as Roshen's flagship facility in the strategically important Russian market—whose size is larger than the Ukrainian market. Moreover, the Lipetsk factory had, in recent years, been refurbished to meet modern production standards.
Yet according to Roshen's executive in Russia, Konstantin Vakhonin, Poroshenko has not received any dividends from his Russian factory as all of the facility's income was being reinvested into financing its modernization since 2011 (Moskovsky Komsomolets, October 7, 2014). Vakhonin also said that the Lipetsk factory employed 2,000 people, almost all Russian nationals, and sourced the majority of its supplies from Russia. It was selling its products not only in Russia, but also exporting to other Commonwealth of Independent States (CIS) markets, including back to Ukraine.
Russian news outlet Kommersant noted that, last year, the Lipetsk factory incurred its first loss in six years, even though, at the end of 2013, the facility was expecting to increase its revenues by 50 percent. While the 2014 results could be partially explained by a wider fall in demand for candy caused by the economic slowdown in Russia, political reasons also affected the drop in sales. Roshen was involved in a legal dispute with several local confectionary makers over the use of one of its trademarks, which resulted in a forced suspension of its business in May 2014. Additionally, production was twice halted because Russian retailers refused to buy Roshen's products. In one instance, management complained of administrative pressure from Russian regional administrations. In November 2014, Lipetsk management reported plans to lay off some 400 personnel, citing the fall in demand for its products (Kommersant, March 13).
The worsening political situation led to losses in 2014 for the Lipetsk Roshen factory of around $7 million. Its revenues declined almost 6 percent, to $52.7 million, according to the company's reporting mandated under Russian Accounting Standards (TASS, March 12). Notably, however, the revenue figure makes up only around 5 percent of Roshen Group's 2014 revenues. Political risk also becomes evident in explaining Roshen's performance in Russia when compared against Roshen Group's other production facilities. According to the corporation, Public JSC Roshen Kyiv Factory increased its 2014 net income almost ninefold to $1.4 million. While the Vinnytsia factory recorded $1.9 million in net income. This underscores the fact that the Lipetsk factory's problems are linked directly to the political situation between Kyiv and Moscow, while the facility's overall business weight inside the Roshen corporation has been exaggerated in the media debate.
The ownership of the Roshen factory in Russia frequently makes Poroshenko a target of domestic political attacks. Perhaps the most overt example was a recent comment made by the Opposition Bloc Rada deputy (and former top Party of Region politician) Nestor Shufrych. Speaking on the popular TV show Svoboda Slova, Shufrych accused President Poroshenko's Russian business of paying taxes into Moscow's state coffers that could annually support 82,000 Russian soldiers (ICTV February 9).
The well-publicized and controversial case of Poroshenko's remaining business assets inside Russia make it easier for other political players in Ukraine to obfuscate far more pressing domestic problems: these include Ukrainian oligarchs' shadowy roles in domestic politics, issues of cohesion in the ruling coalition and government, and the difficulties inherent in moving forward with the country's reforms. At the same time, the public outcry that this case continues to generate illustrates a positive public demand for the separation between business and government in Ukraine.