Russian Mercenaries Pour Into Africa and Suffer More Losses (Part Two)
Publication: Eurasia Daily Monitor Volume: 17 Issue: 10
By: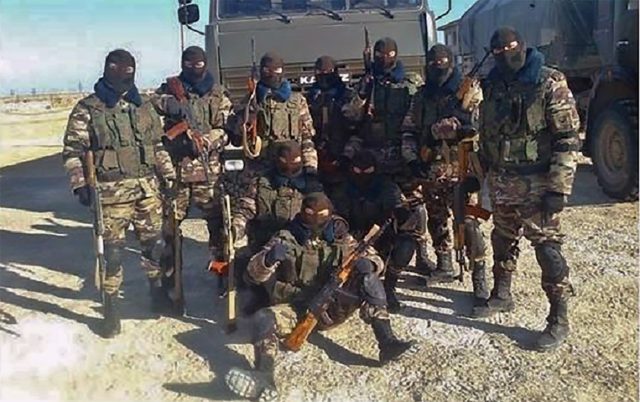 During a joint press-conference with German Chancellor Angela Merkel in Moscow, on January 11, Vladimir Putin was asked about Russian mercenaries from the Wagner Group private military company (PMC) who are reportedly operating in Libya. In response, he conceded the presence of Russian citizens in the North African country but claimed, "They do not represent the interests of the Russian Federation… and [they] do not receive money from the Russian state" (Rosbalt, January 11, 2020). This admission was not the first of its kind. Earlier, in December 2018, Putin not only de facto confirmed the existence of the Wagner Group but even encouraged its various activities abroad, saying the group "can pursue its business interests in any place in the world" (Vesti, December 20, 2018).
Within the past several months, Russian mercenaries have reportedly poured into Libya and Mozambique (see Part One in EDM, January 21, 2020). The benefits of such missions for Moscow are clear, including the expansion (real and perceived) of Russia's influence in those strategically important countries. However, the drawbacks of these operations are equally obvious: the PMCs, including Wagner, have been suffering growing causalities—both in Libya (Lenta.ru, January 11, 2020) and Mozambique (Cartamz.com, October 29, 2019)—and it is becoming increasingly difficult for the Russian state to continue to conceal its ties with illegal mercenary formations operating outside of Russia. Evidently, members of Putin's inner circle may be involved in concealing the true casualty rates suffered by the Wagner Group abroad. According to an investigation carried out by Reuters, "a St. Petersburg clinic that is run and partly owned by people with ties to President Vladimir Putin has provided medical treatment to Russian mercenaries injured abroad" (Reuters, January 7, 2020). The investigation relied on data obtained from various sources, including "figures with substantial knowledge on how medical treatments works for members of PMCs… members of the clinic, the medical records and evidences." The reporting claims that Russian PMC fighters have been receiving medical treatment since at least 2016 at the St. Petersburg–based clinic, which is owned by the large insurance company AO Sogaz.
The St. Petersburg facility is one of a group of six Russian clinics created in 2010 and called SOGAZ MEDITSINA, which reportedly provide "a broad spectrum of medical services of the highest quality" (Sogaz-clinic.ru, accessed January 11, 2020). The company AO Sogaz itself was established in 1993 as a branch insurance company of the Russian state-owned natural gas monopoly Gazprom. Between 2005 and 2018, AO Sogaz managed to acquire seven large Russian insurance companies (including Neftepolis, Transneft Insurance, Alrosa Insurance and VTB Insurance), effectively turning the firm into the leading player in the Russian insurance market. Today, the company is tightly linked to such entities as Gazprombank, Accept, Transneft JSC and other corporations. Additionally, it has ties to companies beyond Russia, including SOVAG (Germany) and SOGAZ a.d.o. Novi Sad (Serbia) (Rucompromat.com, accessed January 11, 2020).
AO Sogaz is notably connected to several figures close to the Russian president. For example, according to one investigation, the son of Mikhail Shelomov (allegedly Putin's second cousin), Vladimir (whose net worth is now $1.25 billion), holds a 12.5 percent equity in the company, which he acquired through the above-mentioned firm Accept. Vladimir Shelomov is also heavily invested in the Bank of Russia, "among whose shareholders are some close friends of the Russian president" (Currenttime.tv, October 30, 2019). Furthermore, another distant relative of President Putin (officially confirmed by the Kremlin), Mikhail Putin, serves as a deputy chairperson of the Board of AO Sogaz. Aside from the Kremlin leader's distant family, close associate Yury Kovalchuk (net worth of $1.9 billion), nicknamed Putin's "personal banker" and sanctioned by the United States Treasury Department in 2014, is said to hold a sizable portion of equity in the company via Aquila JSC, which specialises in IT, information security, data storage and protection (Currenttime.tv, January 7, 2020). Furthermore, the chairperson of AO Sogaz's Board of Directors is Alexei Miller, also the CEO of Gazprom and another individual personally close to Putin.
News of Russian mercenaries receiving medical treatment in Russian hospitals such as the above-mentioned St. Petersburg clinic has repeatedly been reported in the Russian press—including after the massive defeat suffered by Wagner Group fighters in early 2018, while operating near Deir ez-Zor, Syria. An early account came from Alexander Averin, a coordinator of an unregistered political party, the Other Russia (Drugaya Rossiya), who, in an interview to RIA Novosti, claimed that the injured Wagner mercenaries were sent to various hospitals in St. Petersburg (unspecified locations) and Moscow (the Federal State Autonomous Institution "N. N. Burdenko National Medical Research Center of Neurosurgery" and the A. V. Vishnevsky Institute of Surgery) (Deutsche Welle—Russian service, February 14, 2018). The same information was corroborated by Eduard Limonov (Interfax, February 14, 2018). Month later, an interview with an anonymous former Wagner fighter provided further interesting details: initially the injured mercenaries were sent to St. Petersburg (where they would spend between two to three weeks), and later they would be transferred to the A. V. Vishnevsky Institute of Surgery or the S. M. Kirov Military Medical Academy (St. Petersburg) for recovery. The retired mercenary additionally revealed that the initial treatment of the injured mercenaries was provided right at Russia's Khmeimim Air Base (in western Syria), where "all the necessary medical equipment and first-rate doctors from both the A.V. Vishnevsky Institute of Surgery or the S. M. Kirov Military Medical Academy were present" (Rosbalt, November 11, 2018).
For now, it remains unclear whether AO Sogaz—acting via its network of hospitals and clinics—will emerge as the sole provider of medical treatment to Russian mercenaries harmed while carrying out missions abroad. However, the desire of the Russian government to avoid information leaks related to foreign operations pursued by PMCs (especially regarding their growing casualties) is obvious. Therefore, further centralized control over their medical treatment—with built-in deniability offered by the involvement of private corporations and oligarchic interests—should certainly be expected going forward.